Breadcrumb Trail Links
Winnipeg Jets
NHL
Hockey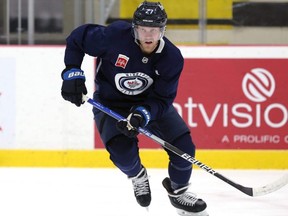 Jets forward Nik Ehlers skates at a practice before his surgery. He's on track to return to the team in early January. KEVIN KING/Winnipeg Sun
Article content
Exactly three weeks after he had surgery to repair a hernia, Winnipeg Jets winger Nik Ehlers on Wednesday put his skates back on for the first time.
Advertisement 2
This advertisement has not loaded yet, but your article continues below.
Article content
The Jets posted video of Ehlers on the ice alone, skating slowly and handling pucks.
By clicking on the sign up button you consent to receive the above newsletter from Postmedia Network Inc. You may unsubscribe any time by clicking on the unsubscribe link at the bottom of our emails or any newsletter. Postmedia Network Inc. | 365 Bloor Street East, Toronto, Ontario, M4W 3L4 | 416-383-2300
Thanks for signing up!
Article content
"It's nice to finally be getting better and better and not at a standstill," Ehlers told the team website.
No coaches or teammates were around or available for comment, as the Jets had cancelled practice in an attempt to stop the spread of a bug that had some players sick for Tuesday night's game against Vegas.
Article content
After the 6-5 loss, the Jets' second straight defeat, head coach Rick Bowness said Pierre-Luc Dubois was one of those ill, while a couple players were on IV's, post-game.
The Jets host Nashville on Thursday.
Ehlers getting back on the ice doesn't mean he's close to returning to the lineup.
The prognosis called for a six- to eight-week recovery, which would take him at least into the first week of the New Year.
Advertisement 3
This advertisement has not loaded yet, but your article continues below.
Article content
But because he's making progress, post-surgery, the 26-year-old says he's finally seeing some light at the end of what's been a pretty dark tunnel since he pulled himself from the second game of the season, Oct. 17.
"It was mostly mentally," Ehlers said. "The first five weeks from when I played my last game there, it was getting better and then it got stuck and it didn't really go anywhere. And I tried to skate and that didn't really work out. So not having a timeline at that point was pretty frustrating and mentally really frustrating."
Ehlers lost more than a month hoping to avoid surgery.
"But ever since the surgery you have a timeline of what you can do at certain time and when you can be expected back," he said. "And that changed my whole mindset. So it's been exciting since the surgery. I'm doing a lot of things. Pretty much everything, just not at the same weight that I'm usually doing it with."
Advertisement 4
This advertisement has not loaded yet, but your article continues below.
Article content
While the Jets have missed Ehlers' speed and skill – he collected three assists in his only two games – they've been successful without him.
Tuesday's loss did drop them two points behind Dallas in the race for top spot in the Central Division, but at 18-9-1 they still hold the second-best points percentage in the Western Conference, tied for eighth, overall.
Ehlers says watching games hasn't been easy, and not just the back-and-forth games like Tuesday's.
"It's pretty much every game since I've been out," he said. "It sucks. I've had quite a lot of injuries in the last couple of years. It's not a lot of fun."
Ehlers missed 20 games last season, still managing 28 goals and 27 assists in 62 games.
He was sidelined for nine of 56 games during the shortened schedule of 2020-21, recording 21 goals, 25 assists in 47 games.
Advertisement 5
This advertisement has not loaded yet, but your article continues below.
Article content
This was to be the first year he'd skate on the Jets' top line, starting the season with Mark Scheifele and Kyle Connor.
Those two have since been split up, as part of a top-six that includes Pierre-Luc Dubois, Blake Wheeler, rookie Cole Perfetti and energy forward Mikey Eyssimont.
A whole new attitude and sense of togetherness and accountability under Bowness have transformed the Jets from an also-ran into an apparent playoff team.
"I felt it from Day 1 of camp," Ehlers said. "It hasn't been just the last two weeks. It started from Day 1 and that was real exciting. That we've been able to carry that on for, what is it, 29 games (28), that's pretty exciting and the guys are doing well. Obviously you want to be out there doing it with them. So, soon."
Advertisement 6
This advertisement has not loaded yet, but your article continues below.
Article content
SICK, BUT ON THE BOARD
Dubois recorded his lowest ice time in three weeks on Tuesday (15:59), no doubt due to his illness.
"He's under the weather, big time," Bowness said.
That didn't stop Dubois from drawing an assist and starting another points streak (two games), after his seven-game run with at least a point ended in Chicago last week.
EARNING ANOTHER SHOT
Expect Kevin Stenlund to remain in the lineup for his second game as a Jet on Thursday.
Unhappy with his fourth line, Bowness made a change to it, inserting the 6-foot-4 Stenlund for Axel Jonsson-Fjallby.
"Much better," Bowness said of the unit. "Kevin had a very strong game… gave us what we needed him to do. He won some faceoffs (57%). He's a big, strong guy and hung onto the puck. I really liked his game and that helped that line create some offence."
Advertisement 7
This advertisement has not loaded yet, but your article continues below.
Article content
A 26-year-old former Columbus Blue Jacket, Stenlund collected an assist on a goal by Sam Gagner.
As importantly, the line didn't get scored on, after giving up two in the previous game.
"For the most part we were in the other team's end, created some chances," Gagner said. "And that has to be the recipe for us. Hopefully we can build on it."
NEW FACE IN TOWN
Forward Karson Kuhlman, put on waivers by Seattle and claimed by the Jets this week, was expected to get into town late Wednesday.
Bowness wasn't sure, yet, where the 27-year-old Minnesotan would fit into the lineup.
"We're going to have to figure that out," the coach said. "I don't know a whole lot about him. I hear great things about his skating and his compete and everything else."
Undrafted, the 5-foot-10, 184-pound Kuhlman was first signed as a free agent by Boston four years ago, put on waivers, then claimed by Seattle a year ago.
He has 10 goals, 16 assists, in 114 NHL games.
[email protected]
Twitter: @friesensunmedia
Share this article in your social network
Advertisement 1
This advertisement has not loaded yet, but your article continues below.
Comments
Postmedia is committed to maintaining a lively but civil forum for discussion and encourage all readers to share their views on our articles. Comments may take up to an hour for moderation before appearing on the site. We ask you to keep your comments relevant and respectful. We have enabled email notifications—you will now receive an email if you receive a reply to your comment, there is an update to a comment thread you follow or if a user you follow comments. Visit our Community Guidelines for more information and details on how to adjust your email settings.