ELMONT, NEW YORK – MARCH 03: Head coach Barry Trotz of the New York Islanders speaks with the media prior to the game against the Vancouver Canucks at the UBS Arena on March 03, 2022 in Elmont, New York. (Photo by Bruce Bennett/Getty Images)
DeBoer Could Be a Potential Candidate in Winnipeg Jets Coaching Search by Kieran Hurley
As soon as Barry Trotz was relieved from his duties as head coach of the New York Islanders, the Winnipeg Jets were subsequently named a frontrunner to land the third most winningest coach in NHL history.
When Trotz was fired, I wrote an article stating that the Jets had a chance to bring Trotz back to where it all began. Trotz was born in Manitoba and started his coaching career in the Province with a junior team.
Not to mention Trotz is also a perfect fit for the Jets. Winnipeg has struggled on defense and Trotz is known for implementing tough to play against defensive systems. The perfect example of this is what Trotz did with the Islanders.
The year before Trotz arrived with the Islanders, the Islanders allowed the most goals in the NHL during the 2017-2018 regular season. During the Islanders' first year under Trotz's leadership, the Islanders won the Jennings Trophy for the least amount of goals allowed during the season.
The Winnipeg Jets have reportedly started interviewing Barry Trotz
Elliotte Friedman of Sportsnet broke the news yesterday afternoon that he is hearing that the Jets have begun their interview process with Trotz to be their next head coach.
Hearing Winnipeg is interviewing Barry Trotz for its coaching position today.
— Elliotte Friedman (@FriedgeHNIC) May 17, 2022
This news will definitely get Winnipeg supporters excited. Trotz is arguably the most sought after "free agent" coach and the fact that the Jets have started interviewing him is a great step for the Jets.
The Jets are the first team, that reports have indicated, that has interviewed the former Stanley Cup Winner for their vacant position. Besides the Jets, the Vegas Golden Knights, Philadelphia Flyers, and Detroit Red Wings are all still without a head coach for next season.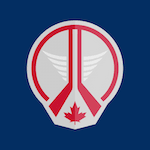 Want your voice heard? Join the Jets White Out team!
Write for us!
It will be extremely interesting to see what happens next in the Jets head coach search and if Kevin Cheveldayoff and the Winnipeg Jets front office can get a deal done with Barry Trotz.
Winnipeg Jets Fans: What are your initial reactions to the news that the Jets are interviewing Trotz? Leave your comments below!