The Winnipeg Jets haven't seen any big changes to their team this offseason, with GM Kevin Cheveldayoff only tinkering with minor additions.
Whilst the Jets are going to "run it back" and are hoping the new coaching staff led by Rick Bowness can get a lot more out of the same group that continually disappointed last season, many of their seven Central Division compatriots have been more active.
The Jets have 26 total tilts against their most familiar foes in 2022-23: four games apiece against the Chicago Blackhawks, Colorado Avalanche, Minnesota Wild, Nashville Predators, and St. Louis Blues, and three games apiece against the Arizona Coyotes and Dallas Stars.
Related: Breaking Down the Jets' 2022-23 Season Schedule
The bulk of offseason activity is done, with most prized free agents snapped up by now, and every team has some new faces. The Central, in which the Jets finished sixth in 2021-22, may be even stronger in 2022-23.
Here, we'll take a look at what each Central Division team has done this offseason.
Arizona Coyotes
Biggest move: Re-signing Lawson Crouse
Biggest loss: Phil Kessel
The Coyotes, who finished last in the Central last season and will play in a 5,000-seat college arena going forward, don't seem as though they'll be any more of a threat next season.
GM Bill Armstrong signed a few depth players in centre Nick Bjugstad, centre Laurent Dauphin, and defenseman Troy Stetcher. He also inked big power forward Lawson Crouse to a five-year extension earlier this month.
The Coyotes' biggest move this offseason was re-signing Lawson Crouse. (Amy Irvin / The Hockey Writers)
The Coyotes, however, lost quite a few players to unrestricted free agency, first and foremost veteran sniper Phil Kessel, who finished third in team scoring. Also departing are forwards Jay Beagle, Louis Eriksson, Alex Galchenyuk, and Antoine Roussel, and defenseman Anton Stralman.
Armstrong had a strong 2022 Draft in Montreal, setting the stage for the franchise's rebuild by plucking three first-rounders — Logan Cooley, Conor Geekie, and Maveric Lamoureux. 
The Jets were 3-1-0 against the Coyotes last season.
Arizona versus Winnipeg 2021-22 game log:
Nov. 29, 2021 @ Winnipeg: Arizona 1, Winnipeg 0
Jan. 4, 2022 @ Arizona: Winnipeg 3, Arizona 1
Feb. 27, 2022 @ Arizona: Winnipeg 5, Arizona 3
March 27, 2022 @ Winnipeg: Winnipeg 2, Arizona 1 (OT)
Chicago Blackhawks
Biggest move: Signing Max Domi
Biggest loss: Alex DeBrincat
The Blackhawks have been in full fire-sale mode this offseason as GM Kyle Davidson is conducting nothing less than a rebuild from the foundation up after a dynastic, three-Cup 2010s.
Davidson traded star forward Alex DeBrincat to the Ottawa Senators and Kirby Dach to the Canadiens at the Draft. He also also let defenseman Dominic Kubalik and forward Dylan Strome walk to unrestricted free agency.
Related: Blackhawks Roundtable: DeBrincat, Dach, Toews, Kane & More
Forwards Kurtis Gabriel and Andrew Shaw are gone, as are defensemen Erik Gustafsson and Calvin De Haan, and goaltenders Colin Delia and Kevin Lankinen.
Regarding additions, Davidson signed the well-traveled but useful middle-six Max Domi to a one-year deal, and former Los Angeles King Andreas Athanasiou to the same. He also made two additions to the crease, signing 35-year-old goaltender Alex Stalock and trading for Petr Mrazek.
Max Domi joined the Blackhawks on a one-year deal. (Photo by Randy Litzinger/Icon Sportswire via Getty Images)
Like the Coyotes' Armstrong, Davidson was busy at the draft, making 11 total selections, including three in the first round. With those picks, he plucked defensemen Kevin Korchinski (7th overall) and Sam Rinzel (25th overall,) with centre Frank Nazar (13th overall) between them.
The Jets were 2-1-0 against the Blackhawks last season.
Chicago versus Winnipeg 2021-22 game log
Nov. 5, 2021 @ Winnipeg: Winnipeg 5, Chicago 1
Feb. 24, 2022 @ Winnipeg: Chicago 3, Winnipeg 1
March 20, 2022 @ Chicago: Winnipeg 6, Chicago 4
Colorado Avalanche
Biggest move: Trading for Alexander Georgiev
Biggest loss: Nazem Kadri
After finishing first in the Central and ultimately winning the Stanley Cup, the Avalanche faced a cap crunch as they already had some big contracts on the books and have expensive UFAs to deal with next summer.
New GM Chris MacFarland knew he wouldn't be able to keep the whole band — which won 56 games — together and indeed lost some key players to free agency. Andrei Burakovsky, coming off a career year, signed with the Seattle Kraken and 87-point-getter Nazem Kadri is still a UFA who won't return to Colorado as they have only $4 million in cap space. Kadri is reportedly holding out for $9 million or more per year.
Starting goaltender Darcy Kuemper also departed, signing a five-year deal with the Washington Capitals. To insulate what was an impending loss, MacFarland acquired Alexandar Georgiev from the New York Rangers for draft picks; Gerogiev pegged as their next starter and will be backed up by Pavel Francouz.
The Avalanche traded for Alexandar Georgiev as they knew they were going to lose Darcy Kuemper. (Jess Starr/The Hockey Writers)
While their additions were few, the Avalanche are still massively talented and Gabriel Landeskog, Nathan MacKinnon, and company should set the Central Division pace again.
The Jets were 1-2-1 against the Avalanche last season.
Colorado versus Winnipeg 2021-22 game log
Jan. 6, 2022 @ Colorado: Colorado 7, Winnipeg 1
Feb. 25, 2022 @ Colorado: Colorado 6, Winnipeg 3
April 8, 2022 @ WInnipeg: Colorado 5, Winnipeg 4 (OT)
April 24, 2022 @ Winnipeg: Winnipeg 4, Colorado 1
Dallas Stars
Biggest move: Signing Mason Marchment
Biggest loss: John Klingberg
The Stars, who finished fourth in the Central and beat the Jets three times in overtime last season, won the Mason Marchment mini-sweepstakes, inking the budding sniper and former Florida Panther to a four-year deal worth $4.5 million annually. GM Jim Nill also signed free agent defensemen Will Butcher and Colin Miller.
While Marchment was a big addition up front, John Klingberg was a big loss on the back end. The top-tier offensive defenseman, who spent eight seasons with the Stars, inked a one-year deal with the Anaheim Ducks a few weeks ago.
Mason Marchment, Florida Panthers (Photo by John Russell/NHLI via Getty Images)
John Klingberg, Dallas Stars (Amy Irvin / The Hockey Writers)
The Stars will be a very different-looking team in 2022-23. A number of players have moved on, including Blake Comeau, Joel L'Esperance, Braden Holtby, Alexander Radulov, Michael Raffl, and Andrej Sekera.
They also have a new head coach in Pete DeBoer, adding him soon after he was fired by the Vegas Golden Knights. He'll replace Rick Bowness, who led the team to the Stanley Cup Final in the summer of 2020 but decided to step down at the end of his contract and join the Jets. With all these changes, they're a bit of question mark.
The Jets were 1-0-3 against the Stars last season.
Dallas versus Winnipeg 2021-22 game log
Nov. 2, 2021 @ Winnipeg: Winnipeg 4, Dallas 3 (SO)
Feb. 11, 2022 @ Dallas: Dallas 4, Winnipeg 3 (OT)
Feb. 23, 2022 @ Dallas: Dallas 3, Winnipeg 2 (OT)
March 4, 2022 @ Winnipeg: Dallas 4, Winnipeg 3 (OT)
Minnesota Wild
Biggest move: Re-signing Marc-Andre Fleury
Biggest loss: NIck Bjugstad
The Wild, already a strong team coming into the offseason — they finished second in the Central with 53 wins — have been quietest Central team other than the Jets.
The biggest thing GM Bill Guerin had to do was sort out the goaltending situation, and he did that. He re-upped 2020-21 Vezina-winning goaltender and notable Jet killer Marc-Andre Fleury to a two-year deal after acquiring him from the Blackhawks at the Trade Deadline, and also traded Cam Talbot to the Senators for young goaltender Filip Gustavsson.
The Wild acquired Filip Gustavsson from the Ottawa Senators in exchange for Cam Talbot. (Photo by Richard A. Whittaker/Icon Sportswire via Getty Images)
Up front, the Wild added former Jet Nic Petan to a two-year contract and lost Nicholas Deslauriers, Kyle Rau, and Dominic Turgeon. On the blue line, they added Andrej Sustr and lost Jordie Benn.
The Jets went 2-1-1 against the Wild last season.
Minnesota versus Winnipeg 2021-22 game log
Oct. 19, 2021 @ Minnesota: Minnesota 6, Winnipeg 5 (OT)
Nov. 26, 2021 @ Minnesota: Minnesota 7, Winnipeg 1
Feb. 8, 2022 @ Winnipeg: Winnipeg 2, Minnesota 0
Feb. 16, 2022 @ Winnipeg: Winnipeg 6, Minnesota 3
Nashville Predators
Biggest mov: Re-signing Filip Forsberg
Biggest loss: Nick Cousins
The Predators have had quite a bit of turnover as they will attempt to improve their standing as middling club. They qualified for the postseason, finishing fifth in the Central, but were outclassed by the Avalanche in the first round and swept.
They look like a stronger team on paper heading into 2022-23, with GM David Poile inking well-rounded scoring winger Nino Niederreiter to a two-year deal worth $8 million and trading for Tampa Bay Lightning defenseman Ryan McDonagh. Poile also signed Kevin Gravel, Kevin Lankinen, former Jet Zach Sanford, and Kiefer Sherwood.
Nino Niederreiter, signed 2x$4M by NSH, is a play-driving winger who creates chances, helps his team maintain possession, and scores at a high-end rate. One of the better forecheckers out there. #Preds https://t.co/wDZSqYii5O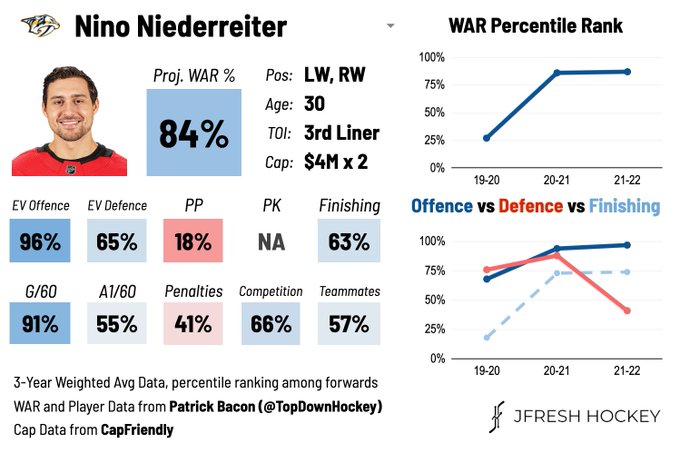 In addition, Poile took care of a key piece of internal business, locking up 40-goal scorer Filip Forsberg to an eight-year, $70 million deal.
Forwards Nick Cousins, Rocco Grimaldi, and Matt Luff; defensemen Alex Biega, Ben Harpur, and Matt Tennyson; and goaltender David Rittich have all departed. Those losses aren't anything too major, but the biggest two are probably Cousins, who played 68 games and had 22 points, and Rittich, the backup goaltender who signed with the Jets.
The Jets went 2-1-0 against the Predators last season.
Nashville versus Winnipeg 2021-22 game log
Oct. 23, 2021 @ Winnipeg: Winnipeg 6, Nashville 4
Jan. 20, 2022 @ Nashville: Nashville 5, Winnipeg 2
Feb. 12, 2022 @ Nashville: Winnipeg 5, Nashville 2
St. Louis Blues
Biggest move: Re-signing Robert Thomas
Biggest loss: David Perron
GM Doug Armstrong's biggest moves were internal. Most importantly, he signed budding superstar RFA centre Robert Thomas to a massive eight-year contract worth $65 million. The 23-year-old blew his old career highs out of the water last season, scoring 20 goals and adding 57 assists for 77 points in his fourth overall campaign.
Robert Thomas signed an eight-year deal to stay with the Blues. (Amy Irvin / The Hockey Writers)
Armstrong also made a sizeable signing to keep his back end strong, inking veteran Nick Leddy to a four-year extension after acquiring him from the Detroit Red Wings at the Trade Deadline.
Armstrong has built a perennial contender with a solid core already so he only had to tinker in free agency, signing depth forwards Noel Acciari, Martin Frk, and Josh Leivo. Meanwhile, three older forwards departed: Tyler Bozak, James Neal, and David Perron.
Perron is the biggest loss of the three by far. The consistent left-winger, who played 673 games and recorded 465 points with the Blues franchise over two different stints, signed a two-year deal with the aggressively-rebuilding Red Wings.
The Jets went 3-0-1 against the Blues last season.
St. Louis versus Winnipeg 2021-22 game log
Nov. 9, 2021 @ Winnipeg: St. Louis 3, Winnipeg 2 (SO)
Dec. 19, 2021 @ Winnipeg: Winnipeg 4, St. Louis 2
Jan. 29, 2022 @ St. Louis: Winnipeg 4, St. Louis 1
March 13, 2022 @ St. Louis: Winnipeg 4, St. Louis 3 (OT)
Declan Schroeder is a 27-year-old communications specialist and freelance journalist in Winnipeg, Manitoba. He holds a diploma in Creative Communications with a major in journalism from Red River College and a bachelors in Rhetoric and Communications from the University of Winnipeg.
Deeply rooted in the city's hockey culture, the original Jets skipped town when he was two and the 2.0 version came onto the scene when he was 17.