Breadcrumb Trail Links
Sports
Football
CFL
Calgary Stampeders
Publishing date:
Jul 30, 2022  •  43 minutes ago  •  3 minute read  •  Join the conversation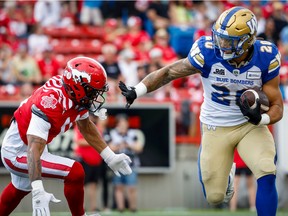 Winnipeg Blue Bombers running back Brady Oliveira carries the ball against the Calgary Stampeders at McMahon Stadium in Calgary on Saturday, July 30, 2022. Photo by Al Charest /Postmedia
Article content
It was billed as a heavyweight showdown between the best two teams in the CFL.
Advertisement 2
This advertisement has not loaded yet, but your article continues below.
Article content
And it delivered.
The Calgary Stampeders gave the Winnipeg Blue Bombers their best shot for the second time in two weeks, but it still wasn't enough.
Against a banged-up Bombers team, the well-rested Stamps just couldn't contain Winnipeg quarterback Zach Collaros. He put on a superstar performance and the Stamps simply couldn't find a way to stop him.
Article content
In the end, Collaros' four touchdown passes were enough to earn the visiting Bombers (8-0) a 35-28 victory at McMahon Stadium on Saturday that will make it incredibly difficult for the Stamps (4-2) to catch them in the standings.
From the start, the Stampeders were always able to move the ball … until they got near the Bombers' end zone.
At that point, their drives seemed to just die. Against a Bombers team that happens to be the two-time defending Grey Cup champions and hasn't lost a single game this season, you couldn't escape the feeling that maybe that was going to come back to haunt the Stamps.
Advertisement 3
This advertisement has not loaded yet, but your article continues below.
Article content
They scored field goals on their first four drives. That proves Rene Paredes is still as good a kicker as you'll find in Canadian football and he did kick a career-long 53-yarder in the second quarter, but it also emphasized just how dominant the Bombers are when their backs are against the wall in their own zone.
And the Bombers were pretty good on offence themselves. There's no one quite like Collaros in the CFL, and he showed the fans at McMahon exactly what makes him so special in the first half.
With top receivers Greg Ellingson and Carlton Agudosi both out with injuries — and they both had great games against the Stamps a few weeks back — Collaros simply found other targets. That included Nic Demski in the end zone twice. Demski barely practised this week and was on the six-game injured list before being surprisingly reinserted into the lineup on Friday. He didn't look like a man who was recovering from injury, though.
Advertisement 4
This advertisement has not loaded yet, but your article continues below.
Article content
The team went into their locker-roooms at halftime with the Bombers up 17-12. But the fun was just getting started.
The Stamps may have struggled to get into the end zone in the first half, but they rectified that in the second half.
Ka'Deem Carey — who was phenomenal all game — became the first player to score a rushing touchdown against the Bombers this season when he completed a drive, in which he'd already had a 31-yard gain, with a two-yard touchdown.
The Bombers would respond immediately, though, with Collaros finding Dalton Schoen for a 26-yard touchdown.
It was just getting started.
Almost immediately, Carey ran in another two-yard touchdown to put the Stamps up 25-24.
The Bombers kicked a single to tie it before Paredes hit a field goal that gave the Stamps the lead again.
Advertisement 5
This advertisement has not loaded yet, but your article continues below.
Article content
Then, Collaros found Schoen again for a breathtaking 25-yard touchdown.
With under four minutes left, the Bombers were up 32-28. It felt like there had to be more twists coming, but the Bombers ultimately locked down.
They scored the only points in the final couple of minutes with one more field goal, and the Stamps settled for their second straight loss.
The Bombers now have complete control of the West Division. They meet again at the end of August in Winnipeg, but it's going to be incredibly difficult for the Stamps to somehow surpass this seemingly unbeatable Bombers group.
www.twitter.com/DannyAustin_9
Share this article in your social network
Advertisement 1
This advertisement has not loaded yet, but your article continues below.
By clicking on the sign up button you consent to receive the above newsletter from Postmedia Network Inc. You may unsubscribe any time by clicking on the unsubscribe link at the bottom of our emails. Postmedia Network Inc. | 365 Bloor Street East, Toronto, Ontario, M4W 3L4 | 416-383-2300
Thanks for signing up!
Comments
Postmedia is committed to maintaining a lively but civil forum for discussion and encourage all readers to share their views on our articles. Comments may take up to an hour for moderation before appearing on the site. We ask you to keep your comments relevant and respectful. We have enabled email notifications—you will now receive an email if you receive a reply to your comment, there is an update to a comment thread you follow or if a user you follow comments. Visit our Community Guidelines for more information and details on how to adjust your email settings.