The Winnipeg Jets just finished grinding through a hectic, 16-game December in which they were decimated by injuries to key personnel. Things won't get much easier for them in the first month of 2023, as they play 15 games in 31 days with two back-to-back situations.
Related: Three Jets Who Excelled in December
Entering the January portion of their schedule, the Jets own a 23-13-1 record and sit second place in the Central Division. Here, we'll take a look at three keys to Jets success in January.
1) Integrate Injury Returnees Back Into the Lineup
The Jets currently have seven players — including three top-six forwards — out with injuries: Mason Appleton, Nikolaj Ehlers, Saku Maenalanen, Cole Perfetti, Nate Schmidt, Logan Stanley, and Blake Wheeler.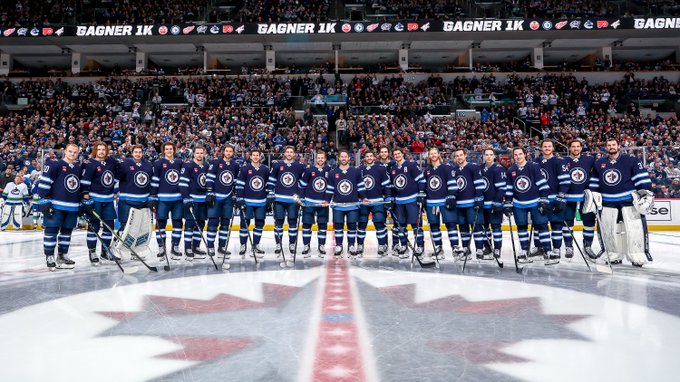 Thankfully, some of those players are set to return in the not-too-distant future and bolster a club that's trying to gut through by placing Manitoba Moose call-ups (Michael Eyssimont, Jansen Harkins, and Kevin Stenlund) and waiver-wire pickups (Axel Jonsson-Fjallby and Karson Kuhlman) in outsized roles.
Cole Perfetti (out since Dec. 22) and Nate Schmidt (out since Dec. 15,) could return this week, as could Ehlers (out since Oct. 17). Maenalanen (out since Dec. 8) could also return by mid-January. Appleton, Stanley, and Wheeler are further behind, but all except Appleton and Stanley skated on Monday.
Getting Perfetti and Ehlers back would do wonders for a top six that currently has players on it who frankly don't have the skill. Perfetti, in his sophomore season, was right at home as second-line right-winger and had six goals and 14 assists in 33 games before being injured against the Boston Bruins; Ehlers has only played two games all season due to a sports hernia that required surgery, but possesses dynamic and electric game-breaking talent.
Nikolaj Ehlers is among the key players who could return this month. (Photo by David Kirouac/Icon Sportswire via Getty Images)
Schmidt is a top-four defenseman who also keeps the team loose with his cheerful disposition, while Maenalanen had established himself a reliable third-line contributor in his return to North America.
As the infirmary thins out, Bowness is going to have decisions to make about player deployment. Players returning after long periods out need time to shake off the rust and can't just be thrown into the deep end. It will be up to the veteran bench boss to integrate them back into the lineup responsibly so they can get back up to speed.
Latest News & Highlights
Another task for Bowness will be to figure out which of the current players should stay in and which should be scratched or sent down. They've all embraced the "next-man-up" mentality that Bowness has stressed, but Bowness sent a message to one player Monday, placing Harkins on waivers after not being satisfied with the 25-year-old's recent play.
2) Get the Stars to Keep Shining
The Jets managed to finish December with a 9-7-0 record thanks to strong performances from their few healthy stars. Those strong performances helped build up a point cushion and are the reason the Jets are only five points out of first place in the Central.
Kyle Connor had a big month, putting up eight goals and 14 assists. The menacing Pierre-Luc Dubois was not far behind, recording seven goals and 13 assists. Josh Morrissey continued his Norris-Trophy-worthy season, racking up 17 points and an 11-game point streak, while Mark Scheifele recorded 11 goals and scored hat tricks on Dec. 13 and Dec. 29.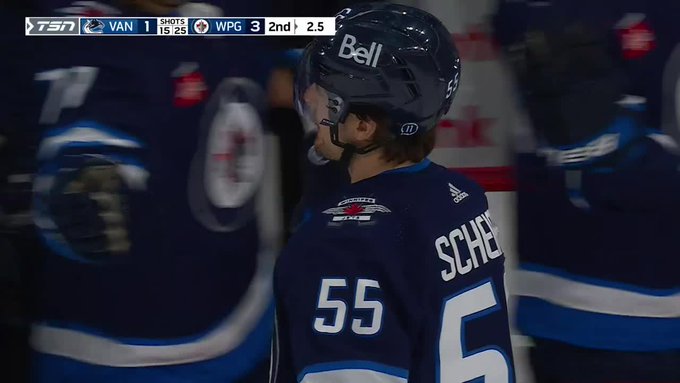 Those four make a combined $25 million, and they must keep proving their worth and leading the way even as reinforcements begin to arrive. Winning tough matchups in the first half of the month against the Calgary Flames, Tampa Bay Lightning, and Pittsburgh Penguins will require these big dogs to eat.
3) Stay Disciplined
With so many injuries, the margin for error is razor thin, if not totally non-existent.
In their final game of 2022, the Jets took five penalties against the high-octane Edmonton Oilers, but managed to kill all five of them — including a double minor the dying minutes to cement a 2-1 victory — through a combination of stellar goaltending from Connor Hellebuyck, fearless shot blocking, no Leon Draisaitl in the Oilers' lineup to feed Connor McDavid, and a little bit of luck.
The Jets cannot afford to be their own worst enemy by cutting ruts to the box like that, though. They've done well not putting themselves in bad spots this season, having allowed the third-fewest power play opportunities against in the NHL (102) and being in the bottom third in penalty minutes taken per game (8.4.)
The Jets' penalty killing has been leaps and bounds better under Bowness and company's new, more-aggressive strategy. They're operating at 82.50 per cent efficiency, up from 75.55 per cent last season, when the strategy was pathetic in its passivity. The team has killed off all its penalties in 22 games, and is 15-6-1 in those games. They have allowed more than one power play goal in a game just three times, and have never allowed more than two power play goals in a game.
The Jets have been disciplined under Rick Bowness and their penalty killing has been strong. (Photo by Jonathan Kozub/NHLI via Getty Images)
Despite the improvement, no team wants to be down a man more often than necessary. The fewer penalties the Jets take, the better they do — they're 12-4-0 in games they allow two or fewer power plays.
What do you think will be key for the Jets this month? Comment below.
Declan Schroeder is a 27-year-old communications specialist and freelance journalist in Winnipeg, Manitoba. He holds a diploma in Creative Communications with a major in journalism from Red River College and a bachelors in Rhetoric and Communications from the University of Winnipeg.
Deeply rooted in the city's hockey culture, the original Jets skipped town when he was two and the 2.0 version came onto the scene when he was 17.