Breadcrumb Trail Links
Winnipeg Jets
NHL
Hockey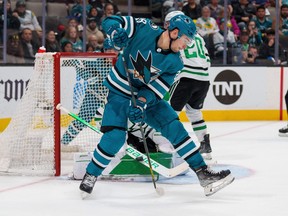 Dallas Stars goaltender Jake Oettinger (29) makes a save against San Jose Sharks right wing Timo Meier (28) during the second period at SAP Center at San Jose, Calif., on Wednesday, Jan. 18, 2023. Photo by Neville E. Guard /USA TODAY Sports
Article content
If you could add a young, top-line winger to the fold for several years to come, would you do it?
Advertisement 2
This advertisement has not loaded yet, but your article continues below.
Article content
It's got to be a thought running through the head of Winnipeg Jets general manager Kevin Cheveldayoff these days as he sits and ponders a potential offer for 26-year-old San Jose Sharks forward Timo Meier.
By clicking on the sign up button you consent to receive the above newsletter from Postmedia Network Inc. You may unsubscribe any time by clicking on the unsubscribe link at the bottom of our emails or any newsletter. Postmedia Network Inc. | 365 Bloor Street East, Toronto, Ontario, M4W 3L4 | 416-383-2300
Thanks for signing up!
Article content
The opportunity to acquire someone of Meier's offensive calibre is a blessing for many GMs across the NHL.
Article content
Meier creates offence. A lot of it. His expected goals numbers throughout his career, minus the bubble season in 2020-21, has been exceptional, to say the least.
This year, he's at 57.9% in that department, along with 55% of the shot share when he's on the ice. San Jose isn't exactly a good team, either, so those numbers are even better.
Adding him to a top-six that includes Mark Scheifele, Pierre-Luc Dubois, Kyle Connor and Nikolaj Ehlers is a salivating thought, and would be the perfect replacement for Blake Wheeler, who will only have a year left on his contract with the Jets following this season.
Advertisement 3
This advertisement has not loaded yet, but your article continues below.
Article content
He's scored at least 20 goals in each full season he's played in the NHL (not including the 2020-21 campaign), and last year racked up 35 tallies and a career-high 76 points in 77 games.
He's shot at 10.4% for his career, too, and is second in the league at the moment with 213 shots. He finished third last season, behind Auston Matthews and Alex Ovechkin. And at 6-foot-1, 220 pounds, has plenty of size to work with, with a penchant to go to the net.
On the power play this season, he's registered 12 of his goals, providing Winnipeg with yet another option on their two-unit attack.
So what are the hurdles?
Price, for one.
Daily Faceoff compared a possible return to that Chicago received when they traded Alex DeBrincat last summer to the Ottawa Senators. Chicago took back first- and second-round picks in the 2022 draft, and a third in 2024.
Advertisement 4
This advertisement has not loaded yet, but your article continues below.
Article content
Given many are suggesting that the 2023 NHL Draft will be one of the deepest in some time, and that San Jose will want to take advantage of that, it's a steep price to pay.
But Daily Faceoff's Frank Seravalli suggests the price could be lower, as DeBrincat had another year on his deal and was three years younger.
A second hurdle would be Meier's qualifying offer for next season. A restricted free agent, the Jets would have to pony up $10 million for him.
This could be remedied with a sign-and-trade, with the Sharks (but really Cheveldayoff's Jets) signing Meier long-term for a lower annual average value.
Evolving-Hockey, who does a splendid job prognosticating on future contracts, pegs Meier's at eight years and an AAV of $8.2 million.
Advertisement 5
This advertisement has not loaded yet, but your article continues below.
Article content
At that rate, he would virtually replace Wheeler's $8.25 million AAV, and he's 10 years younger.
Can the Jets make that work, along with potentially re-signing Dubois, Hellebuyck and Scheifele?
This is where the plot thickens.
There are just so many unknowns with the future of those three, with Dubois's possibly being the cloudiest. His signature on a long-term deal may be the most important piece of business the Jets doing in the near future. But there are no guarantees.
Hellebuyck will want to be paid like the elite NHL goalie he is, and that's going to mean in the $10 million range or higher. Think Tampa's Andrei Vasilevskiy and his $9.5 million AAV (and then factor in the money Hellebuyck doesn't save by not working in a tax haven like Florida).
Advertisement 6
This advertisement has not loaded yet, but your article continues below.
Article content
What would signing Meier long-term mean to either of those guys, however?
Having such a talent sign in Winnipeg would be a win, in and of itself. But how far might it go in Dubois's camp? Spending for and signing Meier would be a loud statement that the Jets are looking to extend their window, with Connor, Ehlers and Josh Morrissey still with several years left on their respective deals.
The Jets still need centres to play with all of their wingers, so cap space to retain Dubois and Scheifele still needs to be there. The salary cap itself is still in flux, and it's not certain the ceiling will go up as much as originally expected.
There's room to be found. They could trade Wheeler and eat half of his final year to reclaim just over $4 million. They could also trade someone off their blue-line following this season, perhaps Brenden Dillion's $3.9 million final year and get close to the space they need.
Moving a guy like Dillon would allow them to promote a guy like Ville Heinola full-time, along with Dylan Samberg and have Logan Stanley also in the mix.
Of course, that's if San Jose doesn't want one of Winnipeg's cheap, young blue-liners as part of any deal struck. And they likely will.
Meier potentially gives Winnipeg the best of both worlds: a player that can help push the team deep into the playoffs this season, and one that could stick around for many more postseason adventures to come.
Twitter: @scottbilleck
Share this article in your social network
Advertisement 1
This advertisement has not loaded yet, but your article continues below.
Comments
Postmedia is committed to maintaining a lively but civil forum for discussion and encourage all readers to share their views on our articles. Comments may take up to an hour for moderation before appearing on the site. We ask you to keep your comments relevant and respectful. We have enabled email notifications—you will now receive an email if you receive a reply to your comment, there is an update to a comment thread you follow or if a user you follow comments. Visit our Community Guidelines for more information and details on how to adjust your email settings.