Brandon Pink coral bells, foreground, grows along the edge of this terraced garden.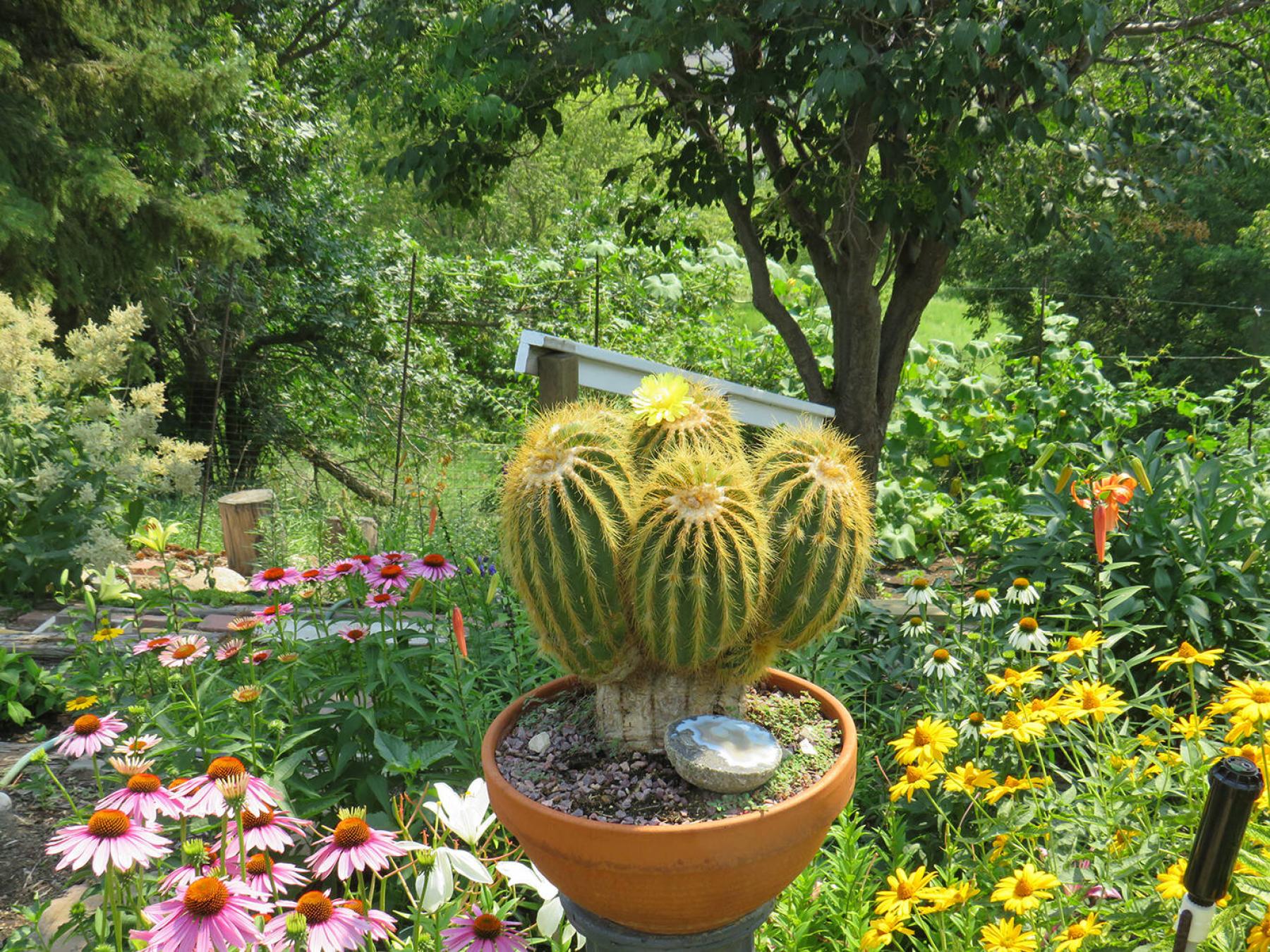 This handsome Parodia Magnifica cactus produces flowers faithfully each year as well as offsets for sharing.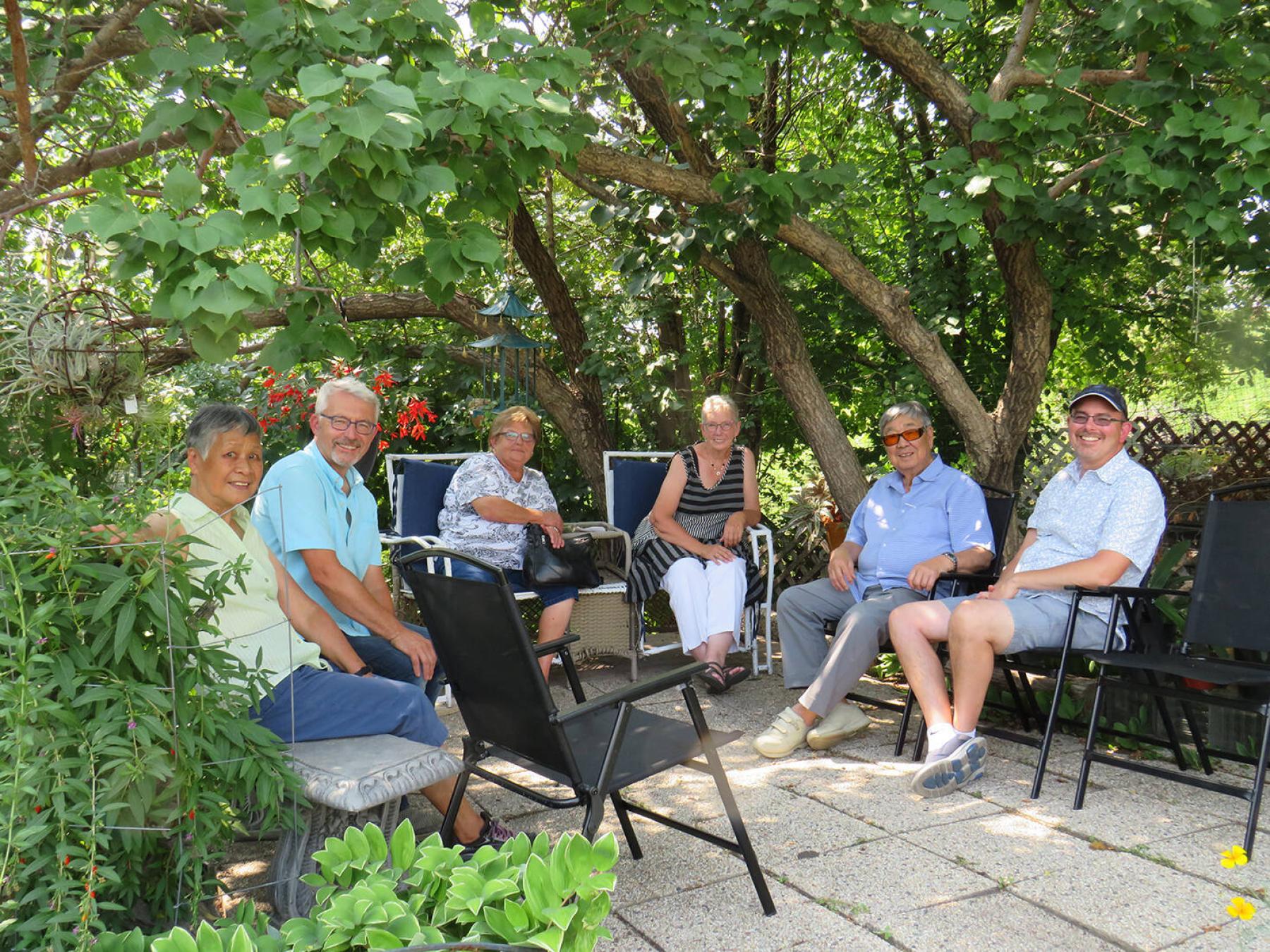 Photos by Colleen Zacharias / Winnipeg Free Press Relaxing beneath an apricot tree, Brandon Garden Club members, left to right: Rebecca Choy, Greg Boguski, Gwen Beam, Esther Bryan, Kenny Choy and Joe Stouffer.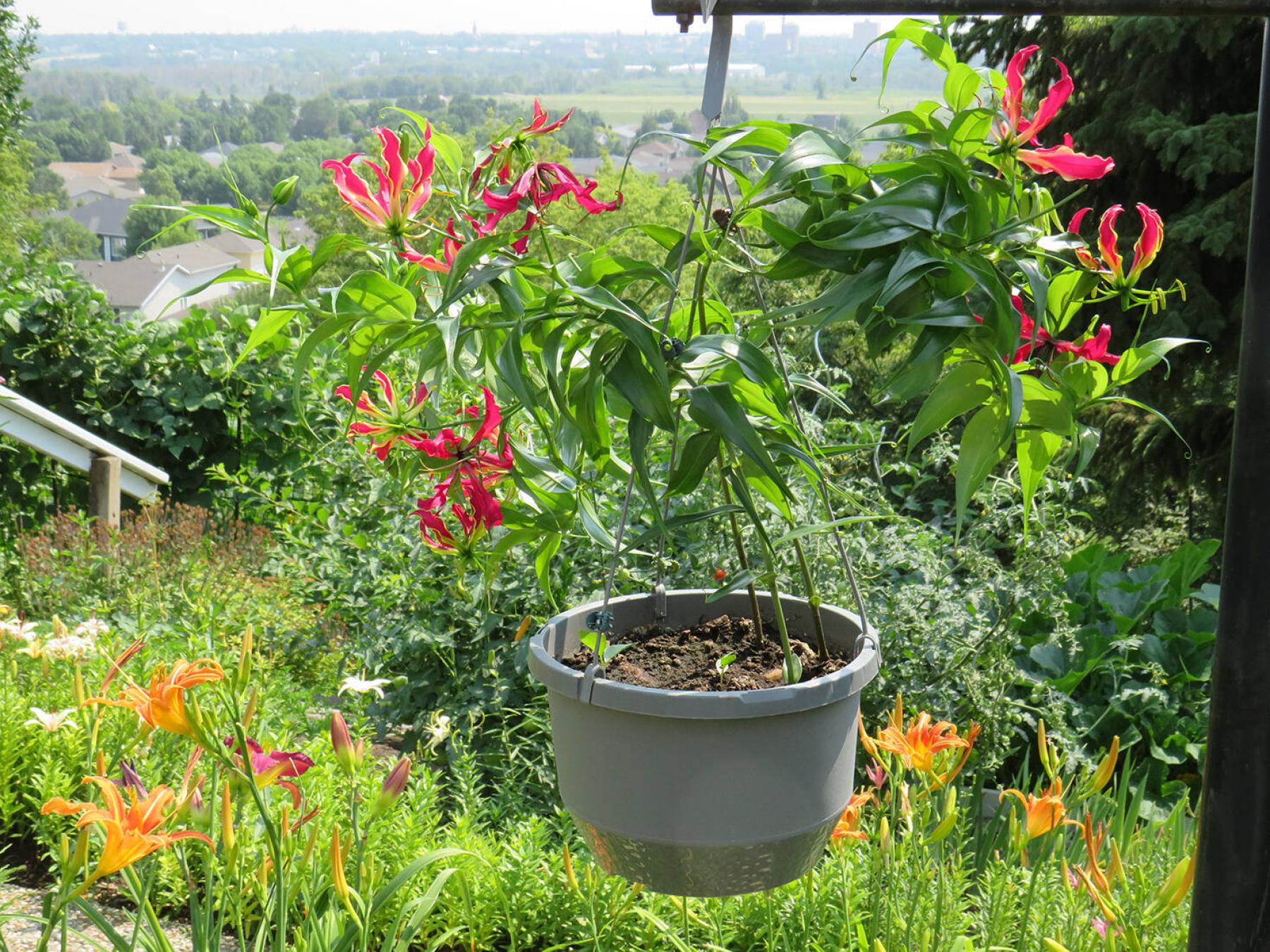 Rebecca Choy overwinters her Gloriosa lily indoors in a cool, dry, dark room.
The distinctive circular front door that welcomes visitors to Kenny and Rebecca Choy's home imitates the shape of the full moon. The circular shape represents a moon gate and is repeated in the Choy's backyard garden in the form of a grapevine arch trellis. A symbol of traditional Chinese culture and architecture, a moon gate is a circular opening in a garden wall that acts as a pedestrian passageway. Kenny and Rebecca's grapevine arch trellis creates a beautiful passage to their steep, richly planted terrace gardens and panoramic view of the Brandon Valley.
Kenny and Rebecca are members of the Brandon Garden Club, Manitoba's oldest garden club established in 1893. In another frenetic year of cancellations and restrictions with more twists and turns than a garden maze, gardens and garden clubs across Manitoba have been a constant source of inspiration. Gardens are meeting places and the spirit of sharing that is a hallmark of the festive season is second nature to gardeners year-round who stay connected with one another as they exchange plants, seeds, knowledge, and ideas.
On a clear day in July without a speck of wildfire smoke clogging the sky, I visited Kenny and Rebecca's garden along with Brandon Garden Club members Gwen Beam, Greg Boguski, Joe Stouffer, and Esther Bryan. Together we were like bees going from flower to flower.
The Choy's backyard is 150 feet wide. Each of the four terraces on the steep slope overlooking the lush valley is 50 feet long. The terraces can be accessed at several different entrances. Six tall light standards illuminate the garden and stone pathways and handrails make it easy to go from one level to the next. Each level is planted with a mix of perennials, shrubs, and trees. Vegetables are planted on the lower terrace. Containers and architectural elements are dotted throughout the landscape. On my visit, a showstopping Aeonium Black Rose Zwartkop was displayed in a white hypertufa container which Rebecca made as part of a garden club activity.
The Choy's grow several rose bushes including Hope for Humanity rose, Morden Centennial rose, and Winnipeg Parks rose. Rebecca purchased Bonica, a hardy floribunda rose, at Patmore Nursery more than 20 years ago. Named World's Favorite Rose in 1997, Bonica has also earned an Award of Garden Merit from the Royal Horticultural Society and the All-America Rose Award. It produces soft pink, semi-double blooms.
Their landscape includes numerous lilies. The Asiatic lilies bloom first, followed by exotic Oriental lilies, and next, showy trumpet lilies for a long season of bloom. There are sweeps of Echinacea purpurea coneflower as well as milkweed, hydrangeas, Persicaria giant fleeceflower, single and double-flowered hollyhocks, and white David phlox, as well as Blue Moon wisteria vine. A portion of the upper terrace is bordered with Heuchera Brandon Pink coral bells, a reliably hardy and long-lived variety that was first introduced in 1983 by Henry Marshall at Morden Research Station. Brandon Pink can be challenging to find at garden centres but is often shared by gardeners through plant divisions and plant sales.
Rebecca loves succulents and cacti and enjoys visiting the Conservatory at nearby International Peace Gardens which houses a massive collection. A beautiful specimen of Parodia magnifica cactus, formerly known as Notocactus magnificus balloon cactus, sits atop a pedestal on the upper tier of her terraced garden each summer and is brought indoors in fall to overwinter. Purchased more than 20 years ago, it faithfully produces flowers each year, once in the spring and again in late summer. The rounded ball cactus basks in the full sun, says Rebecca. "One year it gave me almost 10 flowers. I remove the offsets at the side of the plant and give them to my friends in the garden club and they all enjoy it."
Rebecca and Kenny's house was designed and built by their daughter, Cindy Choy, who is an architect. It includes a south-facing sunroom where Rebecca maintains a large collection of houseplants including plants that she brings indoors for the winter. Some plants, like the Gloriosa lily with its unique flame-like red petals edged in yellow, are stored dormant in a cool, dry, dark room for the winter. Rebecca leaves Gloriosa lily in its container and takes care to water the soil minimally every now and then so that the plant does not dry out.
In Chinese culture, the colour red symbolizes happiness, good fortune, and joy. The brilliantly coloured red stems of Rainbow Swiss chard can be found mingling together with perennials and fruit shrubs such as the goji berry, also known as wolfberry, which produces brightly coloured red-orange fruit rich in nutrients. Goji berries have been used in China for their medicinal benefits since the 3rd Century. The fruits ripen in mid-summer. Rebecca adds fresh berries to salads and adds them to soup shortly before serving. The berries freeze well but are not suitable for drying, says Rebecca.
A handsome apricot tree is planted at the edge of the Choy's backyard patio. Although the tree failed to set fruit this year due to a late spring frost, most years it produces delicious fruit. Greg Boguski picks the green fruit from Kenny and Rebecca's apricot tree and makes an apricot essence called Umeshu. "It takes at least six months and is more like a liqueur than a wine," he says. After washing and drying the green apricots, Boguski places a single layer of apricots in a clean jar then covers the apricots with white rock sugar and repeats the process. Vodka is poured over the layers of apricots and rock sugar. The jar is sealed and stored for about six months. Once it is ready, Boguski shares the liqueur with Rebecca and Kenny who say the sweet taste is like ice wine.
The wide canopy of the apricot tree provides cool shade in the heat of summer to visitors who enjoy relaxing beneath its spreading branches. An arborist regularly prunes the Choy's 20-year-old apricot tree. Timely pruning is essential to optimize air flow, reduce the risk of disease, and ensure a healthy fruit crop.
The Choy's incorporate compost into their soil. The City of Brandon has a curbside green cart program which takes organic food waste material. There are more than 8,500 participating households and the program has been successful in diverting more than 2,200 tonnes of food scraps and yard waste. In spring, participating households receive two free bags of nutrient-rich compost.
In 2013, Rebecca and Kenny's garden was awarded best flowering garden of the year by Communities in Bloom. It is often featured in the city's annual Brandon in Bloom open garden tours.
Rebecca and Kenny enjoy the activities, camaraderie, and personal relationships that are the benefits of belonging to the Brandon Garden Club. They are also active members in their community. Kenny is a fourth-generation Chinese Canadian and is one of the leaders within the Chinese community of Western Manitoba. Kenny, Rebecca, and their daughter Cindy were instrumental in the establishment of the Chinese Head Tax monument at Brandon Cemetery that honours Chinese immigrants who were forced to pay a fee to enter and remain in Canada.
Back to News Home