Val Thomson photos
Got The Blues? The Blues Little Bluestem is the 2022 Plant of the Year.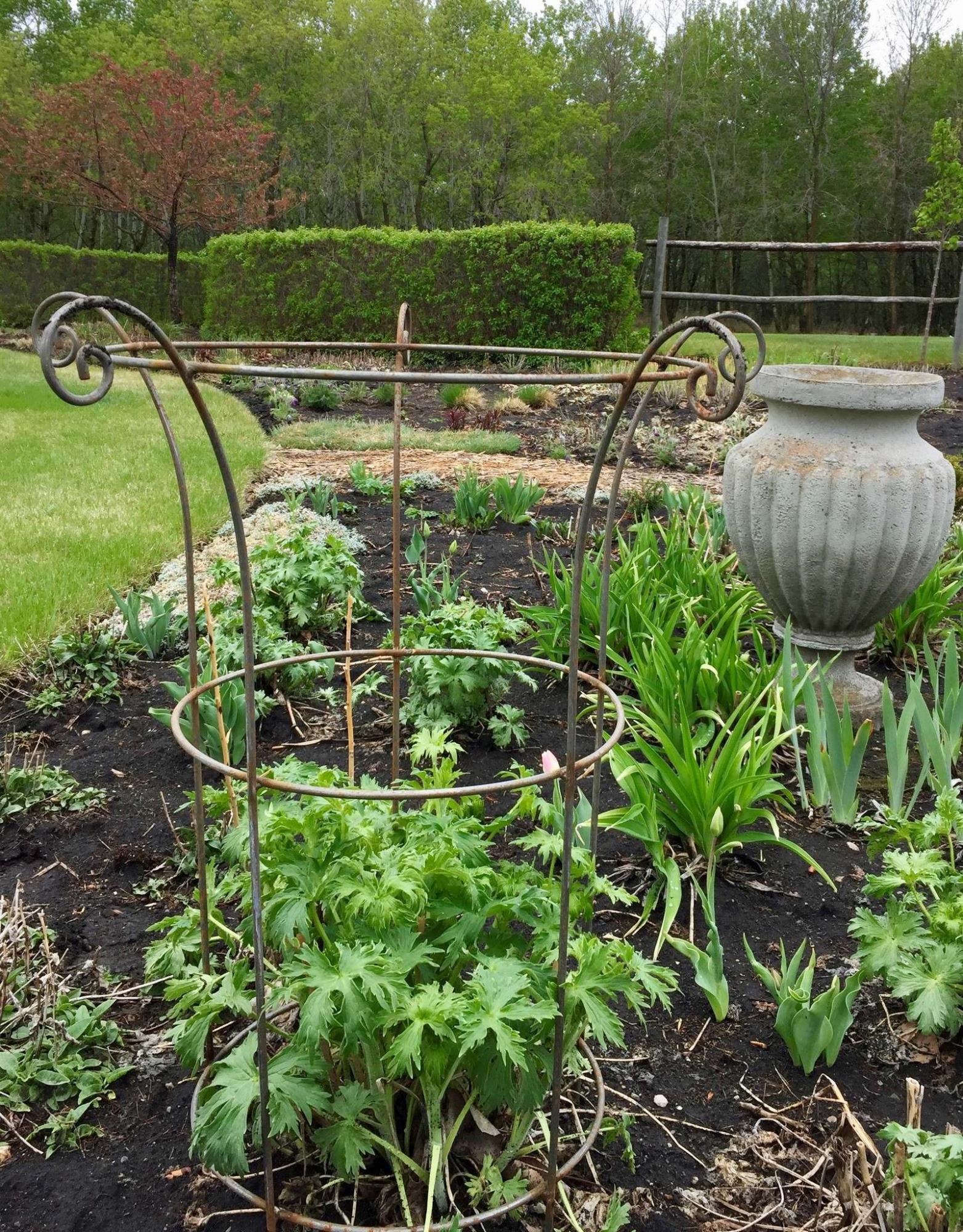 Shonda Ashcroft
Need a Christmas gift idea? Metal plant supports designed by Val Thomson and handcrafted by Bill Wright, are available in three sizes.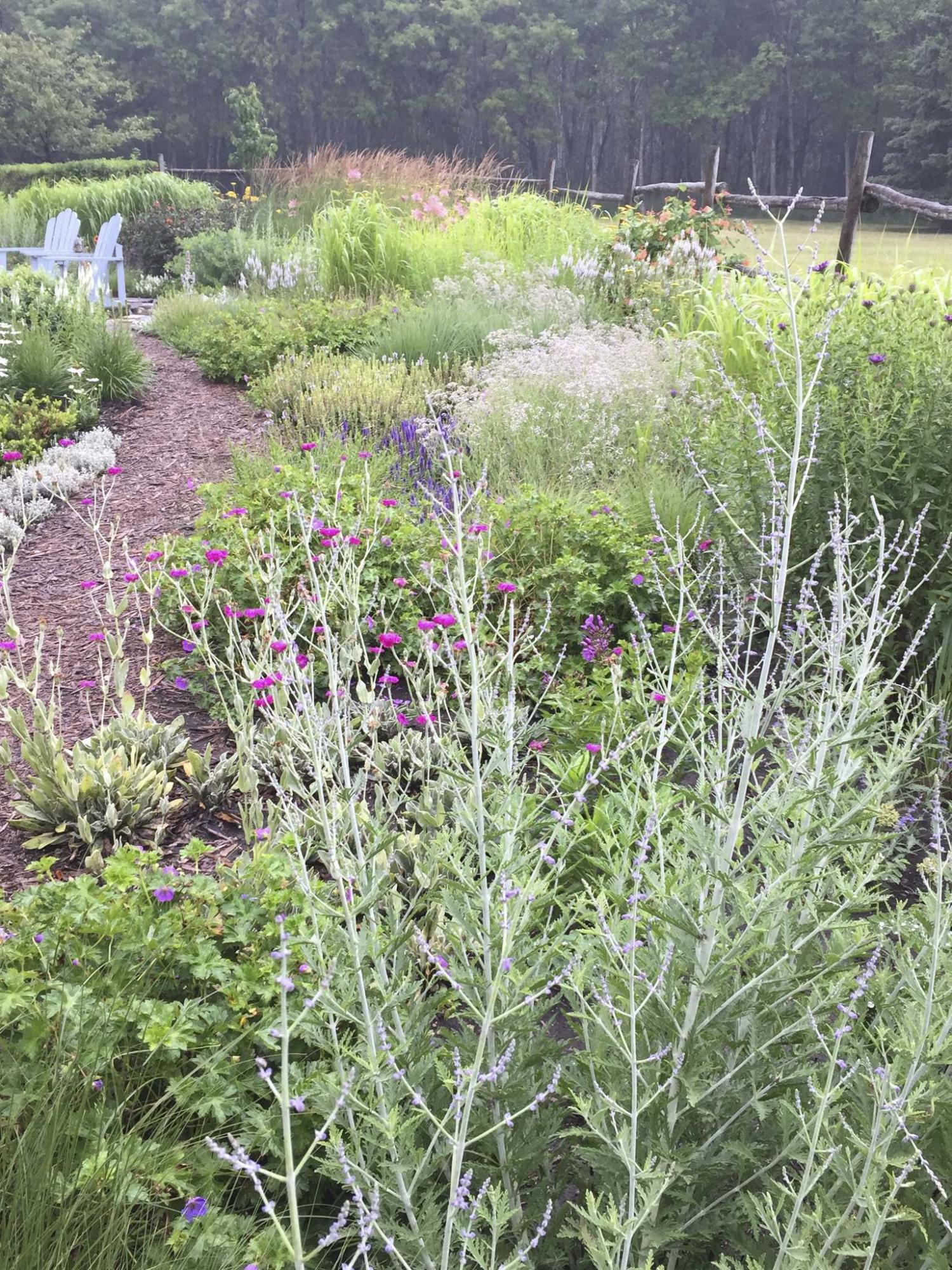 Ornamental grasses and perennials thrive in this Piet Oudolf-inspired garden in Birtle.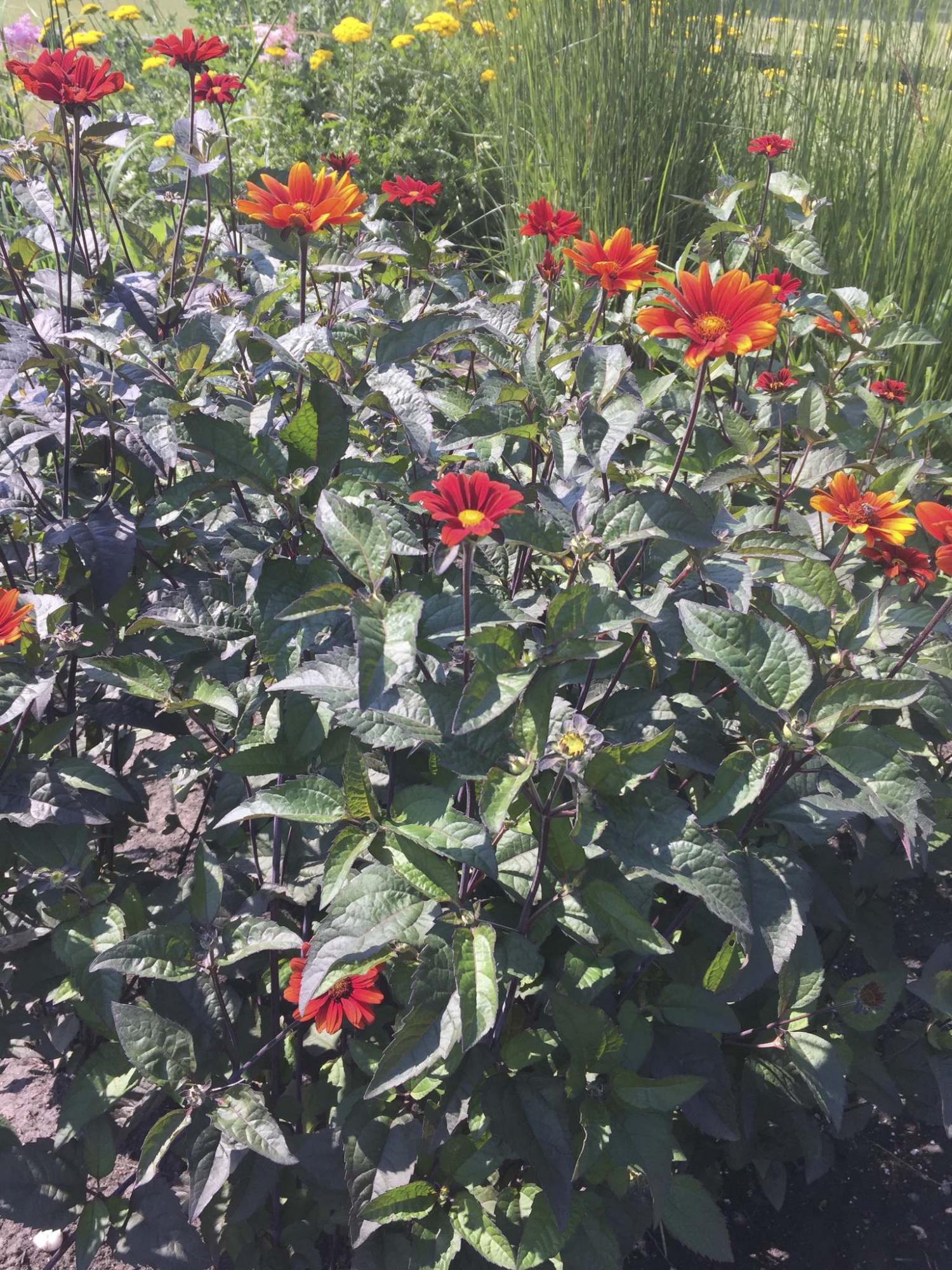 Bleeding Hearts false sunflower brings beautiful colour to the fall garden.
What's the best garden tour you missed? Gallery in the Garden is hosted every July by the Birtle Centre for the Arts but like so many other garden tours this year that were cancelled due to the ongoing pandemic, it fell by the wayside. Never mind that Birtle is a 3.5 hour drive from Winnipeg. It's worth it to see Val Thomson's five-acre garden, which is one of the many highlights of Gallery in the Garden.
Thomson's garden, which she started in the 1980s, has been visited and written about by people from across Canada. The problem is her garden keeps getting better and better. The length and breadth of her expansive property consists of such enormous diversity, innovation, and creativity, one visit is not nearly enough. Whatever garden vista you may have marvelled at has only grown more beautiful or been fully reimagined.
Thomson's sunken rose garden graced the cover of the 75th edition of The Prairie Garden (2014). Today her rose garden features tall metal obelisks handcrafted by Bill Wright, a Birtle resident, as well as numerous David Austin roses. Thomson has planted about 30 of the roses in a circle and orders several new ones each year.
A fall show of blooms is set to begin in a perennial garden which Thomson began making about six years ago. The design of the perennial garden is inspired by the influential and legendary Dutch plantsman, Piet Oudolf. It is situated where Thomson once had a stunning wildflower garden that was slightly less than an acre in size. "The wildflowers got to be too difficult over too many years, so I changed it: clumps and sprays and masses of perennials and grasses," says Thomson. Let's take a closer look.
One of the hallmarks of Thomson's landscape is tremendous diversity in plant selection. "I try not to put anything in this perennial garden that I have planted everywhere else." There are drifts of phlox, Veronica speedwell with white flower wands, gaillardia blanket flower, nepeta catmint and many varieties of salvia with different heights and bloom colours in white, pink, and purple. Verbascum mullein provides height and architecture. A recent addition is false sunflower Bleeding Hearts (Heliopsis helianthoides). The daisy-like flowers on deeply black stems start out intense red-orange and age to golden orange with red centres. Bleeding Hearts blooms from mid-summer until frost and stands about 90 cm tall. "It's stunning," says Thomson.
Russian Sage is planted at one end of the garden (lavender is one of Thomson's favourite colours). From there, the garden unfolds with shades of pink, white, and mauve and then yellows and oranges and darker colours. Also, very particularly, says Thomson, there are several drifts of Rozanne hardy geranium, a long-blooming perennial with masses of violet-blue flowers. Floating overhead are the intriguing drumstick-shaped flowers of great burnet in burnished burgundy red. But which cultivar of Sanguisorba great burnet? It could be Red Thunder, a form selected by Piet Oudolf or not. It was a division from a friend, says Thomson, and she has never come across it at a local nursery. Pity. I would buy it in a heartbeat.
Ornamental grasses are synonymous with a Piet Oudolf garden design. Thomson grows several varieties of ornamental grasses ranging from short to tall. The intensity of their autumn colours will soon be spectacular. Thomson has the blues: The Blues Little Bluestem, that is. Little Bluestem has recently been named 2022 perennial of the year by the Perennial Plant Association. Schizachyrium scoparium The Blues grows to a mature height of 60 to 120 cm. In summer, the striking foliage is a combination of blues, pinks, and purples followed by reddish-maroons and oranges in the fall.
Additional grasses that are medium-size include Sporobolus heterolepis Prairie Dropseed which has a fountain of cascading green leaves that turn golden-orange; Deschampsia cespitosa Tufted Hairgrass with cloud-like airy panicles; and Bouteloua gracilis Blonde Ambition Blue Grama grass with blue-green foliage and distinctively different, horizontally held yellow seed heads.
But Thomson's selection of taller grasses steals the show. Panicum virgatum Shenandoah switch grass is said to have the best burgundy-red foliage to be found in an ornamental grass. The tall stems are accented by pinkish flower spikes. Miscanthus sinensis Huron Sunrise, developed in Ontario, grows to an impressive 180 cm and blooms heavily with large burgundy blooms. The blue-green stems of Andropogon Gerardii Big Bluestem transition to a striking rusty-orange colour. Thomson also grows hardy pampas grass which she says is absolutely stunning but very invasive. "Its roots are very tough, and they come up in the most unexpected places," she says. Thomson digs around the base of the pampas grass vigorously to control its spread. "It's worth it. Its large form and gorgeous plumes last all winter."
But wait, no Karl Foerster feather reed grass? Yes, of course, but this ubiquitous variety found in most urban gardens is but one of the vast arrays of colourful, eye-catching grasses that Thomson grows.
Next to Thomson's perennial garden with its movement and relaxed feel is a more structured, formal garden design planted in shades of white. The size of the white garden is about 800 square feet. "The Oscar Peterson roses are dynamite," says Thomson, "and the Liatris Floristan White is really astonishing." Thomson has found Becky Shasta daisies to be a short-lived perennial but replaces them as needed. Campanula clustered bellflower, however, is no longer welcome because the blooms turn brown too early.
Other varieties include Germanica Immortality iris, a rebloomer; Joan Senior daylily, tall Black Eyed Angels delphinium, Limelight hydrangea, David phlox, low-growing Snow-in-summer, Silver Mound artemisia, Rose Campion alba with pure white flowers and silvery felted leaves. Yew shrubs form a partial hedge, and a tree form Snowball viburnum provides height. The garden is accented by two urns planted with Eucomis pineapple lilies. At the front of the garden stands a giant cow parsley for drama, says Thomson.
In a separate garden room, there is an allée or promenade lined with 26 Mancana ash underplanted with Lemon Fluff knapweed, Elsa Sass peony, Limelight hydrangea, Walker's Low nepeta, Lady's Mantle, and Marguerite daisies.
In spring of 2020, Thomson began a fruit orchard and planted apple, plum, and apricot trees. Earlier this year, she espaliered four apple trees (Battleford and Gemini) which are supported by drill stem pipes dug into the ground (augured and cemented). Each of the drill stem supports are topped decoratively with porcelain finials created by Bill Wright.
There are other enviable metal accents handcrafted by Wright that are displayed in Thomson's garden including a handsome armillary sphere. Thomson and Wright have collaborated on a unique plant support. Designed by Thomson and handcrafted by Wright, the plant support comes in three sizes and is made of ¼ inch hot-rolled round steel with a 19-inch top ring diameter. The plant support has an elegant curl top detail. Over time, the natural finish will develop a rich rust patina. Net proceeds will support programs and operations at Birtle Centre for the Arts. Full details including delivery arrangements are available at: birtlearts.ca/events-fundraisers/.
Back to News Home