Breadcrumb Trail Links
Sports
Local Sports
Football
Zack Schmidt's 28-yard field goal at 9:46 of Sunday's fourth quarter was the difference as the Regina Thunder beat the Winnipeg Rifles 24-22.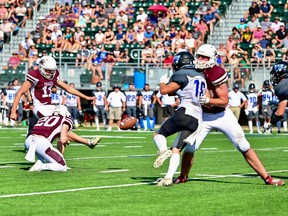 Zack Schmidt of the Regina Thunder kicks a 28-yard field goal at 9:46 of the fourth quarter against the Winnipeg Rifles on Sunday at Leibel Field. Schmidt's field goal stood as the winner as the Thunder won 24-22. Branden Janotta, 20, is the holder. Photo by Wanda Harron Photography
Article content
The Regina Thunder improved its record to 2-0 with a hard-fought, 24-22 PFC victory over the Winnipeg Rifles on Sunday at Leibel Field.
Article content
Winnipeg led 22-18 after three quarters, but the Thunder responded with back-to-back 28-yard field goals by Zack Schmidt. The second such kick, at 9:46 of the fourth quarter, provided the winning points.
Thunder quarterback Carter Shewchuk threw for 311 yards, including touchdown passes to Isaiah Woodley (59 yards) and Rylan Sokul (24).
Woodley (who caught six passes for 128 yards), Sokul (four for 73) and Isaac Foord (three for 71 were Regina's leading receivers).
Ryland Leichert led the Thunder's ground game with 174 yards on 25 carries. Sadik Sadik added 73 yards on 12 rushes.
Winnipeg's Bryson McNeil threw two touchdown passes to Jacob Roger, who had 11 catches for 252 yards.
McNeil was sacked twice by Reed Rabbetz and intercepted by Adam King. Shewchuk was intercepted twice.
Article content
Also on Sunday, the Saskatoon Hilltops defeated the visiting Edmonton Huskies 38-10. The Thunder and Hilltops are tied for first place.
Next up for the Thunder is an Aug. 28 road game against the Huskies.
LAWN BOWLING LAURELS
Two Regina Lawn Bowling Club teams won medals at the Canadian women's and men's fours and pairs championships in Burlington, Ont., on the weekend.
Jean Roney, Jordan Kos, Heather Hanoski and Tracey McPherson finished second in women's fours.
Carter Watson, Brandon Watson, Patrick Schlotter and Darrell Hanoski earned a bronze medal in men's fours.
RUGBY RESULTS
The Regina Rogues and Campion Grads are to meet in Friday's Regina Rugby Union senior men's 15s championship match (6:15 p.m., Regina Rugby Park).
In semi-finals, the Rogues defeated the Regina Highlanders 52-7 and the Grads downed the Regina Condors 61-17.
The sports world is ever-changing, as are the times. Supplement your steady diet of sports coverage by subscribing to the Regina Leader-Post's 306 Sports Fix newsletter. Each week, sports editor Rob Vanstone will provide additional commentary on the Roughriders, Pats and other teams/sports of interest, along with a peek behind the curtain. Click here to subscribe.