Breadcrumb Trail Links
Winnipeg
News
Columnists
Publishing date:
Oct 28, 2022  •  27 minutes ago  •  3 minute read  •  Join the conversation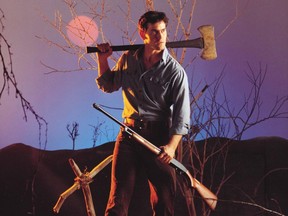 Bruce Campbell in The Evil Dead. Photo by File /Handout
Article content
Grab your best Klaatu Barada necktie and come get some at Necronomicon Comiccon this weekend.
Advertisement 2
This advertisement has not loaded yet, but your article continues below.
Article content
Ok. Went a little bit fanboy there with the Evil Dead references. It's just that Ash Williams himself – a.k.a. åBruce Campbell – is in town for the second instalment of the rebooted Winnipeg Comiccon at RBC Convention Centre. He'll introduce a screening of Army of Darkness (Evil Dead 3, if you wish, or the much better original title The Medieval Dead) on Saturday night, and be around for photos, autographs, yadda yadda.
By clicking on the sign up button you consent to receive the above newsletter from Postmedia Network Inc. You may unsubscribe any time by clicking on the unsubscribe link at the bottom of our emails. Postmedia Network Inc. | 365 Bloor Street East, Toronto, Ontario, M4W 3L4 | 416-383-2300
Thanks for signing up!
Article content
That level of fandom applies across the schedule, with guests such as Matthew Lewis (Neville Longbottom in the Harry Potter series), John Barrowman (Doctor Who, Arrow), Charles Martinet (the voice of Mario), Leah Thompson (Back to the Future) and Peter Elbing from the beloved Phantom of the Paradise, which also gets its own screening and a discussion with the actor.
Advertisement 3
This advertisement has not loaded yet, but your article continues below.
Article content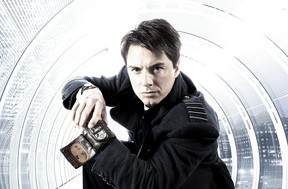 John Barrowman, seen here as Doctor Who. Handout photo Photo by File /Handout
And that's just a sampling of the paid guests. One of the major highlights of Comiccon is you, the paying guest. 
Many of the 10,000-plus visitors go all out on their costumes, whether they be in cosplay fan groups or just your Average Joes projecting their Halloween happiness. The dressup culminates with Saturday night's Masquerade, an impressive costume contest.
Add in collector booths, artist alley, family zone, comic book creators/illustrators, and panels and workshops and it's the biggest ticket on Halloween weekend in more ways than one. Weekend passes are $60 or $180 for VIP, while single days are priced as follows: Friday – $15, Saturday – $35/$125 VIP, Sunday $30/$110. 
The screenings of Army of Darkness and Phantom of the Paradise are not included with a pass (though a discounted upgrade is available) while pictures, autographs and the like also cost extra. (If that seems complicated, you should see the rules on weapons and large props.)
Advertisement 4
This advertisement has not loaded yet, but your article continues below.
Article content
See comicconwinnipeg.com for more information.
Whoa Canada
Go see the northern frights on Saturday at Cinematheque with Aurora Gorealis – a Canadian horror film marathon featuring three '80s offerings and another more current film paired with Canadian shorts.
It begins with Lew Lehman's The Pit (1981) at 3 p.m., as a preteen boy takes revenge on his harassers after a disturbing discovery in the forest. PIN (1988) from Sandor Stern is at 5 p.m., and concerns a sentient doll once used as a medical prop. Hello Mary-Lou: Prom Night II (1987), directed by Bruce Pittman, takes its place at 7 p.m. While not really a sequel, it shares elements with Prom Night.
Finally, at 9 p.m., there's Steven Kostanski's Psycho Goreman (2020), the old story in which young siblings resurrect an ancient alien overlord, force it to obey their whims and accidentally attract intergalactic assassins to their suburban town.
Advertisement 5
This advertisement has not loaded yet, but your article continues below.
Article content
Hear here
Much of the original score to Nosferatu, the silent, unauthorized adaptation of Bram Stoker's Dracula, was lost, leading to adaptations of Hans Erdmann's original from Popol Vuh, James Bernard and a memorable performance in the Winnipeg Folk Festival campground at 1:30 a.m., by Nash the Slash. 
Just in time for Halloween, and in celebration of its 100th anniversary, The Winnipeg Symphony Orchestra has its turn Saturday as Naomi Woo conducts while the F.W. Murnau classic starring Max Schreck screens at the Burton Cummings Theatre, which has its own haunted tales.
Get MET
The Metropolitan Entertainment Centre is promising three floors of fun at its former theatre with a Day of the Dead playground feel at its Saturday night event, A Nightmare on Donald Street, including DJ sets from EDM/Top 40 and hip hop/R&B, and a costume party. It's close to a sellout though.
Advertisement 6
This advertisement has not loaded yet, but your article continues below.
Article content
Butt, of course
Juvenile, to be sure, but I tend to abbreviate Assiniboine or Assiniboia as Ass. So it seems fitting that we bring up the rear here with the 19+ Adult Expo and Market this weekend at Assiniboia Downs. 
It features a Naughty Party social on Friday night featuring a pair of RuPaul's drag queens, and an adult costume contest sure to titilate. There are more than 50 vendors hawking everything from tattoos, cannabis, jewelry, and boudoir items along with food trucks, entertainment ranging from burlesque and pole dancing to themed balloon sculptures and full-service bar with themed cocktails on both Friday and Saturday.
Let's get it on.
Share this article in your social network
Advertisement 1
This advertisement has not loaded yet, but your article continues below.
Comments
Postmedia is committed to maintaining a lively but civil forum for discussion and encourage all readers to share their views on our articles. Comments may take up to an hour for moderation before appearing on the site. We ask you to keep your comments relevant and respectful. We have enabled email notifications—you will now receive an email if you receive a reply to your comment, there is an update to a comment thread you follow or if a user you follow comments. Visit our Community Guidelines for more information and details on how to adjust your email settings.