Breadcrumb Trail Links
Winnipeg Jets
NHL
Hockey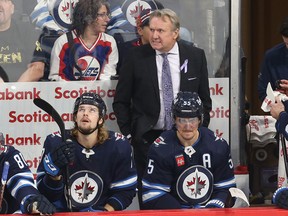 Winnipeg Jets head coach Rick Bowness looks intense behind the bench against the Colorado Avalanche on Nov. 29, 2022. Photo by KEVIN KING /Winnipeg Sun
Article content
Barry Who?
Remember when the Winnipeg Jets' immediate future appeared to hinge solely on a decision by long-time NHL head coach Barry Trotz whether or not to take the job Paul Maurice had left vacant?
Advertisement 2
This advertisement has not loaded yet, but your article continues below.
Article content
By clicking on the sign up button you consent to receive the above newsletter from Postmedia Network Inc. You may unsubscribe any time by clicking on the unsubscribe link at the bottom of our emails. Postmedia Network Inc. | 365 Bloor Street East, Toronto, Ontario, M4W 3L4 | 416-383-2300
Thanks for signing up!
Article content
It wasn't that long ago when it seemed the much-revered native of Dauphin, Man., was seen as the cure for all the Jets' ills.
We tracked the summer courtship between GM Kevin Cheveldayoff and Trotz like that of a super-couple: When did they meet? Where did they meet? How long did they meet? Did he pop the question?
Article content
Then came the big jilt.
When Trotz turned down Cheveldayoff's overtures and decided to sit this season out, the Jets seemed destined for another year lost at sea.
Instead, they're taking the NHL by storm, while Trotz's name is a forgotten footnote.
In its place, four names you might want to get better acquainted with: Jack Adams, James Norris, Georges Vezina and Frank Calder.
Those are the namesakes of four of the NHL's individual trophies, all pieces of hardware the Jets are flirting with one-quarter of the way into the season.
Advertisement 3
This advertisement has not loaded yet, but your article continues below.
Article content
For the Jack Adams Trophy as the league's top bench boss, it's Rick Bowness knocking on the door, of course.
The guy not only brought flowers, he has planted them and built a garden that's the envy of the neighbourhood.
When's the last time anyone's second choice, and a distant second at that, worked out like this?
Bowness and a team starved for more clarity and better direction have been a match made in hockey heaven.
The Jets aren't just wrangling with Dallas for top spot in the Central Division, they have the better winning percentage, .690 to .652, with two games in hand to make up the one-point difference in the standings.
Based on recent results, it's not that close.
Their last trip to Dallas produced a 5-4 overtime win, and when they last hosted the Stars, the Jets won 5-1.
Advertisement 4
This advertisement has not loaded yet, but your article continues below.
Article content
Defending Stanley Cup champ Colorado was the latest to experience the Jets' wrath: they left town smarting from a 5-0 thrashing on Tuesday.
Two Avalanche fans in the stands showed more resistance to the cops than their team was able to muster, getting hauled out of the rink after starting a brawl.
If the Jets were a financial report, they just rewarded shareholders with the best first-quarter return in the franchise's brief, rebooted history, at 14-6-1.
What seemed like a dysfunctional dressing room at the end of last season is all bro hugs and back slaps today.
"We set off to change the culture," goalie Connor Hellebuyck said after Tuesday's game. "Wasn't bad culture … but what everyone wanted in this room was to bring that joy and have fun and work hard. No one was worried about expectations. Like I've said, expectations kill you. No one had any expectations except to come in and work hard, and everyone is enjoying that."
Advertisement 5
This advertisement has not loaded yet, but your article continues below.
Article content
Nobody has been getting more brotherly love than defenceman Josh Morrissey, who'd be a finalist for the Norris Trophy if the voting for the league's top defenceman were tabulated today.
Defencemen just don't lead the Jets in scoring, not with the likes of Mark Scheifele and Kyle Connor lurking in the offensive zone.
But that's what Morrissey is doing, more than doubling his usual pace with 25 points in 21 games, including a sudden flair for the dramatic: three game-winners, two of them in overtime, over the last dozen games.
The Jets are 9-3 over that span.
"Last year was the coming-out party a little bit," Blake Wheeler said of Morrissey. "And now he's establishing himself as a premiere defenceman in the NHL."
Over to Hellebuyck, whose coming-out party was a few years ago.
Advertisement 6
This advertisement has not loaded yet, but your article continues below.
Article content
The debate over how much of a drop he took last season ends with the level he's reached this year.
He's back to a Vezina-Trophy level: his .931 save percentage on pace for a career-best.
"This is the best I've seen him play," Wheeler said.
Which brings us to somebody we've hardly seen play at all, but who has his name in the running for the Calder Trophy as the NHL's top rookie.
After picking up three assists on Tuesday, Cole Perfetti, with 14 points, has only one player, Matty Beniers of Seattle, ahead of him in the rookie scoring race.
"Pretty next-level stuff," is how Wheeler described Perfetti's pass on his second of three goals against the Avs.
Finally, there's Wheeler himself, who's playing like that 'C' peeled from his sweater weighed 20 pounds.
Advertisement 7
This advertisement has not loaded yet, but your article continues below.
Article content
"This is clearly the best he's played," Bowness said, continuing a theme. "Just as important for me is what he's doing off the ice … in practice he's talking to guys, on the bench he's talking to guys. Those are the things that are just as important to me because at this stage of his career, the man wants to win.
"When we had to go through this whole captaincy thing, I told Blake, 'You're still the leader of this hockey club. The 'C' or the 'A,' don't worry about it. Be you.' Give him a lot of credit."
It's not all that surprising Wheeler is his old self.
What is surprising is the Jets aren't.
And suddenly the underachievers from Winnipeg aren't a pushover anymore, no matter who they play.
"Make them worry about us," is the message Bowness delivered on Tuesday.
No doubt they're starting to.
[email protected]
Twitter: @friesensunmedia
Share this article in your social network
Advertisement 1
This advertisement has not loaded yet, but your article continues below.
Comments
Postmedia is committed to maintaining a lively but civil forum for discussion and encourage all readers to share their views on our articles. Comments may take up to an hour for moderation before appearing on the site. We ask you to keep your comments relevant and respectful. We have enabled email notifications—you will now receive an email if you receive a reply to your comment, there is an update to a comment thread you follow or if a user you follow comments. Visit our Community Guidelines for more information and details on how to adjust your email settings.