Breadcrumb Trail Links
Winnipeg Jets
NHL
Hockey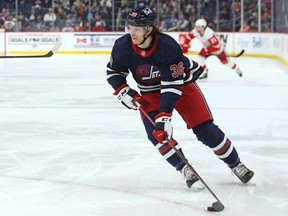 Winnipeg Jets centre Morgan Barron carries the puck against the Detroit Red Wings in Winnipeg on Wednesday, April 6, 2022. Photo by KEVIN KING /Winnipeg Sun
Article content
The good news for Morgan Barron is he is healthy and was able to practice with the Winnipeg Jets for the first time in 10 days on Sunday.
Advertisement 2
This advertisement has not loaded yet, but your article continues below.
Article content
The bad news is he's got a lot of catching up to do with just a week left in training camp.
By clicking on the sign up button you consent to receive the above newsletter from Postmedia Network Inc. You may unsubscribe any time by clicking on the unsubscribe link at the bottom of our emails. Postmedia Network Inc. | 365 Bloor Street East, Toronto, Ontario, M4W 3L4 | 416-383-2300
Thanks for signing up!
Article content
The 23-year-old winger was pencilled in to a spot on the third line, heading into training camp, and now he's got a limited opportunity to make sure no other name gets written in pen when the season starts.
"There's definitely a temptation to (try to play catch-up)," Barron said after the Jets practised at the IcePlex.
Article content
"But I've been around. I've been lucky, I've been able to skate for a week and a half, so I look at it that way. I feel like all my conditioning, all the work I've done over the summer, I don't feel like I've lost any of that because I haven't been off the ice long at all. It was good. It was easy. The guys did a good job of keeping me up. Everything worked smoothy and I'm glad I'm able to get back with the guys for the last week of camp."
Advertisement 3
This advertisement has not loaded yet, but your article continues below.
Article content
Barron made a strong impression with the Jets late last season after coming over from the New York Rangers in a trade for versatile forward Andrew Copp.
He had two goals and two assists in 14 games with the Jets and there's no doubt new coach Rick Bowness is intrigued by the 6-foot-4, 220-pound winger.
"We're finally gonna get a good look at him," Bowness said. "I'm excited to get him back. I've always wanted to have a look at him with (Adam) Lowry and (Mason Appleton). We're gonna take a look at that for the next two games. He's a little bit behind, because of the injury, which is very unfortunate, because he's one of the guys we had pencilled in and we've got to take a real good look at him. But hey, you deal with the way it is and he'll get a good look the next two games."
Advertisement 4
This advertisement has not loaded yet, but your article continues below.
Article content
The Jets will host the Calgary Flames on Wednesday at Canada Life Centre and will play the Flames in Calgary next Friday to close out the pre-season. They then have a full week before they open the regular season at home on Oct. 14 against the Rangers.
NO EASY PRACTICES
Nikolaj Ehlers is participating in his eighth training camp with the Winnipeg Jets and the 26-year-old admits this one has been different in terms of physical expectations.
The Jets skated for almost 90 minutes on Sunday and Bowness set a fast pace, with a variety of drills, three-on-three work, four-on-four work, power-play practice and even some old fashioned bag skating.
"Today was pretty hard," Ehlers said. "My legs are a little shaky right now, I'm not going to lie. But it's great. It's what we need. We've gone through a bunch of systems stuff that we still need to learn on, but you can see in our games that it's getting better and better. So, we're happy with where we're at, but we've still got a ways to go."
Advertisement 5
This advertisement has not loaded yet, but your article continues below.
Article content
Ehlers joked about how "weird" it is for him to be considered one of the "older" players on the Jets now. He's one of the players Bowness wants to see take a larger leadership role now that he's entering his eighth NHL season.
"All those guys that I've talked to, I've said 'Yeah, you are a veteran now,' we expect more from you in terms of those things,'" Bowness said.
"Some of these guys are at the prime of their career and they've got to take advantage of it and we've got to take advantage of it. A guy like Ehlers, and Kyle Connor, are good examples. They've been here a few years and it's time to take a little more responsibility on what's going on with the team, on and off the ice."
Bowness stripped Blake Wheeler of his captaincy at the beginning of training camp and the Jets are planning to have a few players wear "A's" on their jerseys this year.
Advertisement 6
This advertisement has not loaded yet, but your article continues below.
Article content
Ehlers and Connor are among the players who could be in that mix.
SERIOUS SKILL ON TOP LINE
The line of Mark Scheifele, with Ehlers and Connor on his wings, has been buzzing throughout training camp and was looking especially sharp on Sunday.
It looks like Bowness likes the idea of having his three most productive forwards all on one line and there's no doubt the highly skilled trio could put fear into the opposition for as long as its together.
"I love the way they find each other," Bowness said. "They're making plays, putting passes through defencemen's skates and sticks, all the little details that elite players have. They know where to put the puck and the timing of where to put it and when to put it. They can put pucks in feet, under the sticks, in that little triangle between the defenceman's feet and sticks, over sticks. They have that innate ability to do that and that's what we're seeing."
Advertisement 7
This advertisement has not loaded yet, but your article continues below.
Article content
Bowness quickly turned his focus to the other major part of the game, something that has not necessarily been a strong suit for Scheifele, Connor and Ehlers in the past.
"We want them to be creative, we want them to do all those things on the rush, because they're hard to defend," Bowness said.
"But we have the same expectations for them as the rest of the team. Without the puck you've got to bear down, you've got to back-check, you've got to make the right reads, just like everybody else. With elite players, you're always giving them a little more freedom because they're difference-makers. But in terms of when we don't have the puck, there are no double standards. Everybody has to work hard, back check and make the right reads."
Ehlers is loving the chemistry with Connor and Scheifele. All three players can make plays at high speed, all three can shoot the puck and all three have veteran savvy.
"We haven't played that much together over the last six, seven years, but they're two easy guys to play with, got a lot of speed, and they're smart guys so they get into the right spots," Ehlers said.
"We've just got to keep creating some chemistry and it's going the right way."
Twitter.com/Ted_Wyman
Share this article in your social network
Advertisement 1
This advertisement has not loaded yet, but your article continues below.
Comments
Postmedia is committed to maintaining a lively but civil forum for discussion and encourage all readers to share their views on our articles. Comments may take up to an hour for moderation before appearing on the site. We ask you to keep your comments relevant and respectful. We have enabled email notifications—you will now receive an email if you receive a reply to your comment, there is an update to a comment thread you follow or if a user you follow comments. Visit our Community Guidelines for more information and details on how to adjust your email settings.