Breadcrumb Trail Links
Winnipeg Jets
NHL
Hockey
Publishing date:
Nov 07, 2022  •  58 minutes ago  •  4 minute read  •  Join the conversation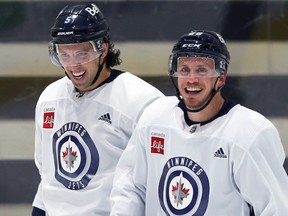 Veteran defencemen Brenden Dillon (left) and Nate Schmidt share a laugh during Winnipeg Jets training camp at Bell MTS Iceplex in Winnipeg on Mon., Oct. 3, 2022. KEVIN KING/Winnipeg Sun/Postmedia Network
Article content
In stature, it's not much larger than a legal-sized piece of parchment. The only flair adorned on it is a small Winnipeg Jets heritage logo as a type of letterhead.
Advertisement 2
This advertisement has not loaded yet, but your article continues below.
Article content
But what the laminated piece of paper holds within its margins is much bigger than the real estate it takes up.
NP Posted
By clicking on the sign up button you consent to receive the above newsletter from Postmedia Network Inc. You may unsubscribe any time by clicking on the unsubscribe link at the bottom of our emails. Postmedia Network Inc. | 365 Bloor Street East, Toronto, Ontario, M4W 3L4 | 416-383-2300
Thanks for signing up!
Article content
It houses the players' creed, four pillars — purpose, integrity, open-handed communication and being like water — that provide a ruleset of sorts by which the team has sworn to follow.
Sworn, because surrounding the final line on it, which asks the question "What are we capable of?" is each player's signature.
"I find myself looking at it when I am getting dressed, just kind of remind you of what's going on in the day, what's expected of myself," defenceman Nate Schmidt said. "I have an internal expectation. It's always fun to have a reiteration of what that is and maybe some different terminology because those are not my words, they're our words. It makes you believe that you have a self-expectation and now I have an expectation for myself within the team, which is really important."
Advertisement 3
This advertisement has not loaded yet, but your article continues below.
Article content
The origins of the player-initiated pledge stem back to the team's retreat to Banff at the end of training camp. Among the fishing and the golfing, the team held a leadership seminar for the players as one of the team-bonding activities.
It's signed by each member of the team, both young and old, because each had their hand in its construction and, as Schmidt pointed out, because it shows each player is on board with what it says and what it means.
"We talked about it in Banff just as a team, some things to focus on this year instead the prototypical work hard, play as a team type of stuff, just a few things we all agreed upon," defenceman Brenden Dillon said.
"I think whether you're Blake Wheeler, who has played 1,000 games, or you're Dylan Samberg who's played (20) games, everyone wants to have the same amount of (input). When somebody speaks, everybody is listening."
Advertisement 4
This advertisement has not loaded yet, but your article continues below.
Article content
Finalizing the creed took several days, Schmidt said. It wasn't a five-minute job, but rather an important endeavour by the team as they whittled down from about 10-15 points before arriving at the final four.
The first pillar regarding purpose is obvious. Everything the team does has one, and everything they do serves to improve both themselves and their teammates.
Integrity is just as clear. Words are honoured, pride is taken and respect is shown.
Open-handed communication speaks to what Dillon said about everyone having a voice, whether you're playing 25 minutes a night or five.
"You have to change the narrative of a guy coming in and just not being able to say anything because Cole Perfetti can teach me a lot about hockey on the offensive side than I would ever know," Schmidt said. "If he doesn't feel comfortable saying anything to me, then you just wasted a guy with good knowledge if you're not open to being able to try new things or see something from somebody else's perspective and you're not a full hockey player."
Advertisement 5
This advertisement has not loaded yet, but your article continues below.
Article content
Being like water suggests a willingness to adapt and be malleable regardless of circumstances.
"We are comfortable being uncomfortable," a line reads under that subhead.
"We all just want to be the best at what we're doing, which I think, in turn, will make the Winnipeg Jets a better team," Dillon said. "That's when you talk about whether there's a turnover or a bad play, whatever the case might be, we want to be able to own it and move on from there, be better the next shift or the next game or whatever that opportunity might be."
Winnipeg's togetherness this season has been palpable, a far cry from just several months ago after the team's miserable 2021-22 season, where discontent echoed through the same walls.
Dillon said there were times last summer when he went home and was asked how "crappy" the locker room was back in Winnipeg.
Advertisement 6
This advertisement has not loaded yet, but your article continues below.
Article content
"I don't think that's the case at all," Dillon said.
This season, he said, the unity has made its presence known on the ice. You only have to look at the team's 7-3-1 start for proof.
"It doesn't matter who is scoring the goals, I think everybody is excited for it," Dillon said. "It doesn't matter who is having success, penalty kill, power play, I think we've all been coming together."
It could have teetered the other way, Dillon admitted. With Nikolaj Ehlers' injury and Bowness' absence due to COVID for several games across two road trips, the team has faced some adversity to start the season when you sprinkled in a couple of tough performances.
"I think in the past, it could have gone where guys were saying (expletive) each other or something," Dillon said. "But this year, it's been a lot of, 'Hey, let's help each other. This is what we talked about. We know the black and white, what the right and wrong plays are.'"
Advertisement 7
This advertisement has not loaded yet, but your article continues below.
Article content
Bowness has seen similar oaths in the past.
From his conversations with players over the summer months prior to training camp in September, Bowness sussed that his players want to have more of a voice.
"So we're giving it to them, and we're going to help them with that," the 67-year-old said. "It's their room. It goes back to those conversations. 'Okay, you want the room, we're going to give it to you. And we're going to help you with the culture in the room.'
"When you have those group discussions and you're talking about what being a good teammate means to you, you and you, then you come up with kind of the guidelines and everyone wants to follow them. It's their room.
"Bad teams are led by no one, average teams are led by coaches, good teams are led by players. That's where we're trying to get to."
Twitter: @scottbilleck
To sign up for Scott's weekly newsletter The Exit Row, click here.
Share this article in your social network
Advertisement
This advertisement has not loaded yet, but your article continues below.
Comments
Postmedia is committed to maintaining a lively but civil forum for discussion and encourage all readers to share their views on our articles. Comments may take up to an hour for moderation before appearing on the site. We ask you to keep your comments relevant and respectful. We have enabled email notifications—you will now receive an email if you receive a reply to your comment, there is an update to a comment thread you follow or if a user you follow comments. Visit our Community Guidelines for more information and details on how to adjust your email settings.