Breadcrumb Trail Links
NHL
Hockey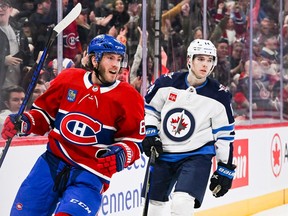 Montreal Canadiens left wing Mike Hoffman (68) celebrates his goal against the Winnipeg Jets during the second period at Bell Centre in Montreal on Tuesday, Jan. 17, 2023. Photo by David Kirouac /USA TODAY Sports
Article content
Woof.
Not the sound a dog makes, but the slang definition, where something is referred to as ugly or terrible.
Advertisement 2
This advertisement has not loaded yet, but your article continues below.
Article content
By clicking on the sign up button you consent to receive the above newsletter from Postmedia Network Inc. You may unsubscribe any time by clicking on the unsubscribe link at the bottom of our emails or any newsletter. Postmedia Network Inc. | 365 Bloor Street East, Toronto, Ontario, M4W 3L4 | 416-383-2300
Thanks for signing up!
Article content
Such was the Winnipeg Jets' performance on Tuesday night at the Bell Centre, where they lost 4-1 to the Montreal Canadiens after putting their collective heads together to produce one of their worst performances of the season.
"Not good enough," defenceman Josh Morrissey said after picking up his 49th assist of the season on Winnipeg's lone goal.
The Jets, who fell to 29-15-1 on the season, were far from the team that entered the day as the best team, not only in their division but in the Western Conference.
They came into the game winners of eight of their past nine, but got away with one on Sunday, beating Arizona by a slim 2-1 margin.
That loose style caught up with them in Montreal.
"We didn't deserve to win that game," head coach Rick Bowness said. "We were behind the all night and made it very easy for them to play their game. When the compete isn't there and the legs (aren't) there and the execution isn't there, then you look bad. We looked bad."
Advertisement 3
This advertisement has not loaded yet, but your article continues below.
Article content
If it could go wrong, it did for Winnipeg, rubber-stamped by a six-minute stretch in the second period where they coughed up three straight goals.
The Jets jumped out to a 1-0 lead on the power play, as Kyle Connor cranked home his 22nd of the season and 200th of his NHL career from the right circle just 1:24 in the middle frame.
The goal took the sting off yet another poor first-period start, getting outshot 10-6, but it didn't fix the issues.
Poor defending and puck management by the Jets led to Evgenii Dadonov's first of two on the night at 7:46 to tie it in the second. Mike Hoffman would then be left to mostly his own devices at 9:28 as he ripped the go-ahead goal. Dadonov struck again at 13:31.
Ville Heinola, who returned to the lineup after a strange set of circumstances, including his own illness and another to one of his teammates kept him out of two games he was expected to play, struggled to find himself.
Advertisement 4
This advertisement has not loaded yet, but your article continues below.
Article content
He was on the ice for all three goals against in the second and was benched for the remaining six minutes and change of the period.
"It wasn't one guy tonight," head coach Rick Bowness said. "It was everybody, so… It was everybody."
Dadonov's first, with the Jets scrambling all over their own zone, was particularly hard to stomach after Connor put the team on the board.
"That's the job of a (penalty kill) and a power play is to try and get momentum," Connor said. "We had a good kill in the first there. The power play came out and got one right away. I thought we had a little bit of jump, some legs, and they scored and kind of deflated us. It's not like us to get down in a situation like that. Usually, we're pretty even keel. They just kept pouring it on and we looked slow tonight."
Advertisement 5
This advertisement has not loaded yet, but your article continues below.
Article content
With vastly different lines than what started the game as Bowness tried to shuffle the deck, the Jets pushed in the third, outshooting Montreal 9-7.
But Habs starter Sam Montembeault stood tall, stopping 24 en route to the win, his ninth.
"We're trying to be aggressive," Morrissey said. "I thought we didn't manage the puck as well as we could have and passed up on a lot of shots. Again, we try to put a lot of pucks to the net and try and be aggressive and play on our toes. That wasn't there for us."
Josh Anderson made it 4-1 to put to bed any thoughts of a late comeback push, scoring 4:19 into the frame.
"They played well and to their strengths, kind of what we were expecting," Morrissey said. "They're a fast team and it's a really fast rink, boards are fast and they used that to their advantage. We didn't have our skating legs. We need to execute better than we did."
Advertisement 6
This advertisement has not loaded yet, but your article continues below.
Article content
Connor Hellebuyck allowed four on Montreal's 28 shots. He was good in his own right, including keeping the Jets in it during the first period. But he was left out on an island too many times on Tuesday.
Winnipeg finished 1-for-2 on the power play, while the penalty kill was one of the few bright spots on the night, blanking the Habs three times.
The penalty kill is now a perfect 13-for-13 over its past four games.
The Jets continue their season-long five-game road trip in Toronto on Thursday.
"We'll look at the video," Morrissey said. "I'm sure the coaches will find some areas we can improve on. But I don't think it was necessarily tactical stuff today. We sat back and we weren't on our toes and we didn't have our skating legs. That's something that's easy to fix. We'll have to be ready to go against a top team here in a couple of days. It's a big game, always one you shouldn't have a hard time getting up for, for sure."
Winnipeg lost 4-1 to the Maple Leafs back in October, with Dubois scoring Winnipeg's only goal. John Tavares scored twice and Auston Matthews had a hat trick of assists in the win.
Twitter: @scottbilleck
Share this article in your social network
Advertisement 1
This advertisement has not loaded yet, but your article continues below.
Comments
Postmedia is committed to maintaining a lively but civil forum for discussion and encourage all readers to share their views on our articles. Comments may take up to an hour for moderation before appearing on the site. We ask you to keep your comments relevant and respectful. We have enabled email notifications—you will now receive an email if you receive a reply to your comment, there is an update to a comment thread you follow or if a user you follow comments. Visit our Community Guidelines for more information and details on how to adjust your email settings.