Breadcrumb Trail Links
Winnipeg Jets
NHL
Hockey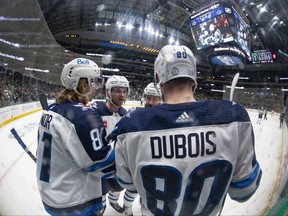 Winnipeg Jets left wing Kyle Connor (81) and left wing Pierre-Luc Dubois (80) and defenceman Josh Morrissey (44) celebrates a goal scored by Connor against the Dallas Stars during the third period at the American Airlines Center in Dallas on Friday, Nov. 25, 2022. Photo by Jerome Miron /USA TODAY Sports
Article content
CHICAGO — It's a system, simple as it is, that has both inspired and rewarded the Winnipeg Jets through the first 20 games of the regular season.
Advertisement 2
This advertisement has not loaded yet, but your article continues below.
Article content
Just look at the most important metric in the games — wins and losses — the Jets have matched their best start through the first quarter of the season in the 2.0 era, going 13-6-1 after brutalizing the Chicago Blackhawks 7-2 inside United Center on Sunday evening.
By clicking on the sign up button you consent to receive the above newsletter from Postmedia Network Inc. You may unsubscribe any time by clicking on the unsubscribe link at the bottom of our emails. Postmedia Network Inc. | 365 Bloor Street East, Toronto, Ontario, M4W 3L4 | 416-383-2300
Thanks for signing up!
Article content
The wins, including six in overtime, are the payoff for the team's galvanization so far this season under head coach Rick Bowness. Getting there has required a complete rethink of how the Jets do things, both on and off the ice.
Article content
How pivotal that has been will need a full season to truly evaluate, but for a team that's self-admittedly still a work-in-progress, the strides they've made have them fighting for first place in the Central Division — this in spite of the fact the team has missed key players from basically the onset, losing dynamic winger Nikolaj Ehlers just two games in to a sports hernia, and prominent role players such as Mason Appleton, Morgan Barron and Dylan DeMelo at various times.
Advertisement 3
This advertisement has not loaded yet, but your article continues below.
Article content
Those losses have been mitigated by a combination of depth in the system, and the contributions they've made, the approach implemented by Bowness and his coaching staff and strong goaltending.
"Obviously, we have high-end talent here and we have the ability to win games playing a loose style," said assistant captain Josh Morrissey after Winnipeg's beatdown of the Blackhawks. "But we're winning them playing the right way. It's nice to see us get rewarded for doing that, and you see that start to work and all of the sudden, you're like, 'Wow, this is really how we have to play.' And it gives us a chance to win every night."
Even in the games where the Jets have been outclassed — in Los Angeles and Las Vegas, to name a couple — they've rarely thrown their hands up and accepted their fate.
Advertisement 4
This advertisement has not loaded yet, but your article continues below.
Article content
"We're a more mature team in the way that we play the game and the systems we play are systems, whether you feel your best or not, you have a chance to win every night," Morrissey said. "With the coaching staff, it's a simple game plan where we are all well-prepared every night and the guys are buying in. There's just a confidence among our group."
Perhaps even a swagger.
A team riding the wave of a fresh voice in the dressing room, one that has seemingly opened up the taps for every player on the roster offensively, while still being able to demand a five-man defensive effort.
While the Jets have tried to mitigate chances against in the past, they did so, often, by sacrificing offence.
Not this time.
You only need to look to Morrissey's team-leading 23 points in 20 games for proof — the third-highest total among NHL defencemen. The 27-year-old, in his seventh season with the club, is already just 14 points shy of his career-high set last year with 62 games left on the docket to obliterate his previous mark.
Advertisement 5
This advertisement has not loaded yet, but your article continues below.
Article content
"This system complements my game perfectly," Morrissey said. "Just having that confidence from (Bowness) and from the staff. Our game is really defined and I can flourish because you see the game in front of you and what we're trying to accomplish and if you can read the game or let your skill take over, sometimes it comes out more often. It's been great."
Did somebody say Norris consideration?
"It's been fun to hear some of the hype and stuff like that," Morrissey said with a grin.
Morrissey has been joined by a resurgent Mark Scheifele, who was provided with a purpose again from the first time he spoke with Bowness. With a team-leading 11 goals in 20 games, Scheifele is on pace to eclipse the 40-goal mark for the first time in his career.
Advertisement 6
This advertisement has not loaded yet, but your article continues below.
Article content
More importantly, he's leading the way in buy-in, doing exactly what Bowness has demanded from him in terms of his defensive style.
Like Morrissey, working within the system hasn't detracted from the offensive side of the game for Scheifele, who's amassed a team-leading 11 goals.
Pierre-Luc Dubois scored his ninth and 10th goals of the season in Chicago on Sunday night. He, too, is on pace for 40 or more. And Kyle Connor, the Jets 2.0 record holder for single-season goals (47), and points (93), has shaken off a slow start and could be right back in the 40s and 90s again this season with eight tallies and 12 helpers to date.
"I think we've done a good job to continually work to get better and not be satisfied," Connor said. "We're sitting obviously in a good spot in the standings, where we want to be, right near the top and battling for the top every night. But we're constantly trying to look at different areas where we can improve. So I would say we're hungry. It's a good start."
Advertisement 7
This advertisement has not loaded yet, but your article continues below.
Article content
Part of Bowness' job coming into the season was to exorcise the demons that plagued the Jets in recent years.
For Morrissey, who spoke after Sunday's game, that meant a lot. For a guy like Scheifele, it meant everything. We found that out after sitting down with him for an extensive one-on-one interview while the team was on a bonding trip in Banff earlier this year.
Another part was finding a way to flush some of the bad habits the team had picked up over the years, ones that often got overlooked due to Connor Hellebuyck's fine goaltending or the team's top-heavy offence.
"What we're not seeing is more and more of the habits that we were seeing from last year and the first 10 games," Bowness said. "We're seeing a lot less of that and more of the way we want to play, which is the right way that we saw (on Sunday). Holding the opposition down in chances against, shots against and just playing the right way. In those first 10 games, you could see just some things, they were playing like last year, and just a lot less. We're going to keep getting better."
Advertisement 8
This advertisement has not loaded yet, but your article continues below.
Article content
What's been good, and what needs to improve
Compared to last season, the team is giving up fewer goals and producing more of them for themselves through the first 20 games.
According to league statistics, the Jets are producing 3.15 goals per game on average, up from 2.75 at this time last season, and allowing 2.65 — the sixth-fewest league-wide compared to 2.80 last season.
Some of this can be attributed to Winnipeg's much-improved penalty kill, operating at 81.1%, good for 10th in the NHL. Last year, Winnipeg's penalty kill couldn't keep a beach ball out of the net, killing penalties off just 67.9% of the time.
On the other side of the ledger, the power play has been pretty much the same, converting 20% of the time through the first 20 games as opposed to 19.6% last season.
Advertisement 9
This advertisement has not loaded yet, but your article continues below.
Article content
"Right now I'm disappointed in it," said assistant Brad Lauer, who heads up the man advantage. "With the personnel we have, it needs to be better. We've had some moments when it looks really well, looks really good. But overall, the consistency of it needs to be better. It's something we've addressed, that we've talked about. Unfortunately, we don't have a lot of practice time right now. We're doing a lot of stuff on video. Getting off this road trip, we will have some more practice time coming up. We'll keep working on it. It's something that we have to improve."
The Jets are missing Nikolaj Ehlers, who even in just his two games played this year, offered a dynamic on the first power-play unit that former head coach Paul Maurice rarely tried.
Advertisement 10
This advertisement has not loaded yet, but your article continues below.
Article content
Defensively, the Jets have given up 22 fewer high-danger chances at five-on-five, something Bowness keyed in on when he was hired.
Still, Connor Hellebuyck hasn't been relieved of some of the rush and rebound chances against as the Jets would like. While that's one of those works in progress, Hellebuyck has simply been operating at another level compared to a season below his lofty standards in 2021-22.
The 29-year-old sits fourth in save percentage at .925 and sixth in goals against average at 2.43. He's tied for second in the NHL with a pair of shutouts. Analytically, he shines further, sitting in second place with 11.9 goals saved above expected, according to MoneyPuck.com.
'Vezinabuyck' is in fine form, and while the high-danger shots against keep coming, and those rush and rebound chances, Hellebuyck said earlier in the year in a one-on-one with the Sun that despite the shot volume, the system the players in front of him are playing makes it easier to make some of those perceived difficult saves.
Advertisement 11
This advertisement has not loaded yet, but your article continues below.
Article content
"Obviously he's had a really good start this year," fellow Michigan native Connor said. "Maybe not the year he'd want last year, raw statistics. Sometimes it's just one of those years. You don't get the bounces. There's weird circumstances last year, I don't want to chalk it up to that, I'm sure he can tell you better. But from my standpoint, I think he's always been that way. Just works really hard. It's obviously shown with his tremendous start."
As Bowness alluded, Winnipeg's past 10 games have been better. They're in the top half of the league in terms of shot share, above 50% and ninth overall in expected goals.
Goaltending is just a part of it. But the Jets, despite their losses due to injury, have improved.
And one word explains it all: depth.
Advertisement 12
This advertisement has not loaded yet, but your article continues below.
Article content
"Saku (Maenalanen, who had two goals on Sunday) and Axel (Jonsson-Fjallby, who featured on the top line), Barron, countless guys, Mikey Eyssimont's been playing fantastic, (Dominic Toninato) — big contributors," Morrissey said. "So kudos to bringing those guys into our lineup, for sure, and just how big they've been."
Maenalanen is proving a shrewd addition during what was initially thought of as a quiet summer for general manager Kevin Chevledayoff. The team leaned on associate coach Scott Arneil's previous experience with Jonsson-Fjallby, plucking him off the waiver wire from Washington. Sam Gagner, too, has proven a wily vet and a solid addition.
A guy like Eyssimont, who barely had a sniff in the show prior to this season, has taken his chance and run with it. And draft picks such as David Gustafsson at forward and Dylan Samberg on the blue line are making important contributions.
Advertisement 13
This advertisement has not loaded yet, but your article continues below.
Article content
It won't surprise anyone when the players point to the system and Bowness' philosophy as reasons for the success. Bottom six guys have been entrusted with earning trust, and they've gone out and rewarded the coaching staff for it.
"We want all five guys on the ice to look the same without the puck and it doesn't matter if you're top-six or bottom-six or whatever it is," Morrissey said. "What I love is they're gamers, they come to play every night. They're aggressive, they're not easy to play against and they give us momentum for our entire team. They've won us some games, big time, on their shoulders and been a factor every night. I think those guys have just been massive for us."
Twitter: @scottbilleck
Share this article in your social network
Advertisement 1
This advertisement has not loaded yet, but your article continues below.
Comments
Postmedia is committed to maintaining a lively but civil forum for discussion and encourage all readers to share their views on our articles. Comments may take up to an hour for moderation before appearing on the site. We ask you to keep your comments relevant and respectful. We have enabled email notifications—you will now receive an email if you receive a reply to your comment, there is an update to a comment thread you follow or if a user you follow comments. Visit our Community Guidelines for more information and details on how to adjust your email settings.