Breadcrumb Trail Links
Winnipeg Jets
NHL
Hockey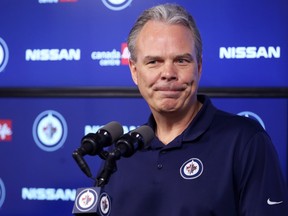 Winnipeg Jets GM Kevin Cheveldayoff will have some tough decisions to make this summer. Photo by KEVIN KING /Winnipeg Sun
Article content
The NHL's off-season is now officially underway, and it will be a pivotal one for the Winnipeg Jets.
Advertisement 2
This advertisement has not loaded yet, but your article continues below.
Article content
That may sound like a broken record at this point. Every off-season has its own crucial elements, but for general manager Kevin Cheveldayoff et al, there are several key decisions that need to be made, including ones that could alter the direction of the club and its makeup.
At least one of those could come as early as this week, or in the infancy of next, if the Jets decide they want to install a new head coach prior to the 2022 NHL Draft in Montreal on July 7-8.
Article content
Then there is the draft itself, with the Jets currently owning two first-round picks (14 and 30), followed by the opening of free agency on July 13.
The next few weeks are going to be busy. Let's take a look at a few of the key dates as the NHL's off-season begins.
July 7-8 — 2022 NHL Draft
Advertisement 3
This advertisement has not loaded yet, but your article continues below.
Article content
As mentioned above, the Jets head to the draft with two first-round picks in their pockets. They also will select in the second, third, fourth and seventh rounds, barring trades.
A trade isn't off the table, especially if the Jets can find the right deal for captain Blake Wheeler, are resigned to trading Mark Scheifele or make a sensational move to ship out Pierre-Luc Dubois. Apart from potentially Wheeler, the other two seem unlikely, and this year's draft crop isn't exactly deep.
Still, depending on how the Jets view themselves (either a few tweaks from being a playoff contender, or needing to pump the brakes and begin some sort of rebuild), there's always a possibility for fireworks in an off-season Cheveldayoff must get right.
Advertisement 4
This advertisement has not loaded yet, but your article continues below.
Article content
July 11 — Qualifying offer deadline
The Jets have four forwards who will become restricted free agents this season.
The date for the Jets to extend qualifying offers is July 11, when Dubois, Mason Appleton, Jansen Harkins and Evgeny Svechnikov will need them, lest they become unrestricted free agents on July 13.
Prospects such as David Gustafsson, Jeff Malott, Leon Gawanke, Jonathan Kovacevic, Philippe Desrosiers and Markus Phillips will also require QOs. Kristian Vesalainen would also need one, despite the Finn returning to Europe to play next season, if the Jets want to avoid him becoming a UFA.
July 13 — Free agency opens
Cheveldayoff is projected to have a little over $18 million in cap space, with a current roster size of 13 players.
Advertisement 5
This advertisement has not loaded yet, but your article continues below.
Article content
Money will need to go to all of the restricted free agents they qualify, barring trades, and what's remaining can be used on the open market.
There's a pile of talent on the free-agent market this summer, including the likes of Johnny Gaudreau and Filip Forsberg.
What kind of splash Cheveldayoff makes is anyone's guess at the moment, but interest in someone such as Andre Burakovsky, Ilya Mikheyev, or Vincent Trocheck may be higher on the list. Much of this may depend on their ability to move Wheeler, and what kind of salary they are retaining in a deal for the captain.
This is by no means an exhaustive list, but rather one that shows the depth of talent available this summer.
There are plenty of depth options as well, including Tampa Bay Lightning forward Nick Paul, who was stellar for the Lightning in the playoffs.
Advertisement 6
This advertisement has not loaded yet, but your article continues below.
Article content
July 17 — Deadline for player-elected arbitration
All four of Winnipeg's rostered RFAs — Dubois, Appleton, Harkins and Svechnikov — are arbitration-eligible, as is Malott, Kovacevic and Desrosiers.
Apart from Dubois, there is no leverage for the others with arbitration rights, meaning it's unlikely they reach the point where they are in front of an arbitrator. Dubois could get there, although if the Jets are thinking they can still convince him to stay in Winnipeg, it's probably not the ideal route in doing so.
Dubois is expected to sign a one-year deal regardless of how it happens, while the rest won't command large salaries.
The first date of arbitration hearings is July 27.
Still up in the air
The Jets have yet to announce if they'll be holding their annual development camp this year.
That decision may not be known until next week when Cheveldayoff speaks to the media following the general manager meetings in Montreal. COVID led to the team scrapping the previous two in-person camps, as virtual options were held.
The Jets also held a pro minicamp last year that bled into the team's training camp proper.
Winnipeg's schedule for the 2022 season is expected next week, and the Jets announced last week that they will be returning to Penticton to play in the Young Stars tournament to be held on Sept. 16-19.
Twitter: @scottbilleck
Share this article in your social network
Advertisement 1
This advertisement has not loaded yet, but your article continues below.
By clicking on the sign up button you consent to receive the above newsletter from Postmedia Network Inc. You may unsubscribe any time by clicking on the unsubscribe link at the bottom of our emails. Postmedia Network Inc. | 365 Bloor Street East, Toronto, Ontario, M4W 3L4 | 416-383-2300
Thanks for signing up!
Comments
Postmedia is committed to maintaining a lively but civil forum for discussion and encourage all readers to share their views on our articles. Comments may take up to an hour for moderation before appearing on the site. We ask you to keep your comments relevant and respectful. We have enabled email notifications—you will now receive an email if you receive a reply to your comment, there is an update to a comment thread you follow or if a user you follow comments. Visit our Community Guidelines for more information and details on how to adjust your email settings.