Breadcrumb Trail Links
Winnipeg Jets
NHL
Hockey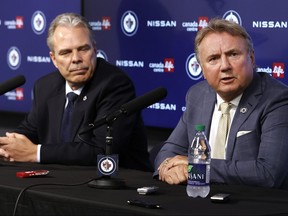 Executive vice-president and general manager Kevin Cheveldayoff (left) hasn't exactly given new head coach Rick Bowness a team showing lots of promise. Photo by James Carey Lauder /photo
Article content
The Winnipeg Jets ended the 2021-22 campaign unsure of which way was up. So far this off-season, the confusion remains.
Advertisement 2
This advertisement has not loaded yet, but your article continues below.
Article content
Finding Kevin Cheveldayoff's face on the side of a milk carton when the NHL's free agency period opens isn't particularly surprising. It's more of a seasonal tradition around these parts, like eggnog on the store shelves at Christmastime.
"Free Agent Frenzy" for the Winnipeg Jets general manager, more often than not, has been a euphemism for AWOL.
Article content
When things heat up across the league, the Jets remain hidden in the shade.
It can be a shrewd move — sitting back, watching teams backing up Brinks trucks with franchise-crippling contracts at the ready.
But sooner or later, every team that wants to contend for a Stanley Cup has to dip their toes. They have to take that risk.
In true Winnipeg form, the Jets appear to be behind the times. Risk-averse in times that demand it.
Advertisement 3
This advertisement has not loaded yet, but your article continues below.
Article content
After coming off of a year so woefully inadequate compared to the required level to succeed, the apparent lack of ambition and aggressiveness needed to realize success is just as calamitous as one of those ill-timed contracts.
It's left the team in a pretty untenable situation at the moment.
The caveat here is that it's mid-July, early with respect to the off-season, and things can change drastically before training camp begins.
The counterpoint to that is drastic change becomes less and less likely as each team's respective cap space diminishes as the summer rolls along and they fine-tune their rosters.
For instance, Winnipeg's best chance at ridding themselves of captain Blake Wheeler's contract came prior to this past Wednesday. But the club, reportedly, was stubborn. They wanted the receiving team to eat the entirety of his $8.25 million cap hit, and the two remaining years left on the contract.
Advertisement 4
This advertisement has not loaded yet, but your article continues below.
Article content
The number of teams able to do that is small at best. The list of willing dance partners is even slimmer. But the lack of willingness to stomach some of their own mistake here left the Jets with very little cap space to work with when the floodgates of free agency opened Wednesday.
Now, the market has apparently cooled on Wheeler. No kidding.
It's that sort of indecision that keeps a team spinning its tires.
Others include keeping Paul Stastny at the trade deadline when assets could have been gained. The veteran forward, who pointed out Winnipeg's deepest shortcomings at the end of the season, isn't likely to be back.
Brenden Dillon was a wanted man at the deadline, too, and the Jets have so many left-shot defencemen that Dillon could have freed up cap space ahead of Wednesday and provided hope to the likes of Ville Heinola and Dylan Samberg, among others in the prospect pool.
Advertisement 5
This advertisement has not loaded yet, but your article continues below.
Article content
Eric Comrie unnecessarily became an unrestricted free agent on Wednesday, and promptly signed with the Buffalo Sabres. If the Jets would have given him a couple of more starts in a lost season, they would have retained him as a restricted free agent with arbitration rights, and a better chance of keeping him around.
And this says nothing of the disaster on the ice, the first time in 2.0 history where the Jets didn't sell out a game, and the apathy that infected and began multiplying in the fanbase.
Cheveldayoff, admittedly, seemed content with the roster he has. He said so himself after replacing Comrie with David Rittich and making a minor-league addition on Wednesday — committing a grand sum of $900,000 while the rest of the league combined to spend well over $200 million in their quest to hoist the Stanley Cup.
Advertisement 6
This advertisement has not loaded yet, but your article continues below.
Article content
Probable posturing aside, if running it back is the plan, Rick Bowness, who wasn't actively looking to head coach a team this coming year before the Jets rang his telephone, is essentially being tasked with raising Lazarus from the dead.
And you begin to wonder what the players themselves think.
It's clear big-name free agents want no part of Winnipeg. They never have, to be fair. But the old adage of, 'If you build it, they will come' does ring true in undesirable hockey locales. Just look at Edmonton. And hell, Columbus was able to sign the biggest fish of them all on Wednesday with Johnny Gaudreau committing essentially the rest of his career to the small-market team.
The excuse that no one wants to come to Winnipeg is a tired one. When success is visible, players will suck it up for a chance at Lord Stanley.
Advertisement 7
This advertisement has not loaded yet, but your article continues below.
Article content
There's just no apparent path to that right now in this town.
The Jets have the likes of Mark Scheifele, Kyle Connor, Nikolaj Ehlers, Josh Morrissey and Connor Hellebuyck wasting away their primes on a middling team that doesn't seem to want to take the risks necessary to win.
When do they look for greener pastures?
Further complicating problems is the future doesn't seem to want to stay, either.
Pierre-Luc Dubois' doomsday clock is already running. He won't be here past the 2023-24 season, and likely much earlier than that. How the Jets replace a franchise centre and future captain material for fair value is unknown.
Add him to the list of players that haven't stuck around. The Jacob Troubas. The Andrew Copps. The Patrik Laines. The Jack Roslovics.
Winnipeg's two options seemed abundantly clear at the end of the season.
The first was to go big, go bold and retool. The other was to blow it up, initiating a rebuild while getting top returns for some of their most prized possessions.
The third option no one really saw coming was to lie dormant.
That could change. There just isn't much to lean on, historically, to make an argument that it will.
Share this article in your social network
Advertisement 1
This advertisement has not loaded yet, but your article continues below.
By clicking on the sign up button you consent to receive the above newsletter from Postmedia Network Inc. You may unsubscribe any time by clicking on the unsubscribe link at the bottom of our emails. Postmedia Network Inc. | 365 Bloor Street East, Toronto, Ontario, M4W 3L4 | 416-383-2300
Thanks for signing up!
Comments
Postmedia is committed to maintaining a lively but civil forum for discussion and encourage all readers to share their views on our articles. Comments may take up to an hour for moderation before appearing on the site. We ask you to keep your comments relevant and respectful. We have enabled email notifications—you will now receive an email if you receive a reply to your comment, there is an update to a comment thread you follow or if a user you follow comments. Visit our Community Guidelines for more information and details on how to adjust your email settings.