Breadcrumb Trail Links
Winnipeg Jets
NHL
Hockey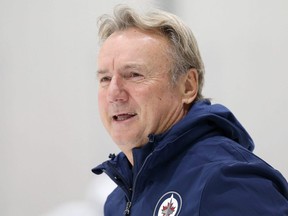 Jets head coach Rick Bowness tested positive for COVID-19 prior to Winnipeg's season opener against the Rangers on Friday. Photo by Kevin King /Winnipeg Sun
Article content
DALLAS — You didn't have to walk too far around the Dallas Stars dressing room on Monday morning to find someone willing to say a nice word about Winnipeg Jets head coach Rick Bowness — and not just Bowness, the bench boss.
Advertisement 2
This advertisement has not loaded yet, but your article continues below.
Article content
Before any of the assembled scribes from Winnipeg could ask Stars superstar Tyler Seguin about his former head coach, Seguin inquired about how Bowness, currently battling COVID and not on the trip, was doing.
By clicking on the sign up button you consent to receive the above newsletter from Postmedia Network Inc. You may unsubscribe any time by clicking on the unsubscribe link at the bottom of our emails. Postmedia Network Inc. | 365 Bloor Street East, Toronto, Ontario, M4W 3L4 | 416-383-2300
Thanks for signing up!
Article content
Once he learned that Bowness was on the upswing, expected to rejoin the team in Colorado on Wednesday, the formal interview could begin. And Seguin was more than happy to share his thoughts on the 67-year-old.
Article content
"He's just the guy that has the biggest heart that I've ever met for a coach and as a person," said Seguin, still half-dressed following Dallas's pre-game skate. "He wears it on the ice, on the bench, and he wears it off the ice, most importantly. He's just a guy that doesn't change and you got to respect that. He might adapt to different rooms and cultures and the game, but him as a human doesn't change no matter what the circumstances are."
Advertisement 3
This advertisement has not loaded yet, but your article continues below.
Article content
Hired by the Stars as an assistant in the summer of 2018, Bowness would take over the reins when Jim Montgomery was fired due to unprofessional conduct midway through December of the 2019-20 campaign.
Despite the circumstances, Bowness's preparations to take over the team had begun well before his unceremonious appointment.
"Even when he was an assistant coach here, the (defence), when we would go on road trips, a lot of the time the D would have a beer with Bones and then the next time, we'd get a text from Bones — this is him as an assistant coach — like hey guys, and there'd be six or seven of us as forwards would just go out and have a beer with him," Seguin said. "He kind of would just step back and we'd just talk, talking about friendship and relationship."
Advertisement 4
This advertisement has not loaded yet, but your article continues below.
Article content
To a man in that Stars dressing room at American Airlines Center on Monday, there was an air of respect that still lingered.
Bowness, who has asserted himself as a player's coach who can balance that with an iron fist, also installed a sense of family when he took over in Dallas.
And that family-first approach extended far beyond the dressing room. Seguin's fiance, for instance, still talks regularly with Bowness's wife, Judy. When Bowness got the job in Winnipeg, Seguin was one of the first people that rang up his former coach to congratulate him.
"The way he can bring a group with wives and girlfriends into a whole family-oriented place," Seguin said. "It was a place everyone was comfortable in. It was a place that was accountable, but it was definitely family-first. We definitely leaned toward the more emotional side of things over maybe a full business side of things.
Advertisement 5
This advertisement has not loaded yet, but your article continues below.
Article content
"He has a really good balance of — this is obviously business and work — just bringing the family in. He's probably even more heavy family than the latter but he's a man you want to look up to as far as a leader and a husband or just how to operate as a human being in the world."
For the Stars, Bowness's philosophy went a long way when the team was in the bubble for nearly two months, reaching the Stanley Cup Final before falling in six games to Bowness's former club, the Tampa Bay Lightning.
"A lot of times in the bubble, your team can kind of get off and some teams who were supposed to keep winning didn't," the 30-year-old said. "We had Bones at the head, he was huge for us."
Huge, too, for the team's younger contingent, including a pair of Dallas's biggest stars in defenceman Miro Heiskanen and forward Jason Robertson.
Advertisement 6
This advertisement has not loaded yet, but your article continues below.
Article content
Robertson rose to stardom under Bowness, playing 51 games during his rookie season, scoring 17 times and adding 28 helpers.
But it was last season that launched the 23-year-old to another stratosphere, hitting the 40-goal mark with 41 tucks and 79 points in 74 games.
"He was the head coach, the guy putting me on the ice and giving me the opportunity, really letting me use my strengths," Robertson said Monday. "Especially as a young guy, it's hard to really break into the league unless you have a coach who allows you to do your thing, allows a little bit of leeway. And even off the ice, he gave me some stuff to work on but he wasn't really hard on me, he kept it loose and really let me do my thing."
Heiskanen, the third overall pick at the 2019 NHL Draft, was under Bowness's tutelage from the moment he stepped on the ice. Bowness, back at the start of the 2019-20 season, was in charge of Dallas's defence, where a young Heiskanen was just getting his feet wet in the NHL game.
Advertisement 7
This advertisement has not loaded yet, but your article continues below.
Article content
"Of course, I made some mistakes in my first year. He's good with that," the Finn said. "He's an experienced guy and really knew the young guys coming in were going to make some mistakes."
Even the man that replaced Bowness after a mutual parting of ways between the club and Winnipeg's new head coach credited the latter for Dallas's substructure.
"I think he did a fantastic job here of laying a foundation of defending and being hard to play against, playoff success in hockey and I think his fingerprints are on this group from his time here," Pete DeBoer said.
Indeed, that was a palpable feeling as reporters worked the room on Monday.
But the last word here belongs to Seguin.
"He's one of those guys you can honestly say he's a coach you want to play for," he said. "You hear it all the time — there's players you want to win for, a guy gets a Stanley Cup and he gives it to a (certain) guy on the team. If you win a Cup, you're giving it right to Bones. He's that kind of person and coach."
Twitter: @scottbilleck
To sign up for Scott's weekly newsletter The Exit Row, click here.
Share this article in your social network
Advertisement 1
This advertisement has not loaded yet, but your article continues below.
Comments
Postmedia is committed to maintaining a lively but civil forum for discussion and encourage all readers to share their views on our articles. Comments may take up to an hour for moderation before appearing on the site. We ask you to keep your comments relevant and respectful. We have enabled email notifications—you will now receive an email if you receive a reply to your comment, there is an update to a comment thread you follow or if a user you follow comments. Visit our Community Guidelines for more information and details on how to adjust your email settings.