Breadcrumb Trail Links
Winnipeg Jets
NHL
Hockey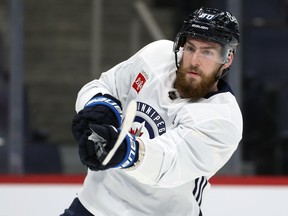 Pierre-Luc Dubois follows through on a shot during Winnipeg Jets practice on Wednesday, Jan. 26, 2022. Photo by KEVIN KING /Winnipeg Sun
Article content
Pierre-Luc Dubois may go right down to the wire on his long-term future simply because he has to.
Advertisement 2
This advertisement has not loaded yet, but your article continues below.
Article content
Not one to make decisions in a vacuum, the 24-year-old said signing his one-year, $6 million qualifying offer from the Winnipeg Jets last week was the right decision for him amid rampant speculation about his hockey-playing future.
"There was never a doubt of holding out or forcing anything," Dubois told a throng of reporters on a Zoom conference call on Monday. "If I wanted out I would have asked for a trade. I didn't ask for a trade. Not for one second. It didn't cross my mind for one second to ask for a trade."
Article content
Dubois spoke of his frustration with some of those rumours, specifically refuting a report from The Athletic suggesting Dubois was in Montreal for the 2022 NHL Draft at Bell Centre in hopes he would be traded to his hometown Canadiens on the draft floor.
Advertisement 3
This advertisement has not loaded yet, but your article continues below.
Article content
Dubois said the truth about his attendance came to an invite from his bank and a reception they were holding in one of the suites in the arena.
"I'm finally happy you get to hear it from me, from the source. The man himself," he said.
He then took aim at what he claims has been blown out of proportion entirely — his desire to play for the Canadiens, speculation that took off after his agent, Pat Brisson, told a French TV network in recent weeks that his client would like to one day play for his hometown club.
"People can read into it what they want," Dubois said. "To be honest, I didn't think anything too much of it. What's said sometimes and what actually happens and what's actually being said in these meetings can be taken out of context and that's how I see it. I just thought it was overblown, the reaction, and I think some people just ran with the two seconds that they liked or didn't like to hear."
Advertisement 4
This advertisement has not loaded yet, but your article continues below.
Article content
Peel away the layers of direct, future-related questions not directly answered in his first availability of the offseason, Dubois cited the difficulty of making such a life-altering decision with respect to signing a long-term deal in an NHL city.
He joked he was uncertain of his dinner plans on Monday, never mind what he planned to do six months from now or even six years.
"For me at least, I find this is a very, very important decision that can't be made quickly," said Dubois, who is set to become an unrestricted free agent in the summer of 2024 and whose agent said plans to test those waters. "It can only be made after thinking about it a long time, by asking the opinions of my family, my parents, my girlfriend. In the middle of my next contract I might have a family, you don't know, there are so many things that could happen that I don't want to move too quickly and regret it later. When you tell yourself you want to be somewhere a long time, you have to be sure about it not just for the first or second year, but for the length of the contract."
Advertisement 5
This advertisement has not loaded yet, but your article continues below.
Article content
Dubois will become a restricted free agent again next summer, once again complete with arbitration rights. Whether or not general manager Kevin Cheveldayoff trades him by then, or convinces him on Winnipeg as a long-term home, remains to be seen.
The speculation has been a tough pill to swallow for Winnipeg's fanbase, who have watched Patrik Laine and Jack Roslovic, the return pieces in the January 2021 trade that saw Dubois shipped to Winnipeg, sign extensions with the Columbus Blue Jackets.
Many felt Laine wouldn't sign in Ohio long-term, perhaps lending some hope that Dubois could have a change of heart here in Winnipeg.
In his short time in Winnipeg, Dubois has asserted himself as honest and articulate, one that thinks in earnest before he speaks.
Advertisement 6
This advertisement has not loaded yet, but your article continues below.
Article content
"I'm not somebody that has one idea and settles on it for the next six years," he said. "Everybody has changed their mind, everybody has had different ideas, everybody has, at some point, liked something and then later realized that no. It's just human nature to change your mind sometimes.
"That's why I get you guys have articles to write, but these questions, sometimes these questions, the answers to the questions aren't as easy as yes or no."
Dubois admitted Monday his noncommittal answers won't help douse the flames that have scorched this town over the summer, but said they aren't due to the state of uncertainty surrounding the Jets coming off their miserable 2021-22 campaign.
He also understands that this time next year, when the time comes to sign another deal with the Jets comes, he's going to have to field similar inquiries. In his mind, he's bought himself more time to make the right decision for himself.
Advertisement 7
This advertisement has not loaded yet, but your article continues below.
Article content
"But that's next summer," he said. "For now, my mind is just getting ready on the season and to meet the coaching staff, to meet the new guys on the team, to get ready. Last year was a disappointing year so I'm really, really looking forward. I think we have a good team. I said it last year and I'll say it again. I'm just excited to get back to Winnipeg and to try to have a good year."
In that vein, Dubois said he spoke with Jets head coach Rick Bowness as recently as Saturday, and plans to meet up with some of the team's Michigan contingent in the northern U.S. state later this summer.
As for last season, and the disappointment of falling well short of expectations, Dubois said the confidence within the team is still there despite the frustrations.
"It was disappointing, frustrating, a hard pill to swallow and almost like a slap in the face, a wake-up call," he said. "But we know the talent we have on our team. We know we have a good team. We know we have confidence in each other, so this training camp with this new staff is going to be very important for us to prepare for the season. Like I said earlier, sometimes when you have a chip on your shoulder and you have that extra motivation, it can go a long way in having a good year. So we'll start at training camp and go from there."
Twitter: @scottbilleck
Share this article in your social network
Advertisement 1
This advertisement has not loaded yet, but your article continues below.
By clicking on the sign up button you consent to receive the above newsletter from Postmedia Network Inc. You may unsubscribe any time by clicking on the unsubscribe link at the bottom of our emails. Postmedia Network Inc. | 365 Bloor Street East, Toronto, Ontario, M4W 3L4 | 416-383-2300
Thanks for signing up!
Comments
Postmedia is committed to maintaining a lively but civil forum for discussion and encourage all readers to share their views on our articles. Comments may take up to an hour for moderation before appearing on the site. We ask you to keep your comments relevant and respectful. We have enabled email notifications—you will now receive an email if you receive a reply to your comment, there is an update to a comment thread you follow or if a user you follow comments. Visit our Community Guidelines for more information and details on how to adjust your email settings.