Breadcrumb Trail Links
Winnipeg Jets
NHL
Hockey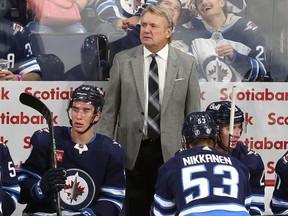 Winnipeg Jets head coach Rick Bowness behind the bench during NHL exhibition action against the Ottawa Senators at Canada Life Centre on Tue., Sept. 27, 2022. KEVIN KING/Winnipeg Sun/Postmedia Network Photo by KEVIN KING /Winnipeg Sun
Article content
BANFF — Rick Bowness has a good idea of what will bring success back to the Winnipeg Jets.
Advertisement 2
This advertisement has not loaded yet, but your article continues below.
Article content
He's seen it.
By clicking on the sign up button you consent to receive the above newsletter from Postmedia Network Inc. You may unsubscribe any time by clicking on the unsubscribe link at the bottom of our emails. Postmedia Network Inc. | 365 Bloor Street East, Toronto, Ontario, M4W 3L4 | 416-383-2300
Thanks for signing up!
Article content
In the first and third periods of Winnipeg's 5-3 win over the Calgary Flames on Friday night at the Saddledome, the Jets were, in his words, "on."
"If you want to be hard to play against in this league, you've got to pressure the opposition," Bowness said from the Banff Springs Hotel as he sat down in a wide-ranging interview with a few scribes on Sunday morning. "You've got to be on top of them and you've got to be above (the puck) and then you've got to do something with the puck when you do get it."
Article content
The Jets trapped the Flames in their own zone, using the forward aggression Bowness has tried to implement over the past couple of weeks during training camp.
But it's still a work in progress, the 67-year-old head coach said.
Advertisement 3
This advertisement has not loaded yet, but your article continues below.
Article content
"We've got to do more with it when we get it, which is another issue for me," he said. "There's just way too many turnovers because when you turn the puck over, your structure goes right out the window. You just don't have time to recover because they're coming at you. We have to do a better job with the puck and we have to stay on top, stay above and pressure when we do have it."
Bowness checked out some of the tape from last season but threw most of it out with the bathwater when he arrived in Winnipeg in July.
There was value in it, he said, when it came to getting to know the players he was inheriting as the newly-minted bench boss. There was some worth in trying to understand each player's mindset on a play, too.
"But for me, you've got to come to camp with an open mind," he said. "This is how we want to do things. Who is catching on? Who isn't catching on? I kind of ignored last year, other than to just get to know your players a little bit better. I'm more (about) the present, what am I seeing now? That's more important."
Advertisement 4
This advertisement has not loaded yet, but your article continues below.
Article content
What Bowness did see was a good team with a talented core that had lost its way.
Much was written and spoken about the Jets after missing the playoffs for the first time in five years. Couple that with some frustration-fuelled comments as the curtain was pulled shut on a miserable year, and there were plenty of things to ponder.
Bowness worked his phone after getting hired as the third coach of the club since relocating from Atlanta in 2011.
"You try to stay a step ahead of that, which we did," Bowness said. "That's why we had all the talks over the course of the summer. So we had a good idea where we were when camp started."
Pointing to the final two preseason games, both wins for the Jets, Bowness said any healing that needed to happen in the dressing room had happened.
Advertisement 5
This advertisement has not loaded yet, but your article continues below.
Article content
When rookie forward Cole Perfetti got drilled from behind last Wednesday at Canada Life Centre, there was an immediate, multi-player answer at the ready.
When it happened again on Friday night, the same response came.
"If you've noticed the last couple of games how quick we are to stick up for each other when somebody takes a run at us, we're all in there," Bowness said. "So, that tells you that the room is healed. Whatever the issues were are gone.
"Now, if they weren't jumping in when somebody gets hit, okay then it's lingering. To me, it's gone and there's no sense in talking about it anymore. It's what we're seeing now, that's all that matters."
Bowness said Sunday that the buy-in was quick. He saw great effort and great attitude from Day 1.
Advertisement 6
This advertisement has not loaded yet, but your article continues below.
Article content
He attributes some of that simply to the fact that the team missed the playoffs, ushering in a long summer and an anxiousness to get back at it.
"So we had that working to our advantage, everyone was ready to go in camp," Bowness said. "The attitudes, the work habits, the coming to the rink ready to work has been outstanding since Day 1. A lot of that has to do with missing the playoffs. It hurts, and it's a long, long summer. And you don't want to do it again."
At the same time, there's no other choice for Bowness. He runs the show.
"I tell them every line has to look the same when we don't have the puck," he said. "Do we expect everyone to back check? Absolutely. There's no free pass here. Absolutely not.
"Everyone has to back pressure. Everyone has to come back into our zone. When we don't have the puck, we should all look the same. Different skillset when we have (the puck), and they have a little more freedom and you have to give your elite players that. But when we don't have it, there's no two sets of rules. It's one rule. Everyone is on the same page and everyone is working to get it back."
Advertisement 7
This advertisement has not loaded yet, but your article continues below.
Article content
As much as eyes have been peeled on the systems and the personnel that will carry them out, there's been a palpable excitement amongst the players.
The clean slate has been well met by the players. You see it in the play on the ice.
The Jets have been notoriously poor defensively over the past few seasons. Yet across six exhibition games, you'd rarely complain about the defensive effort.
There have been fewer odd-man rushes against and fewer Grade-A chances being generated in Winnipeg's own zone. It may be preseason hockey, but the Jets have made a point to cut down on both this season after getting slaughtered by them in recent times.
"And we have to continue to cut down on those," Bowness said. "On Wednesday Dave (Rittich) had a great game, obviously Connor (Hellebuyck's)one of the elite goalies in the league. We've got to let them do their thing. But we don't want to get them overworked.
Advertisement 8
This advertisement has not loaded yet, but your article continues below.
Article content
"Our team needs to be structured in all three zones to spend less time in our zone, and then you cut down on those Grade As. But it also goes back to your breakouts, let's get that thing moving. That's where we want to play fast, we don't want to hang on to the puck, we want to get that thing moving out of our zone as fast as we can."
Those seemingly endless passages of time where the Jets were pinned deep in their own zone have ceased to be a staple of their game.
Bowness sees a lot of value in analytics. To him, it's information that can be used. But he's aware not to abuse it, either.
"We're going to look at analytics, we're going to learn from analytics, but we're not going to through every analytic at the players," he said. "You got to play the game, right? You give them so much information they can't think."
Advertisement 9
This advertisement has not loaded yet, but your article continues below.
Article content
Bowness, who has been big on adapting to how the game has changed in a coaching career that's touched five decades, said the Jets will absolutely study the underlying numbers of the game, pinpointing the ones most important to a winning outcome.
The Jets will be tested early to start the season, with games against playoff teams such as the New York Rangers, Bowness's Dallas Stars, the reigning Stanley Cup champion Colorado Avalanche and the star-studded Vegas Golden Knights inside the first week of the year.
He feels his aggressive tactics are sustainable throughout the course of an 82-game campaign, and he puts much of the onus in terms of ensuring that on himself and his coaching staff.
"Managing the time off, when to give them a push, when to travel, when to have a light practice, hard practice — that's a huge part of us," he said. "How do we avoid that? Stay on top of it and manage the schedule."
Advertisement 10
This advertisement has not loaded yet, but your article continues below.
Article content
The Jets will play three games in four nights on the road after their season opener this coming Friday against the Rangers.
In the back-to-back, expect to see the team lean on its fourth line a bit more.
"That's why you have to rely on your four lines," he said, acknowledging that there is fatigue that's simply unavoidable in the NHL. "So when you are in those situations, your fourth line is playing 10-12 minutes and the other guys are coming back a little bit, the top-end guys, and not playing 22 minutes. So we've got to battle that as well, depending on the score, of course."
As expected, the Jets will enter the season with three assistant captains, and no one wearing the 'C'.
Bowness has yet to divulge the exact players who will receive those three letters, but he's got them in his pocket at this point.
Advertisement 11
This advertisement has not loaded yet, but your article continues below.
Article content
"What I've seen so far is that guys have taken it upon themselves to do the things that we're asking everyone to do," he said when pressed on whether they may be a rotation of players to wear them, perhaps changing on the road. "Without me grabbing the leadership group, they've navigated it. But I'm watching, I'm listening and I'm hearing — and I'm watching guys take it upon themselves. Sometimes that just evolves naturally… we've got enough veterans here and with the issues that we see, we expect them to address those issues."
And in case you're wondering, Bowness is a 12 forward, six defencemen coach, so don't expect the Jets to go 11 and seven much, if at all.
"(Defencemen) want to play with the same partner all of the time," he said. "They get to read off each other. Every time they get to go out with a different guy because you're trying to rotate seven, it's a little uncomfortable. Again, I'm a four-line, six-D guy."
Advertisement 12
This advertisement has not loaded yet, but your article continues below.
Article content
Harkins waived as Jets creep toward 23-man roster
And then there was one.
Rick Bowness is down to one decision that will get his roster compliant ahead of Tuesday's deadline.
Forward Jansen Harkins was placed on waivers on Sunday, effectively cementing Winnipeg's forward group for opening night in the process.
Harkins had an OK training camp, but it was just that — OK.
The emergence of depth signings Saku Maenalanen and Sam Gagner, along with the likes of prospects David Gustafsson and Morgan Barron, has given the club a number of options in terms of versatility and skill, and it appears as if Dominic Toninato will be retained as the team's 13th forward to start.
"You got to go through it and you got to get down to 23," Bowness said of the tough decision to be made. "At this time of the year, there's no easy way. No one has played their way out of here, but someone has to leave. It's that simple."
Advertisement 13
This advertisement has not loaded yet, but your article continues below.
Article content
Harkins was drafted by the Jets 47th overall in the second round of the 2015 NHL Draft.
He's played 132 games with the club, including a career-high 77 last season, amassing 10 goals and 22 points across that span.
Harkins, who is in the first year of a two-year, $1.7 million deal, will report to the AHL's Manitoba Moose if he clears on Monday.
Winnipeg's projected lineup up front for Friday is likely to look like this:
Kyle Connor – Mark Scheifele – Nikolaj Ehlers
Cole Perfetti – Pierre-Luc Dubois – Blake Wheeler
Morgan Barron – Adam Lowry – Mason Appleton
Saku Maenalanen – David Gustafsson – Sam Gagner
Winnipeg's final cut will come on the blue line and likely will come down one of Ville Heinola and Dylan Samberg — two players with different skill sets that are both waiver-exempt.
Advertisement 14
This advertisement has not loaded yet, but your article continues below.
Article content
After the Jets lost Johnathan Kovacevic on the waiver wire to Montreal on Saturday, it's unlikely they will want to risk losing Kyle Capobianco to the same fate by trying to sneak him through.
It's become apparent the Jets see Capobianco, a summer signing by general manager Kevin Cheveldayoff, higher on their depth chart than Kovacevic, who they drafted back in 2017 and groomed over the past five seasons in the minors.
Who's left?
Goalies: Connor Hellebuyck and David Rittich
Defencemen: Josh Morrissey, Brenden Dillon, Dylan DeMelo, Neal Pionk, Nate Schmidt, Logan Stanley, Ville Heinola, Dylan Samberg and Kyle Capobianco.
Forwards: Mark Scheifele, Cole Perfetti, Nikolaj Ehlers, Pierre-Luc Dubois, Kyle Connor, Blake Wheeler, Adam Lowry, Mason Appleton, Sam Gagner, Morgan Barron, Dominic Toninato, David Gustafsson and Saku Maenalanen.
Twitter: @scottbilleck
Share this article in your social network
Advertisement 1
This advertisement has not loaded yet, but your article continues below.
Comments
Postmedia is committed to maintaining a lively but civil forum for discussion and encourage all readers to share their views on our articles. Comments may take up to an hour for moderation before appearing on the site. We ask you to keep your comments relevant and respectful. We have enabled email notifications—you will now receive an email if you receive a reply to your comment, there is an update to a comment thread you follow or if a user you follow comments. Visit our Community Guidelines for more information and details on how to adjust your email settings.