Photos supplied by Raymond Normandeau
A garden 40 years in the making disappeared in a matter of seconds.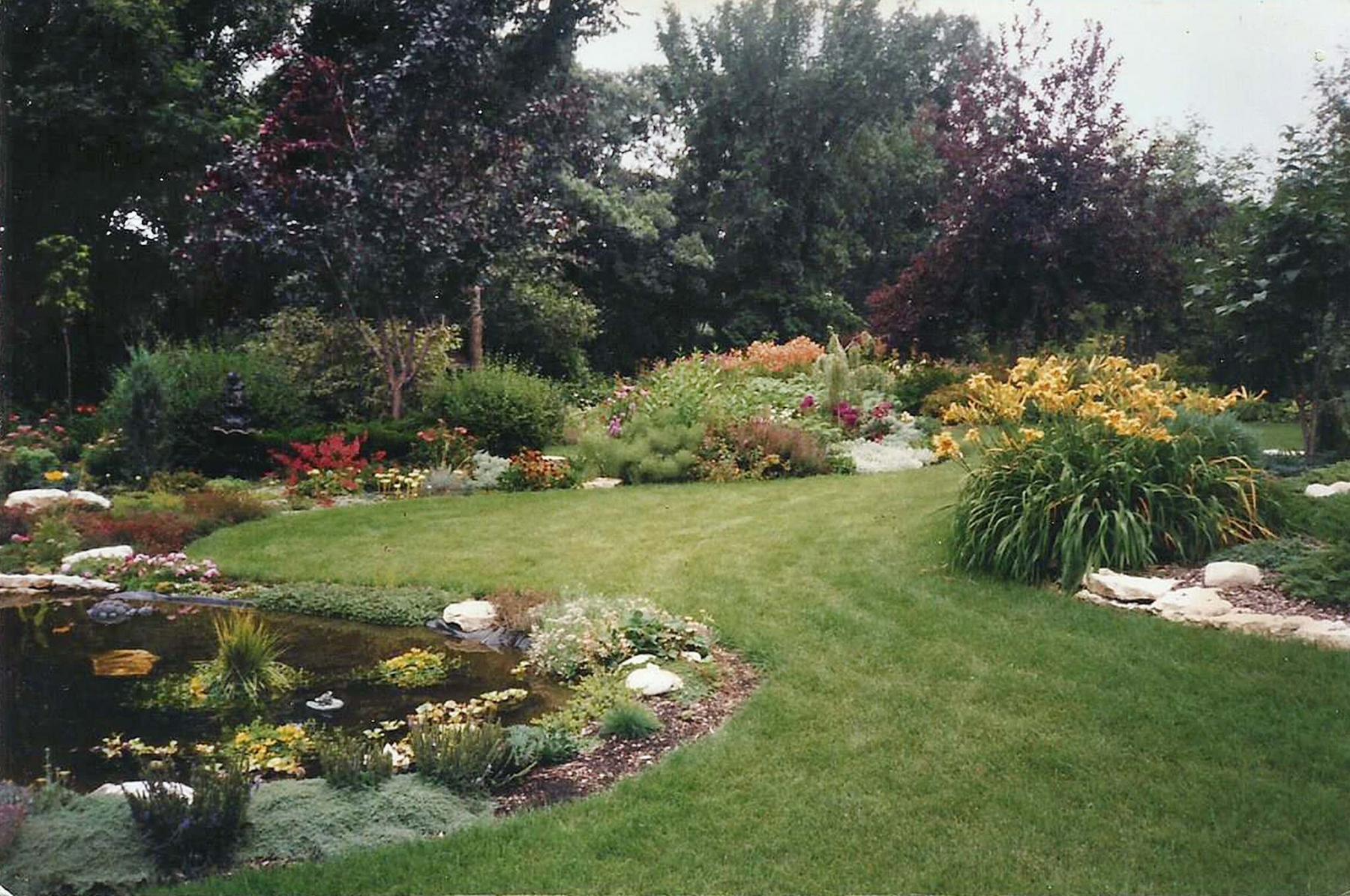 This once-gently sloped property may be transformed into a steeply sloped terrace garden.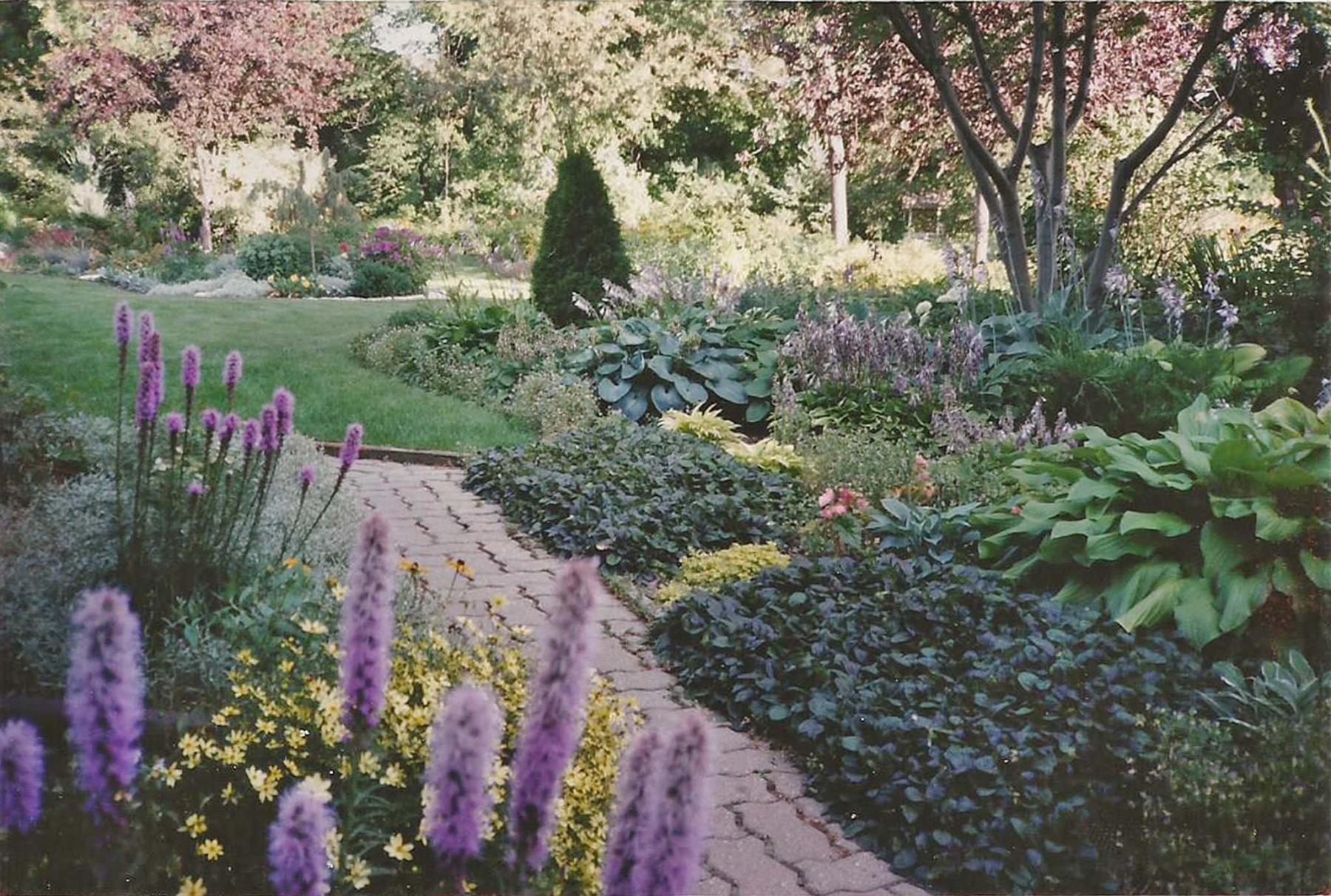 Raymond Normandeau lost many of his plant collections which he hopes to replace with new plants as well as more trees.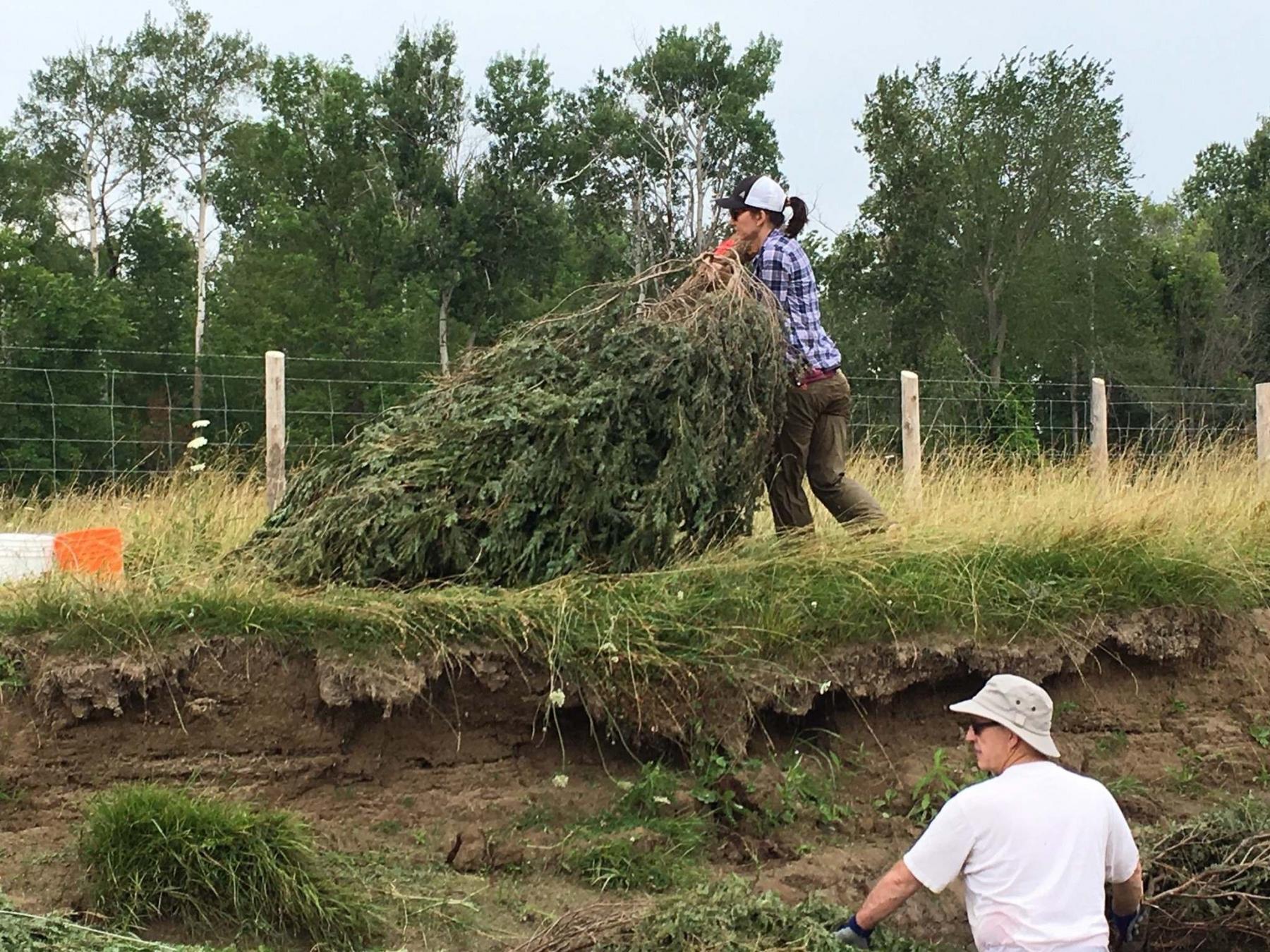 Nottawasaga Valley Conservation
Evergreen stream revetment is the practice of repurposing old Christmas trees to slow or halt riverbank erosion.
A massive riverbank collapse on Nov. 2 swallowed whole a substantial portion of the backyards of four riverfront properties along McNulty Place in St. Vital. Without any warning and with the intensity of an earthquake, the riverbank collapse happened in a matter of seconds.
One of the homeowners, Raymond Normandeau, was not at home at the time the disaster happened. Normandeau, who designs and installs landscapes, was taking advantage of the mild fall weather to complete projects for his clients. He didn't return home from work until late that evening but as was his habit, he walked towards his backyard for a brief stroll through his garden before heading indoors. Although it was dark outside, Normandeau knew from memory where the pathways were located. For a split second it struck him as strange that he was able to see the lights from properties across the river when normally the lights didn't penetrate the dense thicket of mature trees at the edge of his riverbank property. It was then that he looked down at his landscape and realized it was gone and in its place was a wide, gaping abyss. At the bottom, more than six metres down, lay Normandeau's garden that he had spent 40 years of his life creating.
"I looked over at my neighbour's yards on either side and saw that their yards were gone as well," recalls Normandeau, "and realized that the riverbank must have collapsed."
Change is the nature of life itself, or, to put it another way, life has a way of happening. But after the major upheaval of 2020 caused by a once-in-a-century pandemic, it can be a hard thing to process when — on top of everything else — another extreme event occurs. The fault line of the landslide was a mere three metres from Normandeau's house. There was no time for lamenting, says Normandeau. Decisive action needed to be taken without delay so that the houses were also not threatened.
The four homeowners hired engineers and contractors. The necessary permits for grading and restabilizing the riverbank were obtained within a week. The first task was to fill in the massive sinkholes and at the same time remove a lot of the weight from the yards, says Normandeau.
"It will cost us about $100,000 each just to stabilize the riverbanks."
The expense will have to be borne entirely by the homeowners who are responsible for slope stability and erosion control on their private property. "It's the price we pay for living alongside the river," says Normandeau.
In the hours prior to the work commencing, Normandeau, who lost roughly half of his martagon lily collection as well as half of his daylily and hosta collections and many of his dwarf evergreens in the landslide, worked feverishly to dig up and rescue anything and everything he could: shrubs, trees, and perennials. Fortunately, the weather co-operated. After hauling up the salvaged plant material from the sinkhole, Normandeau potted it all up, and watered the containers deeply. He then dragged the containers next to his house and covered them with a protective layer of mulch. A deep insulating layer of snow should help the plants survive the winter.
When the backhoe arrived, Normandeau's landscape underwent a dramatic transformation. To relieve weight on the riverbank, 20 big truckloads of soil were hauled away. Gone is the once-gentle slope that traced its way to the treed area along the river's edge. In its place is a wickedly steep 45-degree slope. Normandeau ordered 10 yards of wood chips, which he spread on the slope earlier this month. He also contacted Brian Mayes, his city councillor, for permission to collect a quantity of Christmas trees that are dropped off at recycling depots. Normandeau plans to lay the old Christmas trees down and weave them together.
This is a process that has been employed, for example, by Nottawasaga Valley Conservation Authority in Essa Township, Ont. Douglas Hevenor, chief administrative officer, says the process is called evergreen stream revetment. It involves anchoring used Christmas trees into certain parts of eroded streams to slow or halt erosion and create places for sediment to become re-established and help rebuild the streambank.
In January, a layer of riprap (big rocks) will be placed on the riverbank. The old Christmas trees will be well above this area so that nothing leaches into the river.
Normandeau plans to spend the winter coming up with ideas for how he will design his radically altered landscape. One option is to create a terrace garden. He is using an image of Butchart Gardens, also built on a steep slope, as his inspiration. He hopes to come up with ideas that will help other Winnipeggers who are also dealing with riverbank erosion. One thing is for certain: he plans to plant trees.
Riverbank failure can be due to rapid changes in river level but the water levels were also very high throughout the summer of 2020 which meant that the soils along the riverbank were saturated, says Normandeau. To complicate matters, Winnipeg's clay soils naturally hold a large amount of water and are a negative factor for riverbank stability. In mid-October, the control curtains of St. Andrews Lock and Dam were raised and as a result the water levels in the Red and Assiniboine Rivers began to lower. In the space of just over a week, the river level dropped about six metres, says Normandeau.
The stabilizing effect of tree roots is a critical factor in riverbank restabilization. At the behest of the engineers, the contractors took great pains to save as many of the large trees on Normandeau's riverbank as possible. Some of the large oak and elm trees slid almost six metres but are still standing, hanging on in some cases by only a fraction of their root systems. Oak trees, in particular, do not tolerate root disturbance well so it remains to be seen if they can survive.
Normandeau lost several mature trees — some as tall as 15 metres — in the ice storm of October 2019. As well, two large elm trees with Dutch Elm Disease were removed last winter.
"My garden had already gone through the first phase of loss," says Normandeau. "A garden is not a static thing, it is constantly evolving: plants are growing, plants are dying, some plants are thriving and others are doing less well. I think we like our gardens to be static when it's at the stage where it feels perfect and we have all the plants we like. But nature has other plans. It's a shame when you lose plants, especially trees, that you have been taking care of for many years but you have to also see beauty in the change process."
Normandeau says gardens are a great metaphor for life. "Obviously, this current epidemic is about loss," he says. "In the garden you are used to loss and hope and renewal. Life is the same way, too. I spent 40 years creating my garden and I plan to spend the next 40 years rebuilding it. It's the beginning of something new."
Back to News Home