Breadcrumb Trail Links
Local News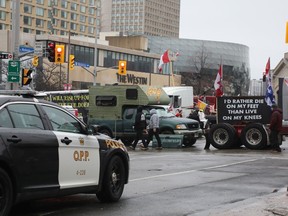 A planned "Freedom Convoy" reunion for February has been rescheduled from Ottawa to Winnipeg, organizers say. Photo by Jean Levac /POSTMEDIA
Article content
The group organizing a "Freedom Convoy" reunion event in February has announced that the location has been moved from Ottawa to Winnipeg.
Advertisement 2
This advertisement has not loaded yet, but your article continues below.
Article content
James Bauder, the founder of the Canada Unity group, said in a video posted on Christmas Day that as a "very special gift" to residents of Ottawa the Convoy 2.0 event will be held in Winnipeg.
By clicking on the sign up button you consent to receive the above newsletter from Postmedia Network Inc. You may unsubscribe any time by clicking on the unsubscribe link at the bottom of our emails or any newsletter. Postmedia Network Inc. | 365 Bloor Street East, Toronto, Ontario, M4W 3L4 | 416-383-2300
Thanks for signing up!
Article content
Convoys will drive right by Ottawa, "honk honk" and head to Winnipeg, said Bauder in the Facebook video.
Earlier this fall Canada Unity announced plans for a four-day "Freedom Convoy" reunion at an un-named location just outside Ottawa in February. They said there would be trips to Parliament Hill for speeches and a candlelight vigil.
That prompted Ottawa police and federal officials to say they were monitoring the situation.
Last winter's "Freedom Convoy" paralyzed downtown Ottawa with trucks and protesters for more than three weeks. The federal government invoked the Emergencies Act and more than 2,000 officers from police forces across Canada were brought to Ottawa to clear the streets.
Advertisement 3
This advertisement has not loaded yet, but your article continues below.
Article content
Canada Unity was one of multiple organizations and individuals that helped organize that  "freedom convoy."
Bauder and Canada Unity are now promoting the Winnipeg protest they have dubbed "World Unity Convoy."
It will be held from Feb. 17 to 20, according to posts on the Canada Unity Facebook page.
Why the switch from Ottawa to Winnipeg?
"The Government and Media have made it very clear through their threats against peaceful assembly in Ottawa," posted Dana-lee Melfi, an administrator of the Canada Unity page, in response to that question.
"Even Citizens born there are not welcome with opposing views. Violence and illegal tactics have already been announced from them. Let's keep our voice loud but safe."
Melfi, who lives in a rural area outside Ottawa, was dubbed "Peace Man" during his participation in last winter's convoy protest downtown.
Advertisement 4
This advertisement has not loaded yet, but your article continues below.
Article content
Canada Unity posted that says Melfi is now the "chief administrator of peace, truth and unity" for its group.
The Winnipeg location makes it possible for convoys from both the east and west to meet in the middle of the country, said Colin "Big Bear" Ross, another person speaking in the video on behalf of Canada Unity.
Winnipeg is the "heartbeat of the Canadian people," he said.
Bauder, who is from Calgary, faces criminal charges of mischief to obstruct property, disobeying a lawful court order and obstruct/resist a peace officer  in connection with his role in last winter's "Freedom Convoy" protest.
He was released awaiting trial with conditions including that he not return to downtown Ottawa.
Bauder, who has represented himself in Ottawa court appearances held on Zoom, has asked for a change of trial venue from Ottawa. That application is scheduled to be heard in February.
Advertisement 5
This advertisement has not loaded yet, but your article continues below.
Article content
Bauder's wife Sandra Bauder also faced similar charges after being arrested in downtown Ottawa last February. Her charges were stayed.
The Bauders travelled to Ottawa in late fall 2021 in their RV with a controversial "memorandum of understanding" that called for the elected government to resign unless all pandemic measures were lifted.
The Bauders and a few dozen supporters went maskless shopping and dining, shut down a Dollarama "for not having a jab pass," did "blockades" at CTV and CBC, protested in the street outside the residences of the prime minister and Governor General, and listened to speakers on Parliament Hill, according to a Facebook post Bauder made in December 2021.
The Bauders then returned to Ottawa last winter for the "Freedom Convoy" protest, parking their RV downtown.
Advertisement 6
This advertisement has not loaded yet, but your article continues below.
Article content
The "Freedom Convoy" protesters were opposed to COVID-19 vaccine mandates and other pandemic restrictions but some espoused a range of other causes and conspiracies.
Opposition to Prime Minister Justin Trudeau and the Liberal government was a key feature of the protests. That is reflected in Canada Unity's derogatory social media posts about the prime minister.
A video posted by Melfi on Christmas Day on the Canada Unity Facebook page, for instance, refers to Trudeau as "Turdeau," while other posts on the page called him "evil" and a "comrade."
James Bauder, in documents filed with the federal Public Order Emergency Commission, said Trudeau and several top cabinet minister are guilty of "treason."
During his testimony at the commission, Bauder became emotional several times, saying he wanted to heal divisions in the country. He also said he was directed by God.
In an interview last month on the "Ordinary Joe" radio show, Bauder said his next plan is to have a Canadian referendum and to press claims that Canada is guilty of "crimes against humanity."



National security officials planning for 2023 'Freedom Convoy' reboot




'Freedom Convoy' organizer James Bauder plans an Ottawa-area reunion in February. Experts say a repeat of chaos seems unlikely




Adam: Whatever its findings, the Emergencies Act inquiry proves Canadian democracy is strong
Share this article in your social network
Advertisement 1
This advertisement has not loaded yet, but your article continues below.
Comments
Postmedia is committed to maintaining a lively but civil forum for discussion and encourage all readers to share their views on our articles. Comments may take up to an hour for moderation before appearing on the site. We ask you to keep your comments relevant and respectful. We have enabled email notifications—you will now receive an email if you receive a reply to your comment, there is an update to a comment thread you follow or if a user you follow comments. Visit our Community Guidelines for more information and details on how to adjust your email settings.