Oct 18, 2022; Edmonton, Alberta, CAN; Edmonton Oilers forward Warren Foegele (37) looks for a rebound in front of Buffalo Sabres goaltender Eric Comrie (31) during the first period at Rogers Place. Mandatory Credit: Perry Nelson-USA TODAY Sports
Winnipeg Jets: Twitter Reacts to Logan Stanley's First Games of Season by Kieran Hurley
During the opening games of this new season, our site wrote an article regarding Johnathan Kovacevic's great performance in the Montreal Canadiens' opening win of the season.
This performance turned many heads since it happened just a week after the Jets sent Kovacevic to waivers for purposes of reassignment to the Manitoba Moose, but he was claimed by the Canadiens.
Last night (October 18), another former Jets player's performance caught the attention of many and that performance was by Eric Comrie.
Comrie was a free agent after playing a career-high 19 regular season games with the Jets during the 2021-2022 season. Comrie started 16 of those 19 games played and posted a 10-5-1 record.  Comrie then subsequently signed a two-year contract that carries an average annual value of $1,800,000 with the Buffalo Sabres this offseason.
Former Winnipeg Jets goaltender, Eric Comrie made 46 saves in the Buffalo Sabres' 4-2 win against the Edmonton Oilers
The twenty-seven-year-old netminder stole the show last night in Edmonton and was deservedly named the first star of the game.
The Oilers were the better side in this game and controlled the game at many points, they even doubled the Sabres in shots (48-28), but Comrie made a career-high 46 saves to steal the game for Buffalo.
This was an incredible performance by Comrie in his hometown of Edmonton. The netminder even set a Sabres record in his first win of the new season:
Comrie has started two of the Sabres' three games this season and has a 1-1-0 record with a 3.01 goals against average and a .929 save percentage.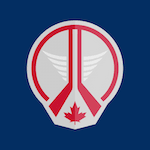 Want your voice heard? Join the Jets White Out team!
Write for us!
The Jets' former 2013 second-round draft pick will look to build on this performance tomorrow night as the Sabres head to Calgary for a matchup against the Flames.
Winnipeg Jets Fans: Are you disappointed that the Winnipeg Jets did not resign Eric Comrie? Leave your comments below!