Lawns are a waste of space. Why not grow food instead and provide habitat for pollinators?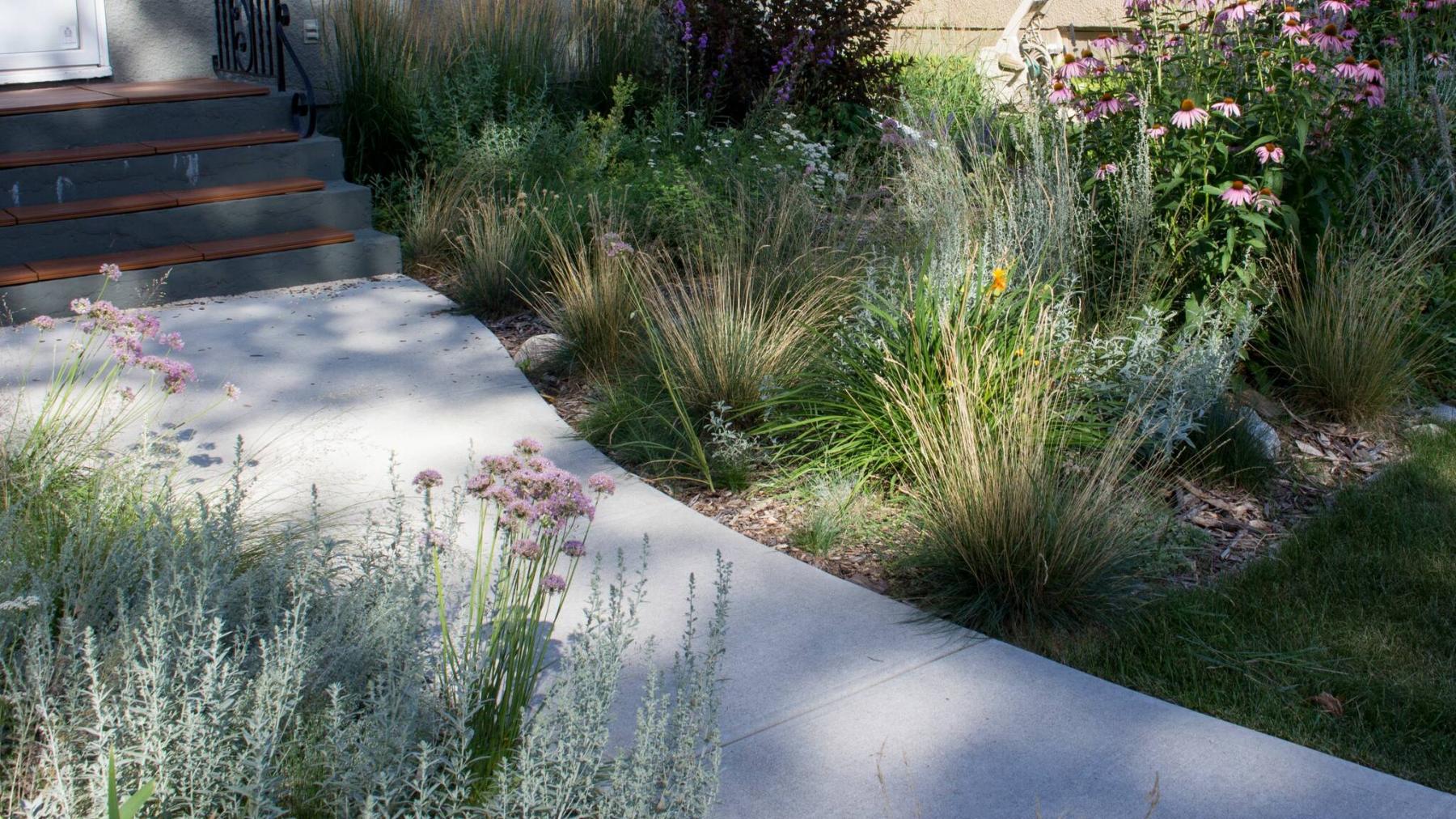 Dogwood Landscape Design
Repetition and the soft textures of native grasses provide a purposeful look to your design.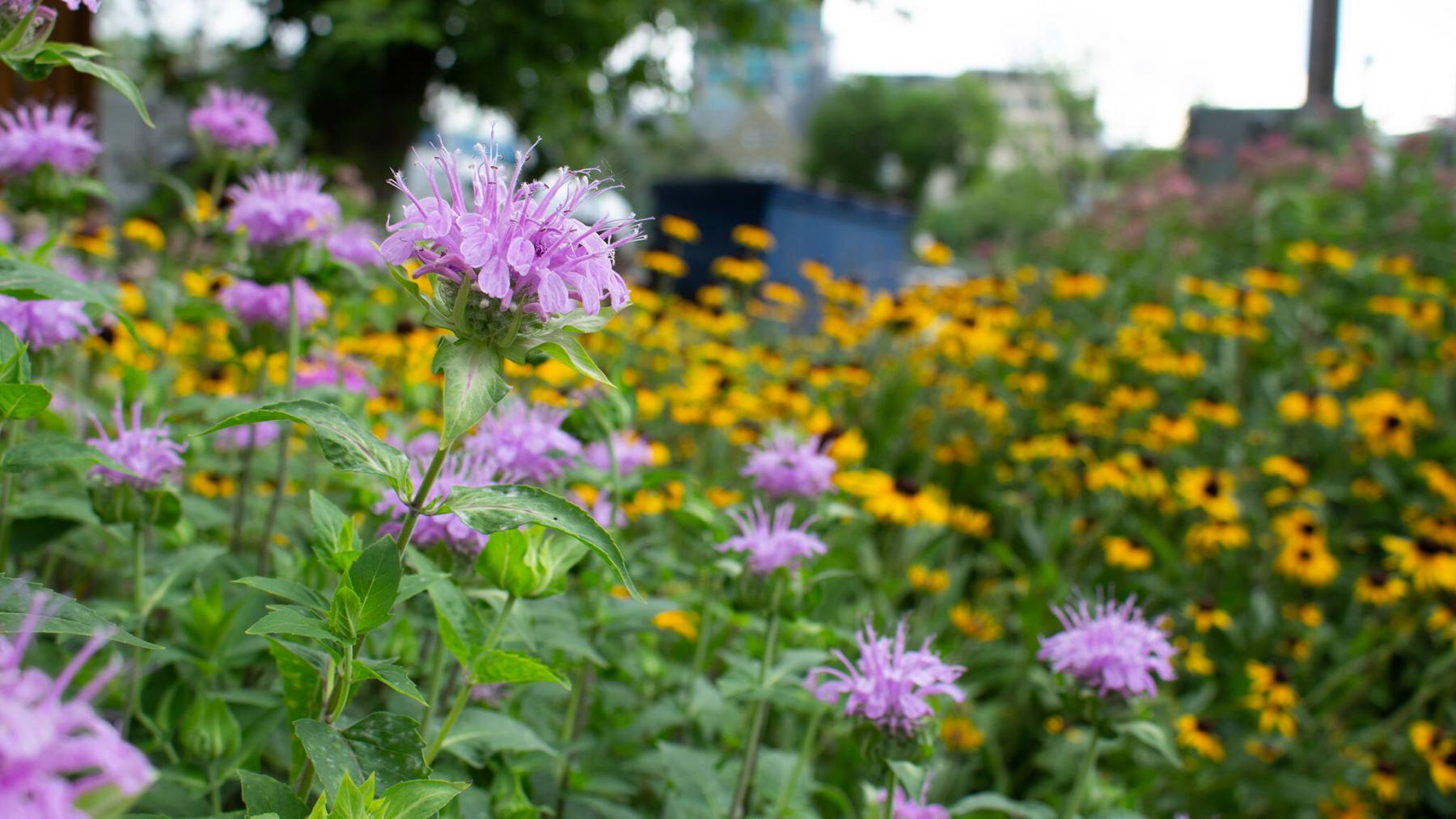 Dogwood Landscape Design
Massing perennials is a key strategy to create more visual impact.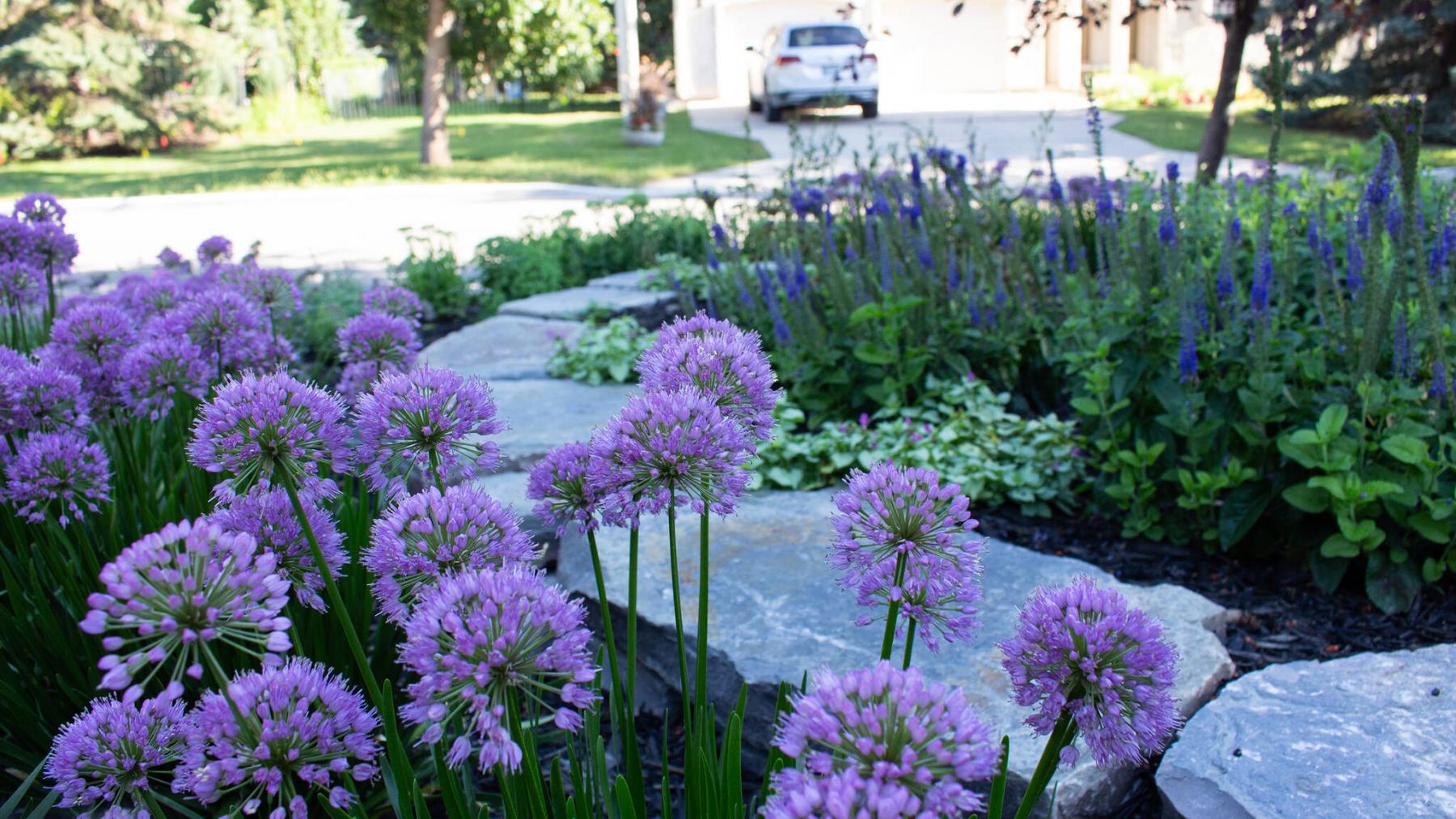 Dogwood Landscape Design
Use the hard structural edges of your sidewalk or pathway to frame your garden.
Lawn consumes valuable resources even when weather conditions are as favourable as possible. Amid concerns about a warming climate and the loss of ecosystems combined with the current disruptions to our food supply chain, a manicured front lawn feels like a waste of space. What if you created a more functional space that offers a greater number of options?
By replacing your monoculture front lawn with a diverse nature-based mix of flowering plants, herbs, grasses, fruit shrubs and vegetables, you can grow a healthy, more productive greenspace that supports pollinators and lets you harvest and deliver fresh food right to your door — in this case, your front door.
Janet and Charley Colatruglio have lived at their East St. Paul property for 30 years. They want to convert a 25-foot by 25-foot patch of front lawn which is bordered by their driveway on one side and mature trees on the other side into a garden with flowers and vegetables. "Our backyard is too shady, so the front yard is our best option for optimal production," says Janet. Charley has wanted to create a front yard vegetable garden for many years, but Janet has resisted because she worried about visual appeal. "Now I'm thinking that if we incorporate flowers, herbs, and fruit bushes, we could satisfy both our goals," says Janet.
A growing number of homeowners are eyeing their underused front yards as space for flowering plants and growing food. Good design is the foundation of success with your new garden and for drawing people towards it as opposed to away from it, say Shannon Bahuaud and Nik Friesen-Hughes, owners of Dogwood Landscape Design. It is very much about how you put things in place, says Bahuaud.
What's key, they say, is to avoid making your new garden too complex with intricate patterns. Don't try to do too many different things with a small space. Your eye needs a place to rest, says Friesen-Hughes. Massing is a key strategy, he says, and makes it easier to identify your plants while creating more visual impact. Instead of planting an area with 30 or 40 different plant varieties, create a broad sweep of colour by grouping together one type of plant. "It's easier to maintain a garden when you have larger clumps," says Bahuaud. Some people might want to create a small meadow, she says, but you can use the same native plants that are found in the wild and grow them in large clumps so that they create visual interest. "It still has the same ecological benefits and the same low maintenance," she says, "but it looks like an intentional garden – one that is natural, cared for, and communicates intention."
Dogwood Landscape Design specializes in native Manitoba wildflower gardens, naturalistic perennial gardens, edible gardens, and natural stone. Nik Friesen-Hughes and Bahuaud have converted several residential front yards into beautiful and functional landscapes that are environmentally sustainable and ecologically beneficial. Last summer Bahuaud converted her tiny front yard to a vegetable and perennial garden with an emphasis on texture and structure. Raised beds and paths keep planted areas separate and defined and make it possible for her to incorporate both food and native plants.
Even in a small space, you can create rooms, she says. The boulevard constitutes one room and is where she planted herbal tea plants and medicinal plants as well as pollinator plants. A wooden arbor at the entrance to her front garden provides vertical interest but can also be used for growing grape vines. The raised beds that border her small property are planted with vegetables but have a dual purpose as a low fence. The inner space is planted with perennial edibles such as asparagus and rhubarb. A narrow strip of natural bark mulch separates the raised beds from the sidewalk.
Decide if you want something that is fairly structured or a wild garden randomly planted with a combination of wildflowers, native plants, and edibles.
"First, it's a personal preference," says Bahuaud. There are very attractive varieties of Swiss chard and kale that look beautiful combined with native perennials and wildflowers. It's a sensual experience to weave in and out of plants, she says, but if you are growing food and want to maximize what you are getting out of your garden, choose a structured and organized approach that incorporates pathways and access points. Pathways make your garden accessible. Materials include mulch, pea gravel, natural stone, and reclaimed brick.
"I like to experience the environment a little more, so sometimes creating a longer, winding path draws your attention to different areas of the garden."
Consider too, says Friesen-Hughes, that while perennials and vegetables can intermingle, you are always going to be managing areas of open soil and seeding annual food every year. Defining areas is a key strategy that helps to reduce maintenance when you are planting a space with herbs, native plants, vegetables, and fruit shrubs. But if you are planting all native perennials, plant densely, says Friesen-Hughes. "Planting densely shades the soil and prevents weed growth and reduces maintenances."
There is a concept called orderly frames, says Friesen-Hughes. "So, if you're planting a wild garden with those softer grass textures, use the hard structural edges of your sidewalk or your porch or arbor to frame and contrast with your wild landscape. Really pay attention to how the edges look and keep the edges looking clean. Consider repeating a few of the grasses and use perennials such as wild bergamot and echinacea coneflower for a look that is purposeful and cared for." Some of Friesen-Hughes and Bahuaud's favourite grasses include June Grass, Prairie Dropseed, and Little Bluestem.
Execute your design properly by using repeating groups, masses, good structure, and contrasting textures. Vary the heights of your plants, as well, says Friesen-Hughes, and embrace seasonal changes in your landscape. "It's important to think about what plants are going to look like beyond their period of flower and how they change throughout the season. In winter, grasses and perennials are key habitat for a lot of beneficial insects."
Consider the environment and light conditions in different parts of your landscape that you are developing as well as grade changes.
What method will you use to remove your lawn? There are three main methods, say Bahuaud and Friesen-Hughes. One is the flip method which involves lifting your sod in pieces and turning it over to break down and decompose. It is best to do this in the fall near the end of the season so that roots don't have a chance to grow and re-establish.
Another method is to use a sod cutter and compost the sod. Sometimes there might be someone who will take the sod and use it to fill in an area. The third method is to spread and secure a tarp over the entire area of grass. This last method will take more time.
Front yards are meeting places where we connect with our neighbours and community. Why not switch from a traditional lawn to a more beautiful and diverse naturescape and make it a topic of conversation?
Back to News Home