Breadcrumb Trail Links
Winnipeg Jets
NHL
Hockey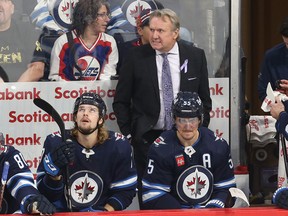 Winnipeg Jets head coach Rick Bowness looks intense behind the bench against the Colorado Avalanche on Nov. 29, 2022. Photo by KEVIN KING /Winnipeg Sun
Article content
Rick Bowness didn't hold back in the slightest in his assessment of the Winnipeg Jets performance on Friday night against the cellar-dwelling Columbus Blue Jackets.
Advertisement 2
This advertisement has not loaded yet, but your article continues below.
Article content
"We had a lot of bad performances from a lot of players in that room … we did," Bowness said in his post-game media appearance after a 4-1 loss to the Blue Jackets.
By clicking on the sign up button you consent to receive the above newsletter from Postmedia Network Inc. You may unsubscribe any time by clicking on the unsubscribe link at the bottom of our emails. Postmedia Network Inc. | 365 Bloor Street East, Toronto, Ontario, M4W 3L4 | 416-383-2300
Thanks for signing up!
Article content
"The goals they got were way too easy. We don't give up those goals when we're on our game."
Bowness was miffed that the Jets gave up three goals off the rush — something they've been stingy about for most of the season — and the first thing he did after the game was let the players know.
Article content
"What I love about Bones is he's going to tell us first before he goes and tells you guys the exact same thing," Jets defenceman Nate Schmidt said Saturday after the team practised at their facility in Headingley.
"He gets to the guys, you know where he stands, you understand what's expected of you. He's quick to tell you when things are great and also to tell you when things are not great."
Advertisement 3
This advertisement has not loaded yet, but your article continues below.
Article content
Coming into Friday's game with a 14-6-1 record and playing on home ice against a Columbus team that entered the game with a 7-12-2 mark, the last thing anyone expected was for the Jets to fall behind by four goals.
It's pretty clear they allowed themselves to take their collective foot off the gas against a struggling opponent.
"We didn't come out with any jam to start the game," Schmidt said. "We've been playing a lot of big games lately and in an NHL season, 82 games, the points mean the same against Columbus as they do against anybody else.
"We have a lot of veterans in this group that know better. You've got to be ready for a team that you knew was going to be desperate coming in."
The Jets will have a chance to redeem themselves on Sunday afternoon when the last-overall Anaheim Ducks pay a visit to the downtown arena.
Advertisement 4
This advertisement has not loaded yet, but your article continues below.
Article content
The Ducks not only have a (6-16-3) record, a .300 points percentage and a minus-43 goal differential, but they also played Saturday afternoon in Minnesota, losing 5-4 in a shootout.
The Ducks have major offensive talent in forwards Troy Terry (11 G, 25 P) and Trevor Zegras (9 G, 21 P), but have given up the most goals in the entire NHL (4.17 per game) and are winless in their last five games.
It's a game the Jets absolutely should win, but you can't just show up and expect it to happen.
"You expect your group to respond," Bowness said Saturday. "They're not happy, I'm not happy."
The Jets had a short on-ice session Saturday, owing to the fact that they spent more time than usual watching video. Bowness wanted them to see exactly what went wrong, especially with the goals off the rush.
Advertisement 5
This advertisement has not loaded yet, but your article continues below.
Article content
Goals by Patrik Laine, Gustav Nyquist and Erik Gudbranson all came off the rush, with Laine and Nyquist finishing off nifty passing plays that illustrated soft defence on the Winnipeg side.
"We haven't given those types of goals up all year, we haven't give up those back-door plays all year," Bowness said. "We take great pride in that, so those things were addressed."
Hearing the coach publicly call out your performance isn't easy. There's a lot of pride among the Jets players, many of who have been around the NHL for a long time.
Yet the players appreciate the coach telling it like it is.
"You want the truth from your coach and Bones has been great about that all year, understanding where we're at as a team and how we can improve," Jets veteran winger Sam Gagner said.
Advertisement 6
This advertisement has not loaded yet, but your article continues below.
Article content
"Bones has done a great job of keeping us honest in his assessment of how we're playing. We know where we went wrong last game and we've got to rectify it."
The first thing you'd expect to see from the Jets on Sunday afternoon is an energetic start. And they'll need to play with a lot more fire than they did on Friday for the full 60 minutes.
"This last one is still a sour taste in the mouth so I think that will carry over to (Sunday)," Schmidt said.
"It's the only way you can play this next game. Every team in the league's got good talent, good skill. You give them time and space or you're not ready to go out there, their top guys are going to wheel around, and if you give them time, they're going to make plays. It's still the National Hockey League. I think guys are going to understand that on Sunday."
Advertisement 7
This advertisement has not loaded yet, but your article continues below.
Article content
Despite the blip on Friday, the Jets are still second in the Central Division and have a chance to quickly get back on track on Sunday.
A second straight loss against a last-place team would make this a whole different story. For Bowness, it's not so much about winning on Sunday but getting back to the level the team reached when winning three straight games against Dallas, Chicago and Colorado recently.
"It just goes back to our standards and our expectations for ourselves," Bowness said. "We want to play on our toes, every day. It's hard, but it doesn't mean we're going to accept anything else.
"As I told the players, I'm not afraid to tell you things you don't want to hear and that's exactly what we do. We're gonna keep pushing, that's the bottom line.
"We're gonna keep pushing."
Twitter.com/Ted_Wyman
Share this article in your social network
Advertisement 1
This advertisement has not loaded yet, but your article continues below.
Comments
Postmedia is committed to maintaining a lively but civil forum for discussion and encourage all readers to share their views on our articles. Comments may take up to an hour for moderation before appearing on the site. We ask you to keep your comments relevant and respectful. We have enabled email notifications—you will now receive an email if you receive a reply to your comment, there is an update to a comment thread you follow or if a user you follow comments. Visit our Community Guidelines for more information and details on how to adjust your email settings.