Breadcrumb Trail Links
Hockey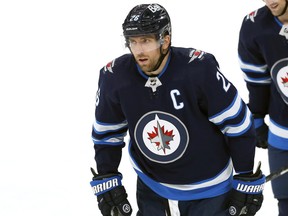 Winnipeg Jets forward Blake Wheeler (left) heads to the bench to celebrate after scoring against the Colorado Avalanche in Winnipeg on Sunday, April 24, 2022. Photo by KEVIN KING /Winnipeg Sun
Article content
Make no mistake, stripping the captaincy from Winnipeg Jets forward Blake Wheeler sent major shockwaves through the NHL on Friday.
Advertisement 2
This advertisement has not loaded yet, but your article continues below.
Article content
But as much as it was a big news story in Winnipeg and beyond, it wasn't all that surprising.
Even before you delve into all of the reasons why a team would take away a 'C' from a longtime captain, you really only need to look at this past summer and how it played out for both Wheeler and the Jets.
Wheeler didn't hide from that on Friday when he was asked if he had been working with the team to try and trade him. Both sides agreed a parting of ways would be mutually beneficial.
The 36-year-old confirmed what rumours and reports had suggested. That, alone, was reason enough to take the 'C' off his chest.
To think any NHL team would just welcome back its captain with open arms after knowing he was searching for greener pastures, would be the ultimate embarrassment — not for the player, but for the franchise.
Advertisement 3
This advertisement has not loaded yet, but your article continues below.
Article content
It's important to note that two things can be true as the dust settles: Blake Wheeler was a good captain for the Winnipeg Jets and Blake Wheeler is no longer the right captain for the Winnipeg Jets.
Newly-appointed head coach Rick Bowness did his due diligence, polled his players, and with the information garnered, came to the conclusion that a change was necessary.
He pulled the trigger on that on Friday, with the 67-year-old bench boss proclaiming loudly and clearly that he's the new sheriff in town, and adherence to his rule is compulsory.
Something had to give after last season, and if it wasn't major roster surgery this summer, it had to be something else
You don't emerge from the rubble of a miserable campaign, rife with questions of accountability, respect and culture, unscathed.
Advertisement 4
This advertisement has not loaded yet, but your article continues below.
Article content
And how does one continue to captain a team if, during Bowness's due diligence, questions of Wheeler's ongoing leadership were broached?
Friday's announcement, without a doubt, was the right decision for the team. Wheeler, as vital as he's been for the franchise since returning in 2011, had worn out that welcome.
Anyone reading between the lines could sniff out what was up. Sometimes what's left unsaid screams the loudest, and there was a lot left unspoken, simply because it didn't need to be voiced.
The action taken told the story.
Because if there wasn't a problem — whatever it may be — Friday wouldn't have played out as it did.
Wheeler would still be the captain and there wouldn't have been any need for the team's public relations component to craft "leadership restructuring" as a synonym for stripping the 'C'.
Advertisement 5
This advertisement has not loaded yet, but your article continues below.
Article content
It was just window dressing. An attempt to cover up what was actually taking place.
That's a tough pill to swallow for Wheeler, who despite questions of his leadership off the ice, never took a shift, let alone a game, off.
Friday was never an indictment on Wheeler's ability to play the game. It was a charge against his capacity to continue to lead this club forward.
Just as Paul Maurice's voice and guidance ran their course, so too did Wheeler's.
The words and feelings stated and expressed at the end of those 82 games back in early May proved too damaging.
The Jets are a team at a bit of a crossroads and have been for a couple of seasons.
They've hoped their veteran core would mesh seamlessly with the youth movement, but it hasn't. Friction or not between different generations, the results on the ice just aren't there and with that youth movement now ready (and perhaps ready for some time) to take the next step, how much longer could this team have waited without further jeopardizing its future potential?
Advertisement 6
This advertisement has not loaded yet, but your article continues below.
Article content
Wheeler isn't on an island here. He's not the first captain to see the 'C' disappear from his sweater.
Dustin Brown helped the Los Angeles Kings win two Stanley Cups and still had his captaincy torn off of him back in 2016, just a couple of seasons removed from hoisting the second of those two championships.
Brown was understandably upset. Wheeler, too, wasn't pleased on Friday. He just handled both his anger and the awkwardness of the situation well.
Patrick Marleau lost his captaincy as well once upon a time. He lost it to Joe Thornton in San Jose, who was also stripped of his 'C' years later. Neither player was happy.
It happened to Mike Modano and it happened to Trevor Linden. You can guess their emotions at this point.
Advertisement 7
This advertisement has not loaded yet, but your article continues below.
Article content
Big names and respective careers you look back on with respect.
It's likely Wheeler's career gets similar treatment when it's all said and done. He's had a successful run.
The Jets, meanwhile, are in a position where they can ill-afford to miss the mark many more times than they already have. Time is against them when it comes to the contracts they hold and their window to succeed with the current group.
Stir in the off-ice financial woes and growing fan apathy that's led to swaths of empty seats for a season opener just weeks away — items crucially relevant to a team that must ice a winner.
General manager Kevin Cheveldayoff's quiet summer hasn't provided much excitement. Perhaps his third head coach's iron fist and willingness to take bold steps will.
Twitter: @scottbilleck
Share this article in your social network
Advertisement 1
This advertisement has not loaded yet, but your article continues below.
Comments
Postmedia is committed to maintaining a lively but civil forum for discussion and encourage all readers to share their views on our articles. Comments may take up to an hour for moderation before appearing on the site. We ask you to keep your comments relevant and respectful. We have enabled email notifications—you will now receive an email if you receive a reply to your comment, there is an update to a comment thread you follow or if a user you follow comments. Visit our Community Guidelines for more information and details on how to adjust your email settings.