Breadcrumb Trail Links
Winnipeg Jets
NHL
Hockey
Publishing date:
Jun 15, 2022  •  29 minutes ago  •  3 minute read  •  Join the conversation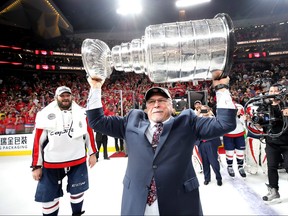 Barry Trotz holds up the Stanley Cup he won with the Capitals in 2018. Are signs pointing to him joining the Jets? GETTY IMAGES
Article content
On Monday, Barry Trotz was offered free beer for life by a local Winnipeg brewery.
Advertisement 2
This advertisement has not loaded yet, but your article continues below.
Article content
A day later, a report out of Nashville detailed the Dauphin native's $1.5 million purchase of a new home in the Tennessee capital.
What does any of this have to do with Trotz becoming the next head coach of the Winnipeg Jets? Possibly something, and possibly not.
Remember, Trotz spent 15 years in Nashville as the first head coach of the franchise. So the 59-year-old buying a home in a city that he could very likely retire to when his career is over may be less newsy than it seems on the surface.
Article content
Consider that the reported purchase price of the home he just bought increased by well over $1 million in the past decade and it could simply be a buyer looking to get in before asking prices soar higher. Also, a nice home in Brentford, an affluent suburb of Nashville where Trotz resided during his time as the Predators' head coach, can run well over $3 million.
Advertisement 3
This advertisement has not loaded yet, but your article continues below.
Article content
At last word, the Winnipeg Jets are still in the mix to secure Trotz's services, and this information came long after the house went to market earlier this month. So take it with a grain of salt, Jets fans.
While we're on the subject of Trotz, the number of teams that have been reported to be in that mix shrunk on Tuesday.
The Vegas Golden Knights snapped up recently-fired Boston Bruins head coach Bruce Cassidy, who lasted less than a week on the open market.
Word is the Jets inquired about Cassidy but the interest wasn't mutual. In Vegas, Cassidy picks up right where he left off with a — when healthy — bona fide Stanley Cup contender. Boston's loss (mistake?) is Vegas' gain.
Some have asked why Vegas passed on Trotz when the firing of Pete DeBoer as the Golden Knights' bench boss came not long after the New York Islanders let Trotz go last month.
Advertisement 4
This advertisement has not loaded yet, but your article continues below.
Article content
Two things:
1. Cassidy becoming available changed the landscape insofar as there were now two top-tier head coaches on the market. As Trotz has taken his time with his decision, teams have been forced to look elsewhere and you don't want to be the team that loses out twice on the guy you wanted.
2. Vegas isn't exactly a haven for job security. Cassidy becomes their third head coach in five years. How appealing would that be to someone like Trotz, who after spending 15 years with one club, has only stayed in the same spot (Washington and New York) for eight combined seasons? And if management is something Trotz covets after he's done with coaching, what's the avenue to that in Sin City? And again, what kind of longevity would that hold?
Advertisement 5
This advertisement has not loaded yet, but your article continues below.
Article content
Cassidy is chasing a Stanley Cup. Trotz has his. That doesn't mean Trotz doesn't want a second one, or a third or a 10th. But when you're looking at the bigger picture, Vegas' reputation for living in the moment becomes less attractive in that sense.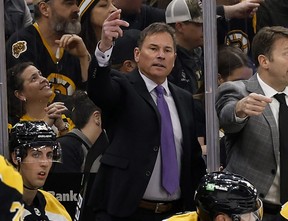 There's word the Jets were interested in former Bruins coach Bruce Cassidy, but the feeling was not mutual. AP PHOTO
Meanwhile, the Philadelphia Flyers named both Trotz and John Tortorella their finalists for their head coaching gig recently and a report by ESPN's Kevin Weekes, who also broke the Cassidy news, suggested that the Broad Street Bullies have offered the job to the 2004 Stanley Cup winner.
Tortorella was let go by the Columbus Blue Jackets after the 2020-21 season following six years of service with the organization.
That leaves one less team on Trotz's decision board.
Couple that with Dallas being seemingly all-in on DeBoer, and it leaves perhaps fewer than a handful of teams left for the Jets to sweat on the Trotz front.
Advertisement 6
This advertisement has not loaded yet, but your article continues below.
Article content
Boston and Detroit still need head coaches for next season, notably.
And there's always a chance that Nashville swoops in and offers a management opportunity for Trotz that he can't pass up.
In Winnipeg's favour here is there are fewer and fewer options for Trotz as simple attrition takes place. Sportsnet's Elliotte Friedman reported Wednesday that the Flyers and Trotz were serious, but it appears Trotz turned them down on Tuesday, opting to go in a different direction.
Is that roughly 2,600 kilometres northwest of the City of Brotherly Love?
Free beer awaits if Trotz agrees Winnipeg is made from what's real.
And if I'm a betting man, it's either Winnipeg for Trotz, or he takes a well-deserved year off and re-evaluates sometime in the future.
Twitter: @scottbilleck
Share this article in your social network
Advertisement 1
This advertisement has not loaded yet, but your article continues below.
By clicking on the sign up button you consent to receive the above newsletter from Postmedia Network Inc. You may unsubscribe any time by clicking on the unsubscribe link at the bottom of our emails. Postmedia Network Inc. | 365 Bloor Street East, Toronto, Ontario, M4W 3L4 | 416-383-2300
Thanks for signing up!
Comments
Postmedia is committed to maintaining a lively but civil forum for discussion and encourage all readers to share their views on our articles. Comments may take up to an hour for moderation before appearing on the site. We ask you to keep your comments relevant and respectful. We have enabled email notifications—you will now receive an email if you receive a reply to your comment, there is an update to a comment thread you follow or if a user you follow comments. Visit our Community Guidelines for more information and details on how to adjust your email settings.